This article may contain affiliate links for which we may receive a small commission if purchases are made. Thank you for your support.
Take these amazing adventures when you visit Australia
Australia has so much to see and do that I keep adding to my bucket list. So if you are planning a trip Down Under, consider one of these 30 amazing Australian adventures to ensure you have the holiday of a lifetime.
We always seem to find the ultimate feel good experiences from each adventure no matter where we go.  Have you built your bucket list yet?
[bctt tweet="Life is short. Buy the ticket.  Take these 30 Amazing Australian Adventures" username="territorymob"]
30 Amazing Australian Adventures
So many holiday ideas, so little time.  We have completed many of these Aussie adventures, some you will find on Territory Mob but some have yet to be written.  Our list keeps growing and there are many amazing Australian adventures still to do.
We're always looking for ideas so if there's somewhere you think we should visit and we don't have it listed, please leave me a note in the 'readers suggestions' below.  I'd really love to add them to my Bucket List!
Do a back-stage tour at Sydney's Opera House
Discover the stories, history and magic of the Sydney Opera House.  Do a guided tour of this heritage listed masterpiece.  More than 1600 performances come to life each year with some of the most noted performers world-wide. Learn about Danish architect Jorn Utzon's ambitious vision for a world class performing arts centre came to reality.
Read more about Sydney Opera House Tours
Do the Ultimate Road Trip
Arguably, travelling from Darwin to Adelaide (or vice versa) is arguably the most amazing Australian adventure you will ever do.  There is nothing like a road-trip to experience Outback Australia.  The Stuart Highway south from the Northern Territory into South Australia is one of those quintessential travel experiences that everyone should have!
Read More:  The Best Aussie Road Trip Ever
Visit Australia's Best Beach
The beach with the whitest sand in the world, Whitehaven Beach on Hamilton Island has been voted 'Australia's Best Beach' yet again.  It's one of the most stunning beaches to go swimming in Australia so travel to the Whitsunday Islands and be smitten like the rest of us.
Read More:  Airlie Beach – the Gateway to the Whitsunday Islands 
Indulge yourself – Go glamping at Uluru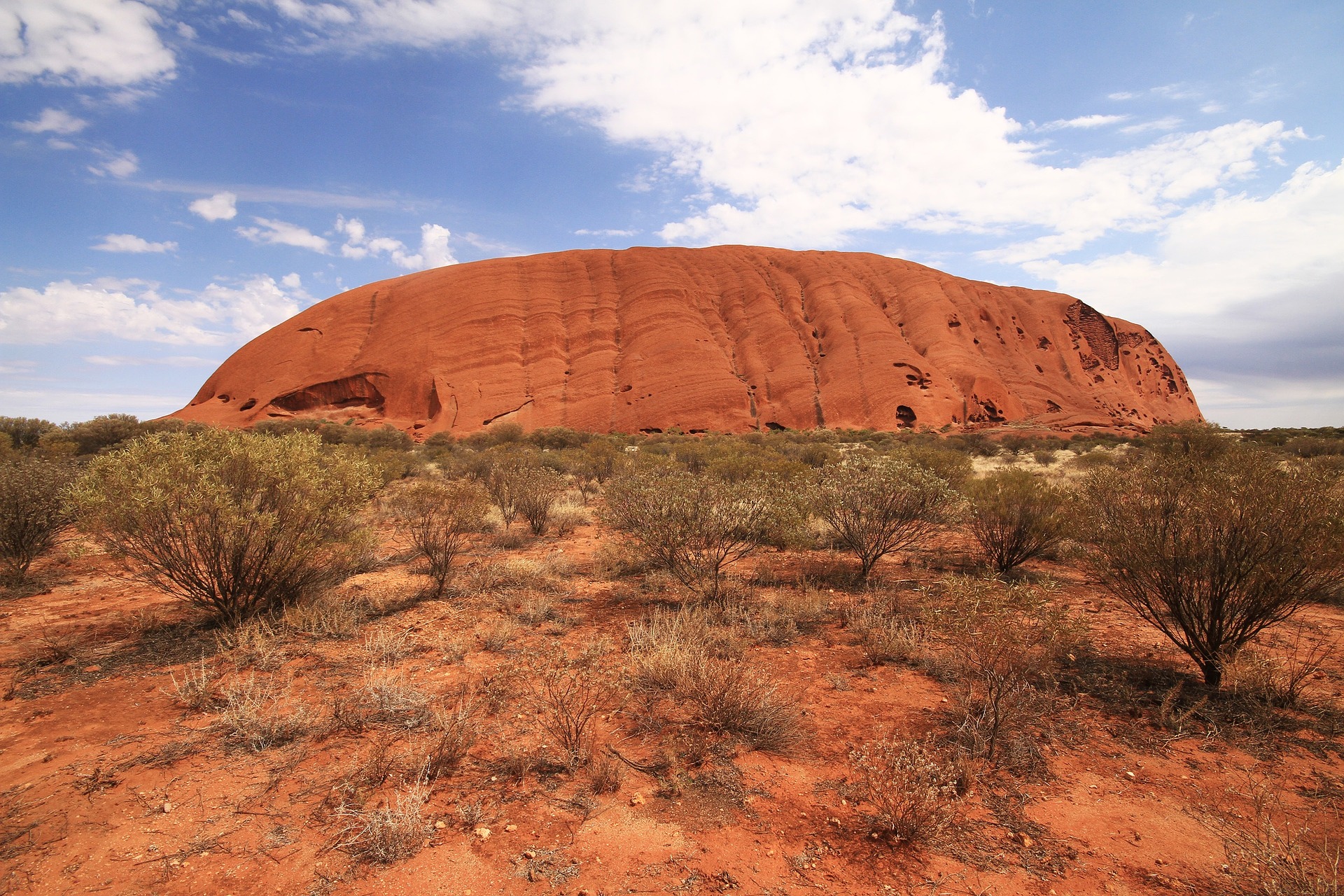 Australia's most famous 'Rock'.  Uluru is more than just a holiday, it is a spiritual journey reconnecting you to the land and one of the most amazing Australian adventures.  The landscape will take your breath away and the culture, will be embedded for life.  Why not try a luxury wilderness experience at Longitude 131° for something different.
Read More:  Uluru – Australia's most famous Rock.
Visit Noosa, Australia's favourite holiday destination
Noosa is a stylish beachside resort-town that's become famous as Australia's holiday hotspot.  Although famous for its trendy boutiques, alfresco restaurants and its chic cafe scene, it was not a surprise to learn that people simply go to Noosa for it's beaches, surf and its glorious sunshine!  Who would've thought!
Read More:  Noosa, Australia's favourite holiday hotspot
Take a Wine Tasting Tour into the Barossa Valley
The world renowned Barossa is Australia's premier wine region. Dating back 1843 when founded by German settlers, the Barossa Valley it is a must-visit destination on any wine lovers list.   Wineries in the Barossa region offer Mediterranean climate wines and visitors enjoy an exceptional range of quality wines and restaurants.
Read More:  How to find Good Quality Australian wines
Climb Sydney's Harbour Bridge
Not surprisingly, hundreds of climbers make their way up the Sydney Harbour Bridge every day. The question is "What type of Climber are you"?  Do you want to tick this off your Bucket List?  Conquer a fear of heights?  or maybe you want to experience the most spectacular view you can ever imagine?  Whatever the reason, when in Sydney next, don't miss this amazing Australian adventure!
Read more about the Sydney Harbour Bridge Climb
Visit the Ancient Daintree Rainforest
A paradise for bird-watchers and nature-lovers, the Daintree is home to many rare plants and animals.  See the ancient tropical rainforest of the Daintree National Park, the magnificent Daintree River and enjoy the crystal clear waters of the Great Barrier Reef.  Both are registered as UNESCO World Heritage sites.  It's where the Rainforest meets the Reef.
Read more about the Daintree Rainforest
Be overwhelmed by the Devils Marbles
The Devils Marbles are spectacular sight.  At sunrise and sunset they glow with the rich golden colours of the desert.  A culturally sacred site for the Indigenous Australians,  Aboriginal legends believes that the Devils Marbles are the eggs of the Rainbow Serpent and have magical powers.  The Devils Marbles are one of the highlights along the Adelaide to Darwin road-trip.
Read More:  The Devils Marbles – the eggs of the mythical Rainbow Serpent
Sail the Whitsunday Islands
Take a day cruise or a bare-boat charter when you visit the Whitsunday Islands on Queensland's Great Barrier Reef.  The Whitsunday Islands is the only place in the world where you can rent a multi-million dollar yacht without a licence however, if you prefer to have your boat skippered, that's possible too.   With 74 nearby islands to explore, you can truly live the dream.
Read More:  Airlie Beach – Gateway to the Whitsunday Islands
Do the Red Centre Way
Take the highway west of Alice Springs along the Red Centre Way to experience the Red Centre.  Stop off at Simpson's Gap to see the huge ghost gums and rock wallabies in their natural habitat.  Walk into Standley Chasm around midday for a stunning show of vivid colour before heading to the swimming holes of Ellery Creek Big Hole, Ormiston Gorge, Redbank Gorge and picturesque Glen Helen Gorge to cool off.  Central Australia has so much to offer, so stay a while and be sure to see it all.
Read More:  Red Centre Way – experience the Australian Outback
Explore Kakadu
UNESCO World Heritage listed Kakadu National Park, is a natural and cultural wonder.  Discover ancient Aboriginal art galleries, hike to the top of rugged escarpments and cruise the wetlands past waterlilies, waterfalls, crocodiles and rare migratory birds.  Learn about the local Indigenous culture and the 6 seasons of Kakadu.
Read More:  Escape to Kakadu National Park
Drive the spectacular Great Ocean Road
The Great Ocean Road is one of the most stunning road-trips you can do.  Driving along the 'bottom edge' of Australia you will encounter stunning scenery, beautiful beaches, tons of wildlife and quaint little beach-side townships along the drive.  It has become a popular 'getaway' destinations for Aussies. Make sure you see this beautiful part of the world.  I never tire of the scenery!
Read more about the Great Ocean Road
Experience Kangaroo Island
Kangaroo Island is known as nature's playground so you can expect to see plenty of wallabies, kangaroos, echidnas and koalas on your visit.  Friendly pubs and restaurants offering delicious food and wine will make sure your visit is perfect. The scenery is spectacular with towering cliffs, beautiful beaches and amazingly clear water … but best of all, KI just 45 minutes from Adelaide city.
Read more about Kangaroo Island
Sleep Underground at Coober Pedy
Coober Pedy is one of Australia's most unusual towns.  In one of Australia's hottest climates, the town of Coober Pedy is mostly built underground to minimise the heat.  Visit underground houses, cafes and churches and stay overnight in an underground hotel for a truly memorable experience.  Coober Pedy is known as the Opal Capital of the World, with plenty of opportunities to purchase stunning gemstones – or go 'noodling' to find your own.
Read more about Coober Pedy
Journey deep into Nitmiluk
The stunning Nitmiluk (also called Katherine Gorge) has been carved out of sandstone cliffs over thousands of years.  Thirteen interconnected gorges are steeped in ancient Aboriginal culture and legends.  Nitmiluk has some of the most stunning scenery you'll see in the Northern Territory.
Read More:  Nitmiluk
Swim with the Dolphins at Monkey Mia
An untouched wilderness, Monkey Mia is home to one of the world's best-known dolphin swimming encounters.  Wade into the shallow waters to swim with wild dolphins and if you're lucky you'll also see fish, sting rays and the occasional turtle in these crystal-clear waters.
Read more about Monkey Mia
The love story behind Paronella Park
José Paronella's dream was to build a castle for his bride. He chose a beautiful location just south of Cairns in Far North Queensland and created Paronella Park. On 5 Hectares beside Mena Creek Falls he built his castle, complete with a picnic area by the falls, tennis courts, bridges and tunnel. It's an extraordinary place to visit.
Read more about Paranella Park
Go Eco on Fraser Island
Fraser Island is the largest sand island in the world. UNESCO World Heritage listed, it ranks in importance with Uluru, Kakadu, the Daintree and the Great Barrier Reef.  White sandy beaches, majestic rainforests, crystal clear lakes, nature walks and banksia woodlands.  Well-known for it's eco-friendly focus, this island is a fantastic getaway not too far from Brisbane.
Read more about Fraser Island
Experience 'the Ghan'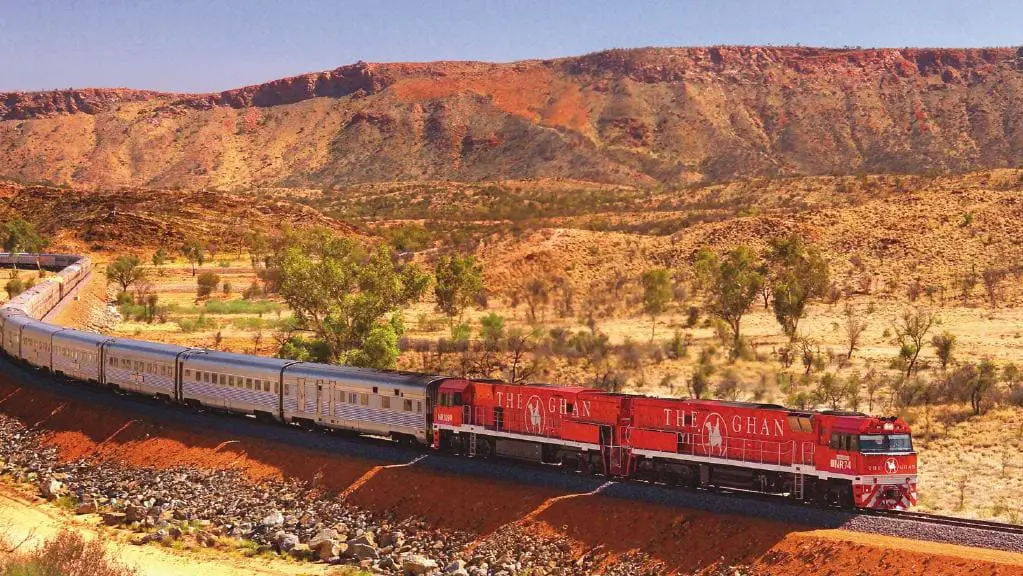 The most relaxing way to see the Australian Outback between Adelaide and Darwin (or vice versa) is by taking the luxury train trip 'the Ghan'.  Taking just 3 days between Adelaide and Darwin will cover a distance of almost 3,000 kilometres.  This trip has been on my bucket list for ages!
Read more about travelling on the Ghan
Visit Wineglass Bay
Freycinet National Park is on the east coast of Tasmania.  Providing provides a range of superb walking trails that lead to various lookout points over Wineglass Bay and the nearby coves.  Go fishing and boating, bushwalking, sea kayaking, rock climbing and enjoy the sun and sand and the spectacular coastal scenery.
Read more about Wineglass Bay
Reflect at the War Memorial
The Australian War Memorial in Canberra combines a remembrance shrine, a world-class museum and an extensive archive. The Memorial was established to commemorate the sacrifice of Australians who have died in war, remembering the Australian commitment to war and its enduring impact on Australian society.
Read more on the Australian War Memorial
Check out the Mornington Peninsula
The Mornington Peninsula is just an hour from Melbourne and hosts a number of seaside towns and local wineries.  Discover the beautiful seascapes or try something you've never done before, like learning to scuba dive or swimming with dolphins, go surfing, sailing or stand up paddle boarding or settle in to do some fishing line from the pier.
Read more about the Mornington Peninsula
Cruise the Kimberley
Cruising the Kimberley's coastline is a long-held dream for most Australians. Expect to see extraordinary landscapes with giant boab trees, breathtaking ancient rock art, hot springs, crystal-clear turquoise plunge pools, waterfalls and white sand beaches … and peace and quiet.  Imagine that!
Read more about Cruising the Kimberleys
Take the Historic Trail to Cooktown
Cooktown is a charming, historical town well-known for it's part in the early settlement days, after Captain Cook ran aground on nearby reefs. It is also Australia's closest town to the Great Barrier Reef. With its laid-back atmosphere and friendly people, this is the perfect base to explore the rugged beauty of Cooktown.
Read more about Cooktown
Meet a Quokka on Rottnest Island
Rottnest Island is known for its natural beauty, spectacular flora, abundant marine life and wildlife and many unique species.  Rottnest Island's famous marsupial, the Quokka, can be seen around the Island particularly in the mid to late afternoon.  Do a guided tour with a ranger to learn more about this native animal.
Read more about Rottnest Island
Visit the Undara Lava Tubes
The Undara Lava Tubes are a delicate ecosystem and once part of Gondwana. This ancient land was formed by natural forces and climatic changes over hundreds of millions of years.  Today, they are a unique experience with spectacular and rugged beauty.  This National Park is a sanctuary for wildlife and birds, native plants and vegetation.  Just another amazing Australian adventures to take.
Read more about the Undara Lava Tubes
Experience the Great Barrier Reef
There is much to see and do on the Great Barrier Reef.  Scuba diving on the Great Barrier Reef promises a dazzling rainbow world of coral and sea-life that you won't find anywhere else in the world.  Visitors to the Great Barrier Reef enjoy a range of activities including snorkeling, scuba diving, bare boat charter, glass-bottomed boat viewing, whale watching and swimming with dolphins.
Read more about the Great Barrier Reef
Visit Christmas Island
Christmas Island full of natural wonders from the unique annual red crab migration to rare and unusual birds and stunning deserted beaches.  Loaded with nature, culture and history, Christmas Island is a truly unusual travel experience.
Read more about Christmas Island
Walk amongst the Giants
The Valley of the Giants is on the south coast of Western Australia. The area is world famous for the Tree Top Walk suspended 40 metres high in the canopy of some of the biggest timber giants on Earth – Western Australia's majestic tingle trees. The trail is the first of its kind, designed to maximise views of the forest.
Read more about The Valley of the Giants
Are you looking for an amazing Australian adventure?  Why not pin this for later.
I travel frequently but with so many things yet to do, I will keep chipping away at my ultimate bucket list until I tick them all off.
Whats my next adventure?  I can't decide!  I have short-listed a few destinations which will have me adding to this list soon so hang in there, because whatever we decide it's sure to be an amazing experience.
Where are you off to next?  Is it somewhere I should add to my ultimate bucket list?  I'd love to know your bucket list suggestions .. drop me a note in the comments below.