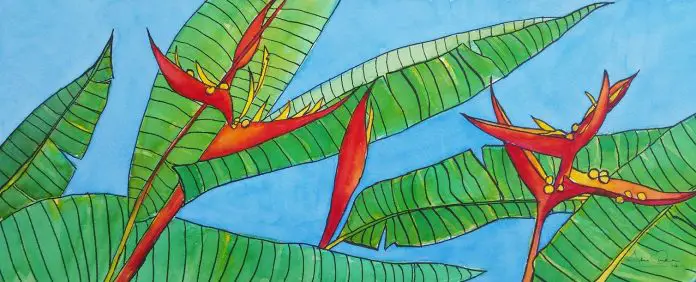 Always arty, it's nice to finally take the time to enjoy my painting.
Growing up as a child in Papua New Guinea' my art has always been driven by the extreme colours reflected in the rainforest' the unique wildlife' the ocean and the beauty of the tropics but it was not until 2006 when the family moved to Alice Springs in Central Australia, that I began to explore the colours of the desert through watercolour.
Vivid colours of the Australian desert
Obsessed with the vivid colours of the Australian outback I began painting native flora such as gum trees' gum leaves and gum nuts using rich earthy colours before adventuring into the fun and freedom of character paintings like my emu's' camels and other Territory wildlife.
These watercolours reflect my unique and colourful style and remain some of my most sought after works.
showcasing the Australian outback
Subject matter always varies' but my paintings continue to feature the vivid colours of the Australian bush, the gnarly ruggedness of the landscape and an occasional glimpse of my wry sense of humour and unique perspective of life, as I see it.
Influenced by other artists
Largely self taught I have been influenced by other artists' hungry to learn technique' style and method through workshops as they've become available.
My thanks to Patricia Weeks, Carol Adams, John Lovett and many other Australian artists who have been my source of inspiration as I experimented with new techniques and styles for my watercolours.
Exhibitions & Galleries
My paintings have been exhibited in the local annual shows in the Northern Territory and the Advocate Art Awards in Central Australia in 2007' 2008' 2010 and 2011 with some success. 'River Gum' was awarded 'Highly Commended' in the Advocate Art Awards in 2010 and 'Bush Gossip' (an emu clan) and 'Rocky Outcrop' awarded 1st and 2nd prizes in the 2011 annual show.
I am in the process of developing my first art website to display my work, and in 2018 I plan to launch my first public exhibition.
My long time goal is to be able dedicate more time to painting so I'm on a mission to make that happen!
Currently my art is held in private collections internationally and throughout Australia.