Are you looking for an Outback Australian adventure?
Do you fancy an Australian Outback adventure for your next holiday of a lifetime? Let us give you a tip, make sure you visit the outback soon!  
The Outback represents the essence of Australia.  Wide open spaces, sprawling cattle stations, rugged mountain ranges, spectacular ravines and gorges as well as the world's longest dead-straight railroad.
One of Australia's last frontiers, the Northern Territory is well-known as one of Australia's most popular 'bucket list' destinations.
If you're planning to visit the Aussie cities of Melbourne or Sydney, take the time to venture further afield and experience the real Australian Outback.
Are you interested in knowing more?  Download our FREE eBook 'See Australia in 3 Amazing Weeks' for our itinerary suggestions to see the best of Australia.
Travel beyond Australia's big cities to experience the true Australian Outback. Make the Territory your next adventure!
Click To Tweet
Our favourite things about the Northern Territory
There really is so much to see and do in the Northern Territory.
The Northern Territory is the third largest state in Australia with just over 1.4 million square kilometres.  Despite its large geographical footprint, the Territory population is just over 250,000 people with the majority of the people living in the capital city of Darwin.  It is the least populated state in Australia.
Stunning Landscapes
Gateway to some of Australia's most significant National Parks, the Northern Territory has 2 extraordinary National Parks which are World Heritage listed, Kakadu National Park and Uluru and Kata Tjuta National Park.
Other National Parks in the Northern Territory include Arnhem Land, Katherine Gorge and the Devils Marbles and are known for their own unique locations, stunning landscapes and their cultural significance. Together these National Parks are what the Australian Outback is all about.
There is so much to see and do in the Territory.
Take a hike up an escarpment to enjoy the stunning vistas from horizon to horizon and chill out and relax in the crystal clear pools high above.
Enjoy the walk to see ancient Aboriginal rock-art galleries dating back over 60,000 years and take an opportunity to connect with the oldest living culture on earth.
The People
The Australian Outback is full of interesting characters and if you stay long enough, you will hear the tales of the local adventurers.  Meet the story-tellers who share their stories of four wheel drive expeditions through flooded rivers, or boast about their fishing expertise and of course, the inevitable 'one that got away'.  There are a number of wild old pubs of the Outback so be sure to stop in for a beer with the locals!
Most Territorians come from somewhere else.  As you travel around, you will hear their stories.  There are many I know who came for a 2 week holiday, and are still here some 20 or more years later.  The extraordinary landscape, friends made along the way and the wonderful lifestyle in the Territory are what keep us here.
Territorians are some of the friendliest Australians, so be sure to say hello when visiting the Australian Outback!
Click To Tweet
My favourite things to see and do in the Territory
See Sunrise at Uluru
Uluru stands 350 metres (1150 feet) high and is surrounded by ghost-gum trees and natural waterholes.  For the ancient Anangu people, Uluru is a place a great spiritual power as the centre of the universe and the home of the Earth Mother.  Uluru is at its most captivating at sunrise and sunset when the rock's surface shifts through a rich spectrum of beautiful colours.
Read More:  Australia's most famous Rock
Walk the West MacDonnell Ranges
The West MacDonnell ranges stretch some 110 kilometres (68 miles) west of Alice Springs, displaying the familiar landscape of Albert Namatjira watercolours.   Without a doubt, the clear blue skies and rich ochre rocks in vivid yellows and oranges will take your breath away.  Beautiful swimming holes, desert walks and peaceful surrounds.  Simpsons Gap, Standley Chasm, Ellery Creek (above) and Ormiston Gorge are some of the most popular places to visit.
Read More:  Do the Red Centre Way
Stop off at the Devils Marbles 
A place of ancient Aboriginal dreaming, the Devils Marbles are a 'must stop' destination when driving through the Northern Territory.  A surreal collection of massive granite boulders strewn across acres of sparse desert country just 110 kilometers south of Tennant Creek in Central Australia is one of the most spectacular sights to be seen.
Read More:  The Devils Marbles
Swim at Mataranka & Bitter Thermal Springs

About 100 kilometres south of Katherine is Mataranka & Bitter Hot Springs.   Refreshing natural hot springs are a popular rest stop for tired weary travelers.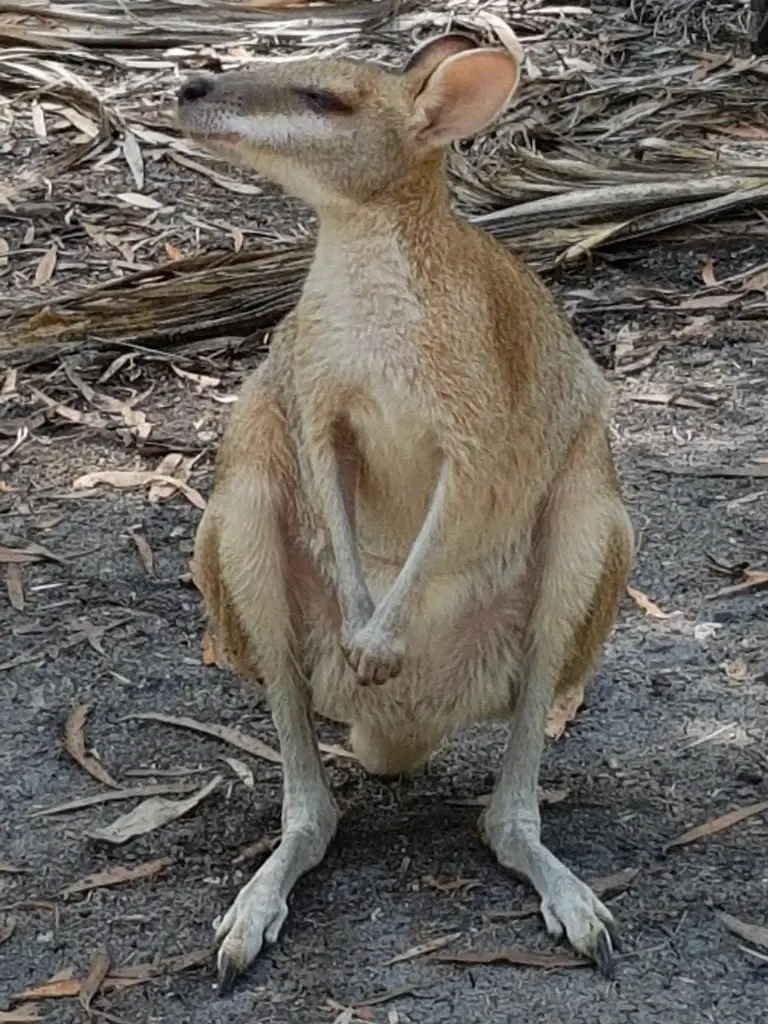 The sandy-bottomed Mataranka Thermal Pool is alive with fish and freshwater turtles. Take a snorkel and explore this beautiful swimming hole.  The site's sister lagoon, Bitter Springs, is a 10 minute drive away.
Visit Nitmiluk National Park

Located on the lands of the Jawoyn people, the rock art sites are showcased throughout the park.  Learn about the Jawoyn people's connection with the land at the Nitmiluk Centre or take a boat cruise of the first few gorges. With a network of 13 gorges in the Katherine River, Nitmiluk National Park is ideal to explore by canoe.
Read More:  6 Reasons why you must road trip to Katherine
Catch a sunset at Darwin's Mindil Beach Markets
Mindil Beach Sunset Market runs on Thursday and Sunday nights from April to October and features street performers, musicians, arts and craft stalls as well as an eclectic range of Asian, Greek and Italian and local food stalls.  Try local favourites such as a Thai papaya salad or be bold and visit Go On Be Game, a stall serving kangaroo, crocodile and buffalo fillet burgers.  Mindil has one of the most magical sunset outlooks ever!  Don't miss it!
Read More:  Things to do in Darwin, Northern Territory
Discover Litchfield National Park
Litchfield National Park is a must see if you're in the Top End.  It's home to several stunning waterfalls that cascade into crystal clear pools like Buley Rockhole, Florence Falls and Wangi Falls.  Make sure you take in the magnetic termite mounds and clusters of weathered sandstone pillars at the Lost City.   Swimming under the falls and relaxing in waterholes is a favourite pastime for visitors and locals alike.  It is a popular day tour destination from Darwin or Katherine, but many visitors choose to stay overnight in one of the nearby campgrounds.  Access one of the beautiful walks from most popular sites.
Read More:  Why you must visit Litchfield Park
Experience Kakadu
World Heritage-listed Kakadu National Park is famous for its magnificent landscape.  You will see an abundance of birdlife unique to this area, crocodiles and other reptiles in the wild, rare plants and so much more.  Climb to the top of Ubirr Rock to see vast expanses of the wetlands of Kakadu and experience some of Australia's most ancient Aboriginal rock art.  Don't miss the Yellow Waters cruise at sunrise or sunset for some unforgettable moments.  Time your visit perfectly – The Six Seasons of Kakadu.
Read More:  Escape to Kakadu
Visit the Tiwi Islands
Often called the Islands of Smiles, the Tiwi Islands − Bathurst Island and Melville Island − lie about 80km north of Darwin.  A visit here is one of the cultural highlights of the Top End.  The Tiwis are well known for producing vibrant art and champion Aussie Rules football players.  They specialise in crafting wooden sculptures, traditional painting and vibrant, modern handcrafted fabric designs.  Artists are often around to have a chat and share the stories behind their creations.
How to get to the Australian Outback

Explore the Northern Territory,

By Rail:  Catch the Ghan from South Australia.  The train travels through the Northern Territory stopping at Alice Springs, Katherine and Darwin.  You can do this journey in stages.

By Air:   Fly into Alice Springs with Qantas or Virgin Airways – Alice Springs is a two hour flight from Sydney or fly into Darwin with Qantas, Virgin, Jetstar or Tiger Air from most capital cities in Australia. Darwin is a 4 1/2 hour flight from Sydney.

Road Trip options:  The Northern Territory is an ideal road trip destination.  Hire a campervan from Adelaide, Alice Springs or Darwin and take your time to explore it all.  Check out our Best ever Road-trip adventure here.  
Inspired?  Pin this ..
The Northern Territory represents the 'real' Australian Outback and is a place to experience the real Australia.   Be sure to take home the ultimate Territory Experience!  Is it on your bucket list yet?
Have you been to the Australian Outback yet?  Make it your next adventure!  As they say … if you never, never go … you'll never, never know !