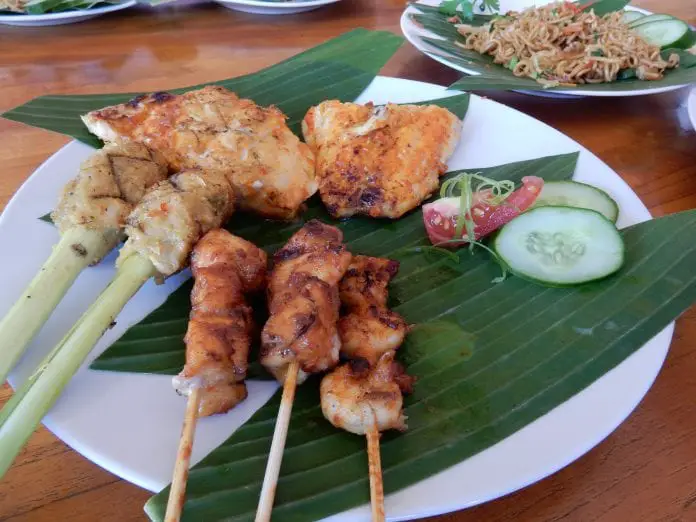 Learn to cook the Balinese way!
The Bali Cooking School 'Taste of Bali' class was exactly what we were looking for!  We locked in our next cooking adventure.  Whenever we travel we try to incorporate a local cooking class into our experience so that we can learn about the traditional flavours and learn how to replicate the flavours at home.  (Not always successfully I might add)!
One of the most awesome things about traveling to other countries, especially Asian countries is the food experience. The exotic flavours of the herbs and spices are some of the best rewards and each country or province is very different.
As Australians, we often choose Bali for our holiday getaways.  A short 2 hour flight from Darwin and we're sunning ourselves on a tropical beach.  What's not to like?  Beautiful weather, exotic foods and a relaxed way of life!  We can't get enough of it!
The Bali Cooking School is situated in Bali's south, on the Bukit Peninsular central to Kuta and Nusa Dua and approximately a half hour drive from each it was easy to get to from our hotel at Nusa Dua.
First stop – the traditional Balinese food markets
An early morning start to arrive at the fresh food markets.  Carved into the sloping hillside the marketplace was like most other food marketplaces throughout Asia.
Strong fishy odours (perhaps not so fresh fish) wafted through the air on the humid summer morning.  Chickens were being carved up on big heavy boards in preparation for sale with other meats such as duck, goat and pork.
Tables of fresh galangal, turmeric, ginger, garlic, shallots, onions, sweet corn and freshly picked mangos, lemons and bananas stacked neatly in rows.   Women with woven baskets were intently inspecting the offerings before arguing loudly with the stall-holders in order to agree on a price.
Small children giggled and played happily as they chased the piglets and chickens in and out of the stalls.  The men, stood about under the shady trees smoking fat hand-rolled cigarettes while the women took care of business.
Our driver/tour guide talked about the traditional food we would need to buy so that we could cook the specialties for the day and walked us through each of the stalls talking to us about the many unfamiliar spices, herbs and roots that were on display.  Darwin has such an asian population that many of these were familiar to us, however many I'd not seen before.
Trevor and I met an enterprising lady who encouraged us to pose 'Balinese style' much to other stall holders enjoyment!  She was insistent that we had our photo taken together and dressed me in her sarong so that I looked 'traditional'!
We arrived at the cooking school around 9 am and set about the class tasks. It was a fun morning with a small class of only 3 so a great opportunity to learn more about the Balinese culture, the traditional foods, spices and anything else we wanted to know.
Our fellow student was from Montreal and only spoke a few words of English which made it fun to communicate as we had very little French and only a smattering of Indonesian (Bahasa).  Lots of hand signals and smiles!
Balinese woven offerings
Our first task was to make floral offerings to the gods which comprised of weaving a pandanus tray to hold flowers and other gifts to offer.  These were placed around the stone monument in the garden before we started cooking.
Our next task was to make a small woven box to cook a serve of rice in, which was very clever.  I couldn't get mine right so was laughingly scolded.  It was filled with uncooked rice, and then placed in boiling water to be served, sliced in half with our lunch.
Our teacher was a very switched-on young man (21 years old) studying hospitality and very good at sharing his skills and knowledge about cooking – the Balinese way.
We taught him some Aussie lingo just to keep his day interesting!
The Balinese Cooking School Menu
We made a selection of traditional sauces and flavour bases which were used to complement the various foods that were cooked.
Sup Jagung (Sweet Corn Soup) – the flavour was amazing – far better than I cook!
Sate Lilit (Chicken minced sate) – click here for the recipe
Be Pasih Mepanggang – (Marinated Grilled Fish) seasoned with lime juice
Mie Goreng – (Fried noodle) traditional Balinese noodle dish
Dadar Gulung (Coconut pancakes) – served with fried bananas.
It was rewarding to sit down together to enjoy the food we cooked and reflect on the Indonesian spices and flavours and the wonderful flavours.
Delicious!  Be sure to book yourself in to do a 'Taste of Bali' cooking class when you visit Bali.  It is highly recommended!
Have you ever taken a cooking class when on an overseas holiday?  Perhaps you could send me a recommendation?