Top-up your sun-tan by cruising the Caribbean
Cruising the Caribbean is the perfect winter escape.  Top-up your suntan, enjoy the warm water beaches and escape the cold winter temperatures of the north.  Winter is the perfect time to cruise the Caribbean!
Our 'trip of a lifetime' started in the colder zones of the United States in early December.  Our plan was to experience snow, to have our first 'white Christmas' and to take part in the winter activities that are not usually part of our Australian lifestyle.
Aussies are warm weather people!
Whatever were we thinking?
Winter in Darwin in the tropical north of Australia, usually hits a cold 16 degrees Celsius for about a week before warming up to a mild high 20's temperature.
Winter for Aussies is warmer than almost everywhere else in the world.
So, after celebrating New Year's Eve in bitterly cold Boston with snow and sleet, we were very keen to warm up on a cruise in the Caribbean!
We were in excited just to be going somewhere warm!
Read more:  Celebrate New Years Eve in Boston
Cruising with Celebrity Equinox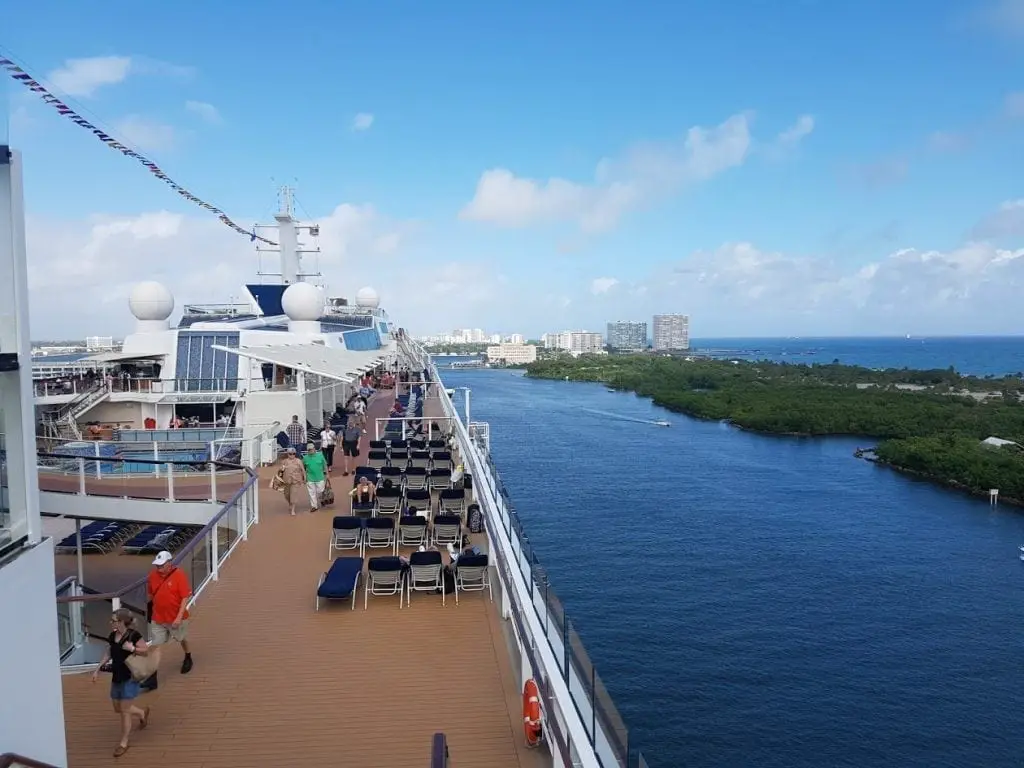 Our ship was the Celebrity Equinox – a modern ship carrying about 2,800 like minded travelers to the Caribbean islands – most of them escaping winter!  Celebrity Cruises operate around the world with cruise destinations to suit everyone.
On-board there are so many options.  Choose to participate … or not.  Its your holiday!
Relax and be pampered
Cruises have a range of spa packages available for guests.  Start your cruise off with a boost by booking yourself in for a facial, massage or day-spa treatment.   Spoil yourself.
Smart thinking if you are cruising to relax!
Many passengers stay on-board during shore days to enjoy the ship to themselves.  Spa treatments reserved for shore days often attract a discount so it's a win-win option.
Onboard Dining
Breakfast is served in the buffet and the main dining rooms.  Need I mention that food is one of the key features of a Caribbean cruise!
Cafe al Bacio and Gelateria is the popular European inspired coffee house with gelatos and freshly baked pastries and quickly became our early morning coffee stop.
The main dining room 'Silhouette' served excellent fare including a three course menu for lunch and dinner.  Included on the menu were premium steaks, seafood, chicken, and lamb dishes, accompanied by an extensive wine list.
The restaurant is always a treat but as foodies we love to experience the other restaurants whenever we can.  We loved the changing menu choices.
Celebrity Equinox featured 5 alternate restaurants specialising in different dining styles.
Sushi on 5 – Japanese style sushi, perfect for light dining.
Silk Harvest – combining Chinese, Japanese, Thai and Vietnamese cuisine.
Tuscan Grille – an Italian steakhouse with a sophisticated menu and wine selection.
Murano – fine European style dining with an extensive wine service.
Onboard entertainment and shopping
Evening shows and entertainment were consistently good with talented crew members, singers and comedians showcasing a their talents.
On board activities evolved around shore days and included trivia quiz's, cards and board games or lazing around the pool.
The on-board Casino was always busy with both the high rollers tables and the slot.  I'm sure this had nothing to do with the 'no gambling' laws in Florida!
I was lucky enough to win a pair of Tanzanite stud earrings as a lucky draw prize.
Shopping is a popular pastime for both men and women passengers.  Tax and duty free boutiques offering exclusive handbags, perfumes and cosmetics as well as watches and jewelry for purchase.
Some of the on-board activities include raffles and giveaway prizes, auctions showcasing art from emerging artists and exquisite hand-blown glass pieces drew the crowds.
A 'flight' of martinis
We 'discovered' martini's !
Visiting the 'iced over' Martini Bar for 5 o'clock refreshments on Day 2 seemed like a good idea at the time!
Someone around the bar ordered a 'flight of 12 martinis'.
The crowd gathered around, cameras appeared, and the encouragement began.

Spectacular to watch the show drew cheers and whistles from the gathering crowd!
Fascinated, we watched as Allin the cocktail crafter extraordinaire prepare the flight.
Allin built a pyramid of 12 martini glasses on the bar. Ingredients for each martini were poured and blended into 12 individual cocktail shakers.
The shakers were stacked, raised above his shoulder and shaken before slowly tilting towards the glass pyramid to simultaneously pour 12 different martinis into the 12 martini glasses!
We were hooked  …  but by Day 6 we couldn't face another martini!
Wineglass Workshop
One of the on-board activities on this cruise was the Riedel Workshop.
Riedel Crystal has an extensive reputation worldwide for designing the very best wine glasses specifically to suit each and every wine style.
As part of this workshop experience, we were treated to a unique and authentic Riedel glass-tasting at sea.  Led by some of the best sommeliers, this wine glass tasting demonstrated the benefits and difference in the taste of wine with relation to the wine glass it's poured into.
A fun afternoon with some surprising revelations for wine drinkers!
Shore Excursions
Many of the passengers stayed onboard the ship but for us, we were very keen to experience everything possible.
Labadee in Haiti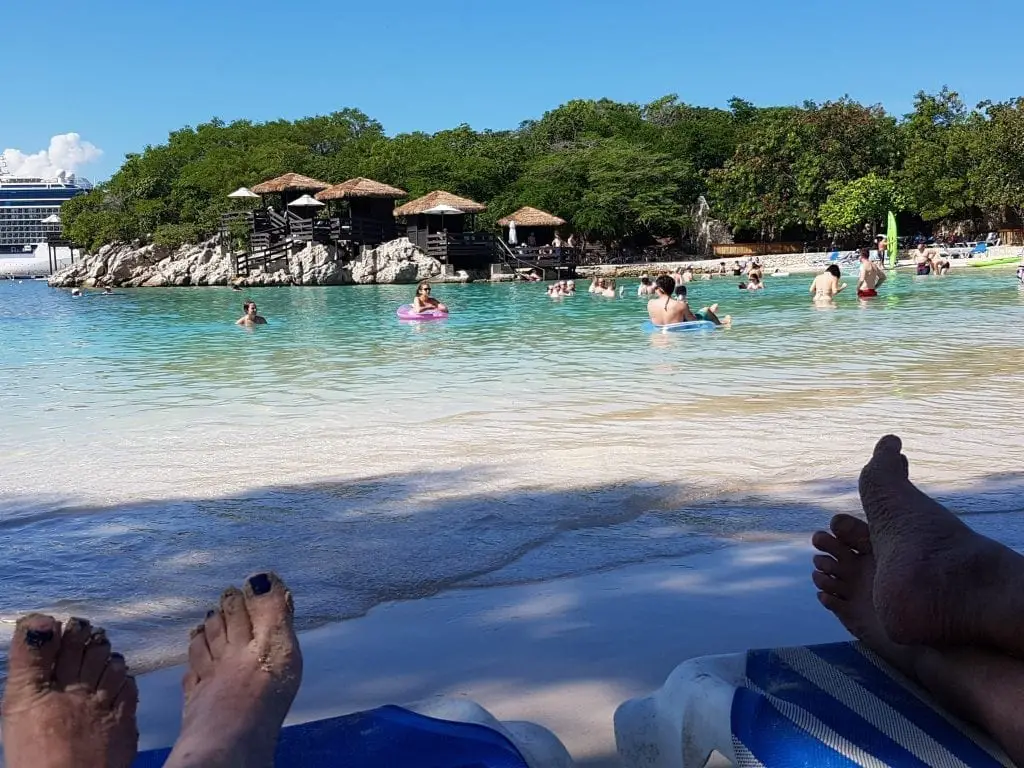 On the northern coast of the island of Haiti, Labadee is an 'island paradise'.
We took a historical walking tour of Labadee, which was narrated by a local Haitian man talking about the history of the island of Haiti, its people and culture over the past 500 years which was very interesting.
There is nothing quite so relaxing than swimming in the crystal clear Caribbean waters and lazing on the beach until the ship sailed late in the afternoon.
Falmouth in Jamaica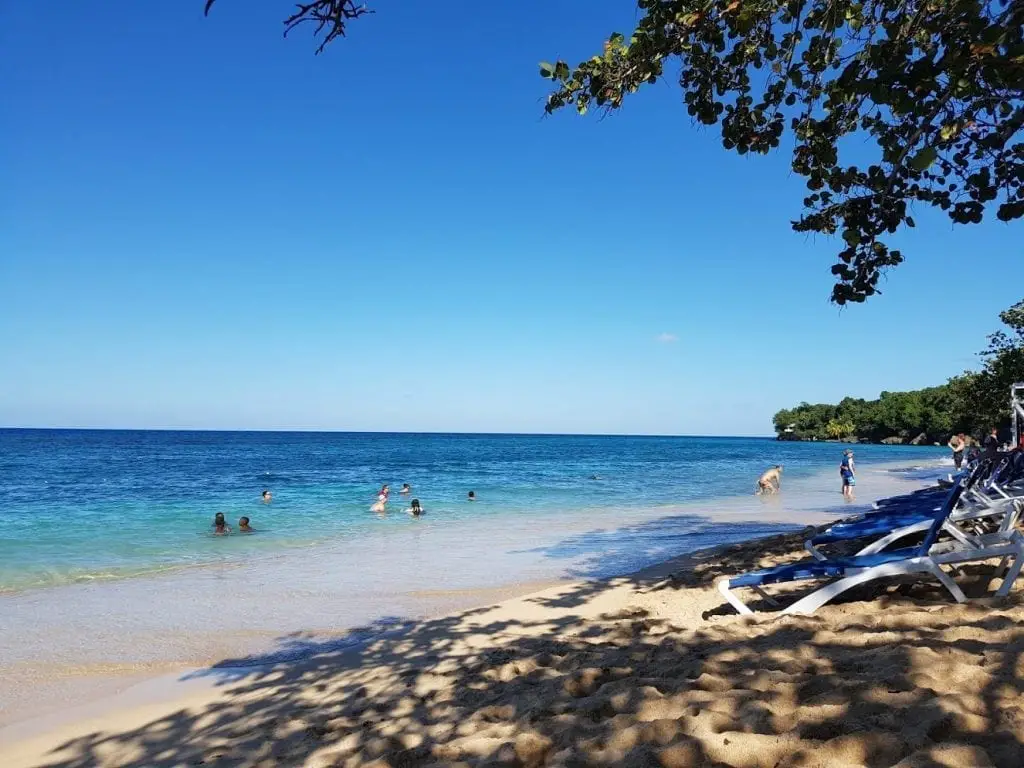 Falmouth is on the north coast of Montego Bay in Jamaica and noted as one of the Caribbean's busiest ports.  In it's heyday, Jamaica was the world's leading sugar producer.
Our tour took us to some beautiful sights and ended with a traditional lunch by the beach. The relaxed outlook of the Jamaican people was refreshing.  'No problem mon' is truly their mantra!
George Town, Grand Cayman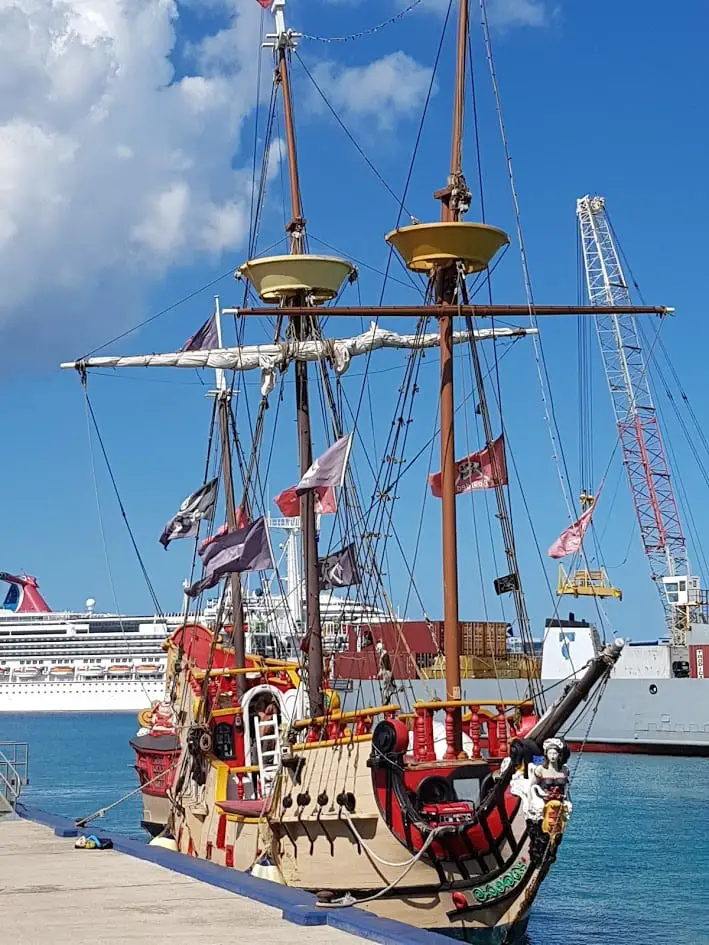 The Cayman Islands are still a part of the British Commonwealth.  Beautiful clear turquoise waters of the western Caribbean make this destination one of the most popular holiday spots in the Caribbean.
We took this shore day to explore George Town taking the opportunity to shop, sample some of the local food and enjoy the local music.
Cozumel in Mexico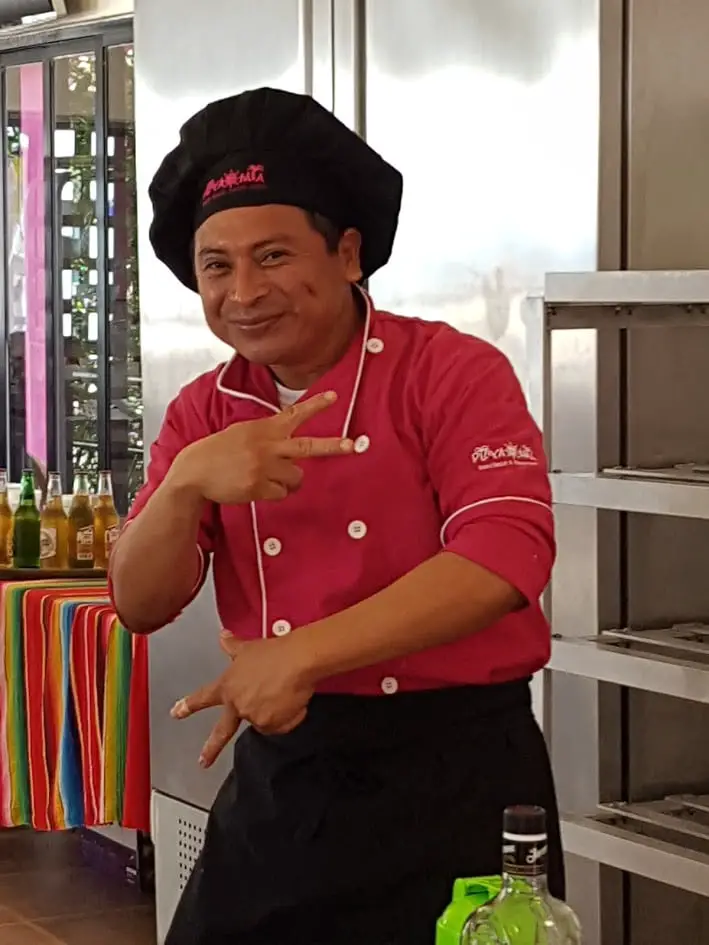 Cozumel is famous for it's coral reefs and water sports including deep-sea diving, snorkeling, kayaking and parasailing.
Mexican cooking always starts with a margarita – apparently!
We booked a Mexican cooking class.  Mexican cooking rules saw us settling into our first Margarita at 10 am.
Our chefs had a great sense of humour and kept up the supply of Margaritas.
Our cooking lesson was to prepare a 3 course lunch.  A Mexican style Grouper (fish) parcel followed by a hand-made tortilla topped with spicy paprika prawns.  The grand finale was a delicious desert of Tequila plantain bananas.
It was a fun day for us all!
If you're looking for somewhere to cruise to, choose the Caribbean.  Pin this.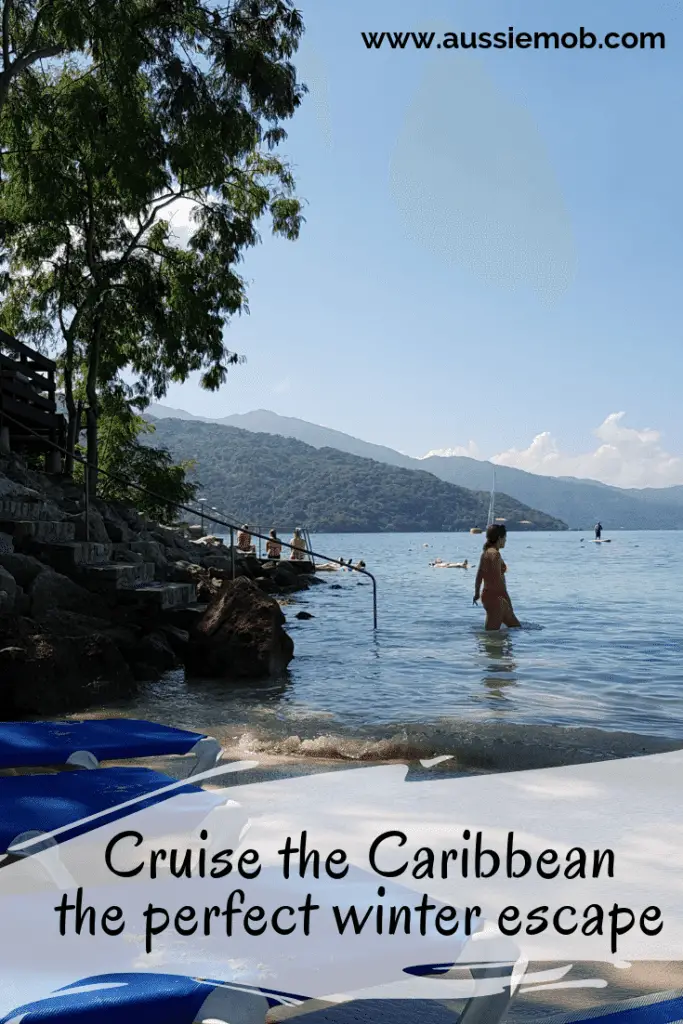 Cruises can be great fun!  Fine dining, entertainment, relaxation and an opportunity for like minded people to enjoy some of the finer things in life.
We totally enjoyed our cruise aboard the Celebrity Equinox.
Have you been on a cruise?  What did you enjoy most?  Do you have a fun story to share?