This article may contain affiliate links for which we may receive a small commission if purchases are made through these links. We thank you for your support.
Be warned – Kakadu will take your breath away!
Escape to Kakadu in the Northern Territory's Top End.  Steeped in history and rich in Aboriginal culture, add a dash of adventure and you have the perfect holiday experience.
Kakadu is a living cultural landscape. Home to Aboriginal people for more than 65,000 years and recognised as the oldest living culture on earth.  Aboriginal people have a spiritual connection with this land and it's easy to see why.
Flood plains that stretch to the horizon, extraordinarily vivid colours and seemingly endless pristine wilderness.  This landscape really is magnificent!
Must See
Climb Ubirr Rock at sunrise
Experience sunset on a Yellow Waters Cruise
Step back in time as you explore the Aboriginal rock paintings
[bctt tweet="Escape to Kakadu National Park!  Steeped in history and rich in Aboriginal culture .. tinged with a dash of adventure." username="territorymob"]
World Heritage Listed
Kakadu National Park is dual-listed on the UNESCO World Heritage list, for both its outstanding natural values and as a living cultural landscape.  Only 37 sites worldwide have received this significant honour – and only four sites in Australia.
Kakadu's ancient rock art and archaeological sites record the way of life of Aboriginal people over tens of thousands of years.  Aboriginal rock art along the escarpment, in gorges and on rock outliers tell the story from before time. These paintings constitute one of the longest historical records of any group of people in the world.
Kakadu's ancient escarpment and stone country spans more than two billion years of the earth's geological history. However, the coastal floodplains are more recent, shaped by changing sea levels and the big floods of the wet season, every tropical summer.
The Ancient Heritage
Kakadu is often referred to as a living cultural landscape where Aboriginal people have lived and cared for their country for tens of thousands of years.  The Aboriginal people of Kakadu are the Bininj/Mungguy people and the traditional custodians of this land.
Throughout Kakadu you will see very distinctive rock art representing one of the oldest historical records of any group of people in the world.  More than 5,000 Aboriginal art sites depict stories of the ancestors and changes in the landscape over thousands of years.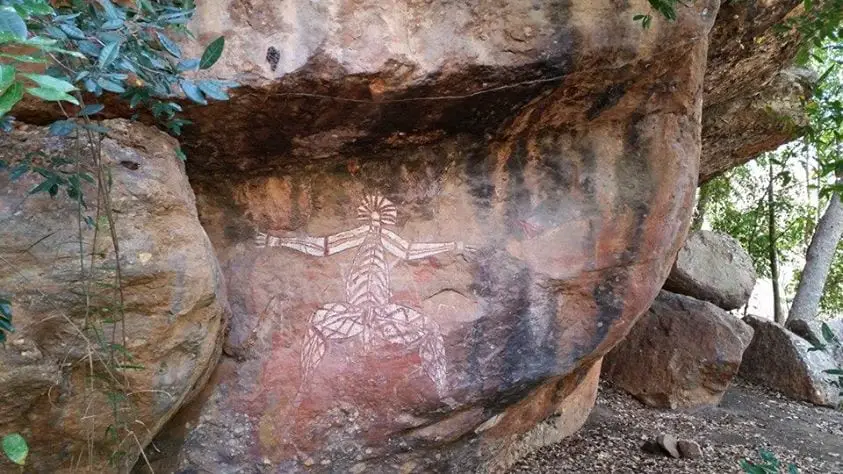 Conservation is the key to the survival of Kakadu
Many species of plants and bird life are found nowhere else in the world and is home to 68 species of mammals, more than 120 species of reptiles, 26 types of frogs, over 300 tidal and freshwater fish as well as more than 2,000 different plants and over 10,000 species of insects.
A native habitat to more than 290 bird species, these wetlands are internationally important as a staging point for migratory birds.
Landscapes and habitats change from savannah woodlands, monsoon vine forests, stone country, tidal flats, hills and ridges, mangroves and coastline through to floodplains, rivers and billabongs.
What to do in Kakadu National Park
There's so much to do whilst visiting Kakadu
Visit the Bowali and Warradjan Cultural Centres. Learn more about the history of this 'country' (the Kakadu region) and the people who have lived here for over 10,000 years.
Join the National Park rangers for activities throughout Kakadu, including rock art site talks, walks, painting and weaving demonstrations and evening presentations at Bowali Visitor Centre in Jabiru, and Warradjan Aboriginal Cultural Centre in the Yellow Water region, and at other special sites throughout the park.
Fall in love with nature as you climb the escarpments and swim in tropical waterholes.
Discover Kakadu with local tours, experience the wetlands on a sunrise cruise or take a stunning scenic flight over this magical wilderness.  Enjoy the spectacular fishing spots, go boating in a billabong and spot some crocs in the wild!
Hunt and gather with a traditional Aboriginal guide, eat traditionally-cooked bush foods beneath the southern stars listening to stories about their creation ancestors.
Kakadu is a place to spend time with friends and loved ones, making memories that will last a lifetime.
Learn about the healing properties of the native plants and listen to the legends that have been handed down through the generations.
Go bush-walking around Nourlangie Rock.
Take a sunset tour on Yellow Waters billabong and be amazed at the abundant wildlife around these beautiful waterways.  There is an abundance of barramundi and other fish living in these billabongs.
You will see huge saltwater crocodiles sunning themselves at the water's edge, buffalo grazing nearby and birds diving for fish.  You may even see fisherman trying their luck in crocodile infested waters.  (Please do not do this!)
You will end up with magnificent photos and amazing memories.
Do you want an adventure?
There are opportunities for 4WD trips into Jim Jim Falls and Twin Falls Gorge, both unique experiences that will make your Kakadu experience one of your most memorable lifetime experiences!
Ubirr Rock
Sunset or sunrise at Ubirr Rock is 'mandatory' for all visitors to Kakadu!
Ubirr (Ooo beer) Rock is the home of a number of significant aboriginal rock art sites in Kakadu National Park.  A short, 'not too difficult' climb to the top of the rocky lookout will offer spectacular views over the floodplains below – horizon to horizon.  Be aware, it does attract the crowds at sunset so if you're a morning person, my tip is to be there at sunrise.
Sunrise and sunset are the best times to climb the escarpment and if you are lucky enough to visit in the 'wet season' you will be rewarded with amazing wetland water views to the horizon and the most magnificent sunset you will ever see!
[bctt tweet="Sunset or sunrise at Ubirr Rock is 'mandatory' for all visitors to Kakadu!" username="territorymob"]
HOW TO GET THERE

Fly:  The nearest Flight hub is at Darwin.  Choose whether you hire a vehicle or take a tour to get to Kakadu.  Currently there aren't any commercial flights to Kakadu.   If you're travelling from overseas, you may need to fly into one of the major cities first and then take another flight to Darwin.

Drive from Darwin:  Bus or 4WD tours are available or if you enjoy a road-trip, self-drive from Darwin on the Stuart Highway then the Arnhem Highway.   Hire a 2WD vehicle, 4WD or motor home in Darwin.  The journey takes about three hours and there are plenty of sights to explore along the way.

See our Natures Way post for a 7 day itinerary to take in the best of Kakadu, Nitmiluk and Litchfield National Parks.
Getting around Kakadu
Tip: There are many popular attractions that can be accessed with a normal 2WD vehicle, but to explore all of Kakadu's attractions you may need a 4WD.
Kakadu is big, and remote!
Moving from one site to another takes time. Some roads are unsealed, winding 4WD tracks which add more time to journeys to must-see areas.  You will need to bring your own vehicle to get around, or join a bus or 4WD tour.  There are no taxis, buses or trains.
Be sure to read our driving tips and view the Kakadu access report.
Learn about the 6 seasons of Kakadu
Kakadu recognises six different seasons based on thousands of years of Aboriginal knowledge. There are subtle variations that indicate the transition from one season to another – changes in the weather, which plants are in flower and which bush foods are abundant.
[bctt tweet="Have you downloaded the Kakadu Visitors Guide and the Kakadu Birds app yet? Don't go to Kakadu without them! " username="territorymob"]
Download these apps before you go
For those times when you find yourself on a remote adventure with limited phone reception and no WiFI you'll be grateful you downloaded our visitor guide app and our bird app.  Both will will work while you're offline.
Kakadu Visitors Guide:  The Visit Kakadu app is a visitor guide in your pocket, complete with maps, contact numbers, things to do, where to stay and all the other information you'll need.
Kakadu Birds App:  Discover the many bird species throughout the park.  Meet around 50 of our favourite birds with pictures, bird calls and notes on where to see them.
Pin this … 
Kakadu is vast and extraordinary country and one of the most spiritual places in Australia to visit.  Be sure to add it to your Bucket List.  This is truly the most remarkable place you'll ever visit!  
Reference: Kakadu National Park visitors guide.  For more information Parks Australia