Darwin is making a name for itself as a foodie destination.
Darwin's restaurant and cafe culture has boomed over recent times with a number of funky laneway cafes and hot new restaurants and bars popping up everywhere.  Foodies of Darwin are loving the new eating options in this growing city.  Darwin really has become quite the foodie paradise!
Here's 20 of our favourite restaurants and cafes in Darwin.
Where to eat, drink and be seen around Darwin
Over past years Darwin has grown into a great foodie destination. Hidden cafes tucked away in back-city laneways, contemporary bars and restaurants in picturesque locations that are second to none.
Its been a mission, but someone has to do it!  I've researched them all thoroughly for your reading pleasure.
Manoli's Greek Taverna
Locals tip: Dine after 7pm on Friday and Saturday nights for the lively Greek entertainment.
Simple fresh flavours of Greece.  Manoli's Greek Taverna serves 'Mezethes' which means 'plates of food to share'.  A common eating style in Greek family homes where you can have a feast or just a light dinner.  Try their Seafood Saganaki!
Located in Smith Street in Darwin city.
Stone House Wine Bar
Darwin's first true wine bar, with select wines from around the world Stone House Wine Bar has hit the mark with locals.  Hosting a number of renowned winemaker tasting events, this wine bar is a popular spot to catch up with friends.
Located in the original stone Sue Wah Chin building of old Chinatown on Cavenagh Street in the heart of Darwin city.
Pee Wee's at the Point
Locals Tip:  Be there for Sunset!
For somewhere special, the place to go is Pee Wee's at the Point.  With it's stunning waterfront location and creative menu, this restaurant is known to have Darwin's best views. Pee Wee's at the Point is the perfect place to wine, dine and relax all year round in Darwin. 
In a unique waterfront setting at East Point Nature Reserve.
Seafood on Cullen
With ocean front views Seafood on Cullen is an all-you-can-eat seafood smorgasbord restaurant offering fresh shellfish, and hot and cold buffet-style dining.  A large venue with magnificent views and a casual atmosphere.
Located at Cullen Bay overlooking Darwin Harbour.
The Waterfront Bistro at Darwin Sailing Club
Locals tip:  Arrive early to catch the sunset, the views are spectacular!
The Waterfront Bistro is a multi-award winning restaurant overlooking stunning Fannie Bay.  A diverse menu from burgers and wraps extending to a taste of south-east Asia, flame grilled steaks, pastas, a wide selection of local seafood and home-made desserts.
Located on the beachfront.
Little Miss Korea
Locals Tip:  Manchu Monday nights for the best dumplings in Darwin!
One of my favourites!  Little Miss Korea is a unique Korean Charcoal BBQ Restaurant, also offering a modern take on Korean à la carte & lunches.  This funky industrial-looking space caters to locals and tourists alike.  Little Miss Korea is a gastronomic experience that should not be missed.
Located in Austin Lane.
Char Restaurant
Locals tip:  Dry season dining in the garden.
Char's unique dining experience offers Darwin's signature dining experience, Australian wines and innovative cuisine.  Char Restaurant features premium cuts of steak and fresh seafood.
Located in inner city Darwin within heritage listed Admiralty House and it's grounds.
Six Tanks Brew Company
Locals tip:  Order the Charcuterie Board!
You can't miss the 6 big copper tanks at the front of house!  This bar and eating house is a favourite with visitors and locals alike.  Six Tanks Brew Co has 26 taps of its own, brewed on site and a whole swathe of beers from guest breweries.
Located in Mitchell Street, Darwin City.
The Cavenagh
Locals tip:  Nam Jim Oyster Shots – consistently great!
This long standing pub is one of Darwin's favourites.  The Cavenagh or 'the Cav' as it's affectionately known is popular as the best steakhouse in town.  The Cav has a great menu  and one of the few restaurants to serve Beef Wellington.
Located at the top end of Cavenagh Street in the City.
Wharf One Food & Wine
Locals Tip:  We recommend the Shared Tasting Menu.
Treat yourself to absolute waterfront dining, Wharf One Food & Wine offers a fun dining experience, specialising in wood grill cooking and seasonal local produce.  Its the perfect place for lunch, dinner, special occasions or a drink or two.
Located at the Waterfront precinct, a short 10 minute walk from Darwin CBD.
Hanuman
Locals tip:  Try my favourite Hanuman oysters and Chilli baked Reef Fish.
One of the best Thai Indian style restaurants in Darwin (and Alice Springs as well) Hanuman is known for it's reputation for consistently delighting guests with authentic asian flavours.
Located Mitchell Street.
Ally Cats Patisserie
Locals tip:   Try their 'freak shake' – it's the ultimate no-calories treat.
A great spot to stop for breakfast or lunch is Alley Cats Patisserie is home to the best diet blowout menu items you'll find in the Territory.
Located at the back of the Alley in Mitchell Street.
Smokey Joe's
Locals tip:  Kick back and watch the sun set as you settle into an icy cold beer.
The Beachfront, on the foreshore at Nightcliff, attracts locals and tourists alike.   Enjoy a relaxing breakfast, brunch or lunch at Smokey J's Bistro Brew & Que on the outside deck overlooking the Arafura Sea with dinner served seven days a week.
Located on the foreshore at Nightcliff.
Yots Greek Taverna
One of Darwin's leading restaurants located on the Waterfront Boardwalk at Cullen Bay. Yots Greek Taverna specialises in modern and traditional Greek cuisine with fresh seafood meals our specialty.  A great wine list is available.
Locals tip:  Grab a Mezze platter and a nice bottle of wine to watch the sunset over the marina.
Located in the Cullen Bay Marina.
PM Eat and Drink
Locals tip:  Great tapas and seafood and an excellent wine selection.
Make sure you reserve a table at PM Eat & Drink. PM's funky wall murals and industrial decor make for a great place to meet friends.  Servicing some of the best Tapas style food, PM has a great wine list and excellent selection of cocktails.
Located in the Knuckey Street on the corning of the graffiti-covered Austin Lane
The Oyster Bar
Locals tip:  Wednesday is Oyster Day with discounts oysters all day.
Just a five-minute stroll from Darwin city centre is The Oyster Bar a great place to chill out and enjoy the waterfront views with a glass of bubbles and a dozen of your favourites.
Located at the Waterfront Precinct.
Thailicious
Locals tip:  Funky upstairs dinning – Thai style.
Overlooking busy Mitchell Street, diners at Thailicious enjoy a unique rooftop dining experience.  Traditional Thai cuisine, diners can choose outdoor dining on the decks or take traditional floor cushions.  Thailicious offers one of the most relaxing places in Darwin to dine. 
Mitchell Street, upstairs overlooking the busy street.
Moorish Cafe
Locals tip:  Their Spanish seafood hotpot is to die for.
Specialising in local Territorian seafood and produce and inspired by the flavours of Spain, the Mediterranean and Northern Africa.  A great tapas menu and fabulous liver pate.
Il Piatto Restaurant
Locals tip:  Try their lobster Ravioli!
One of our favourites, iL Piatto is an Italian style restaurant with a classic selection of favourite Italian dishes.  Soak up the breath-taking ocean views while enjoying a fresh pasta dish and the perfect wine choice.
Located at Sky City Darwin overlooking the ocean.
The Precinct
Locals tip:  Check the daily specials, you may find a gem!
Whether you're one of the locals or just passing through, the Precinct is the place to go.  The Precinct at the Darwin Waterfront, boasts 46 taps of craft beers and cider, quality wines and modern pub food or for something different pick up an antipasto picnic basket.
Located at the Waterfront, beside the wave pool.
Sweetbrew & Co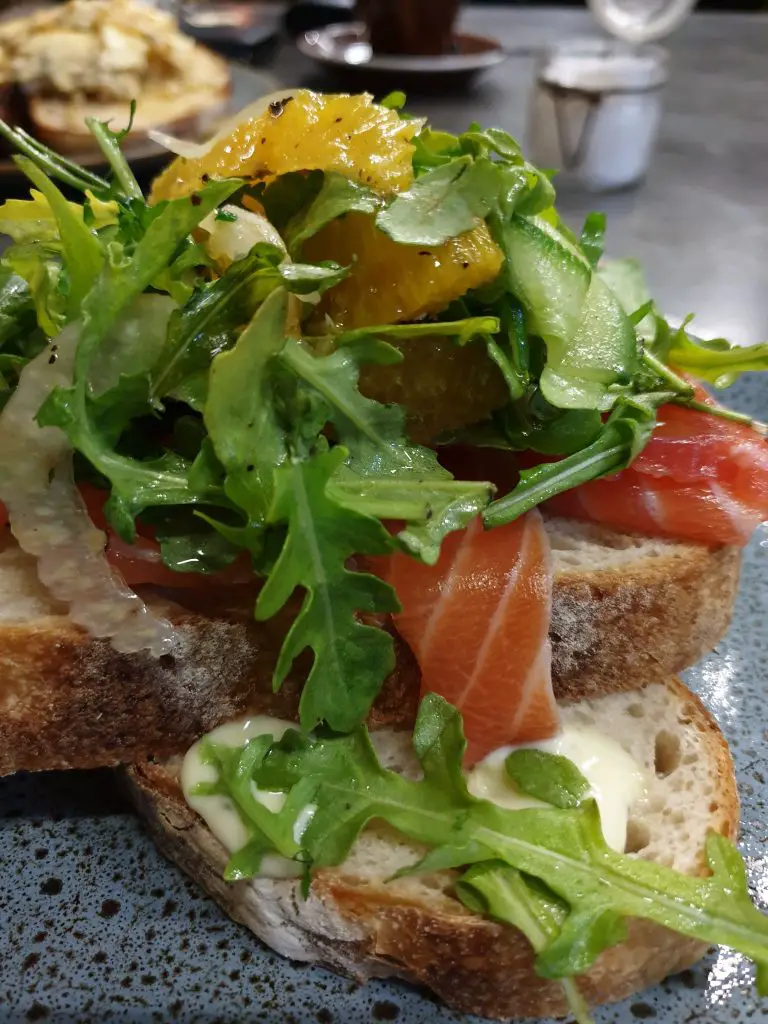 Locals tip:  Great coffee but often very busy but so worth the wait!
A funky modern cafe serving a new age menu with delicious house cooked pies and other treats and freshly baked delicacies.
Found in Stuart Park on the main highway.
Pin this as a reminder.
Read next: Trend setting Bars & Eateries to try in Darwin
Darwin is proud to have a number of fabulous restaurants and cafe's both inner city and in the outer suburbs.   Make sure you visit them all.