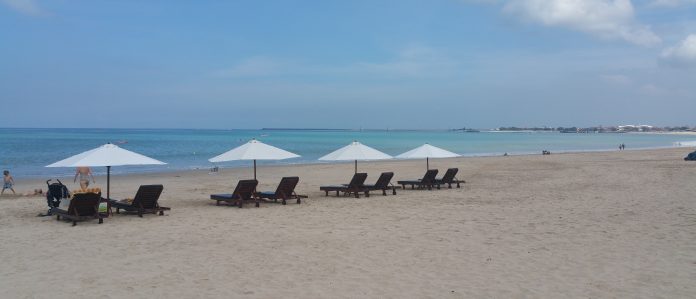 The Jimbaran Beach Balinese boutique resort is one of my favourite places to stay in Bali!
Our first few nights in Bali was at this exquisite little Balinese boutique resort hotel at Jimbaran Beach 'Open House'.
On arrival in Bali in the early hours of the morning we took a taxi to the 'Open House' Hotel.  Jimbaran Beach is close to the airport and due to the unfriendly flight arrival times, one of the reasons we selected this hotel.
The doorman was welcoming to a couple of weary Aussies in the wee small hours of the morning and checked us in quickly and quietly.
We were pleasantly surprised with the trendy boutique style rooms, the modern decor and accessories added a touch of luxury.  The double doors opened up onto a patio with outdoor seating and not more than 10 steps away, was the gorgous swimming pool.
For those who wanted to lounge around and read, a thatched cabana with bean bags and giant cushions made up the reading nook and included a library of assorted books.  There was space for yoga and massages which could be arranged from reception.
The open-style restaurant was an option for guests, serving a good selection of traditional and western dining choices.
Let the holiday begin
Holidays are something we need to do better!
Our intentions are always great.
We always plan to relax, chill out and regain our mojo but often the reality is we get busy being a tourist and don't do enough of the relaxing!  This holiday was planned to change that!
Holidaying in Bali in early February is in the midst of the monsoon season and often too humid for most.  Having traveled to Bali from Darwin we had the advantage!  Same same!  It's monsoon time in Darwin as well!
For us it was the perfect weather for swimming and lounging around the pool – and that's just what we needed!
After a couple of hours catch-up sleep we headed into the restaurant by the pool for some breakfast.  An Indonesian chef meant that we were able to enjoy traditional Balinese dishes or choose from the Aussie friendly menu.   I selected Mi Goreng and freshly squeezed fruit juice while Trev headed straight for a hearty breakfast of Bacon & Eggs!
After breakfast we wandered down to the beach to take in the sights.
Jimbaran Beach
Jimbaran Beach is a beautiful white sandy beach gently sloping towards the ocean, renowned for it's selection of open-air seafood restaurants on the beach.
Traditional Indonesian fishing canoes were pulled up high and dry waiting for the tide to come in.  Fisherman were waist-deep in the water trying their luck at catching dinner.
We walked past a number of exclusive resorts along the beachfront of Jimbaran Beach with their beach chairs under thatched umbrellas overlooking the beach.  The humid February morning lured us into the Belmond Jimbaran Puri Hotel for a cold drink.  We decided it was a beautiful spot to laze away our morning!
The service in Indonesia is always great and coupled with the perfect beachfront view, a glass of ice cold sparkling water and a delicious snack of kumara & peanut crisps, we decided to return later that night for dinner.
A beautiful way to start our holiday
We returned to our hotel to spent the afternoon chilling out at "Open House".   Choices!  Do we spend the afternoon in the poolside pavilion lounging on the bean bags with a good book, swim in the pool or take a relaxing open air massage?
Trevor booked himself in for a relaxing massage while I lazed in the pool .. and made a note to myself that I could easily get used to this lifestyle.
Jimbaran Beach has great choices for Seafoodaholics
At dusk, we strolled along the beach with our shoes in hand to the 'Belmond' for dinner at the oceanfront Nelayan Restaurant.
We were seated on outdoor pavilion on the edge of the sandy beach surrounded decorated with candles, paper lights and floating streamers.  Perfect!
We chose to share the seafood signature dish "Rijsttafel" and were totally impressed with the selection of dishes served in this banquet.  Rijsttafel is a Dutch word that translates to 'rice table'.  It is a selection dishes including small side dishes such as egg rolls, sambals, satay, fish, fruit, vegetables, pickles and nuts featuring an array of colours and flavours.  For us, it was a perfect way to enjoy our first night in Bali.
We wandered back to 'Open House' along the beach.  I would recommend this Jimbaran experience to all.
Have you ever stayed in Jimbaran?  Where do you stay when visiting Bali?