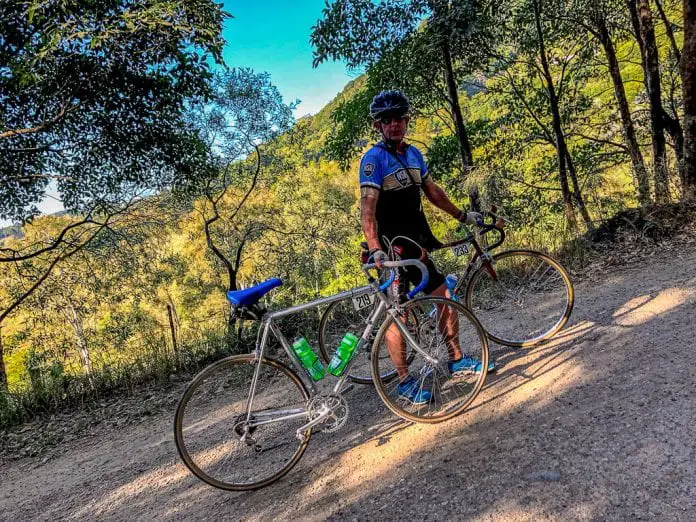 Retro cycling is the new buzzword
Living with a retro cycling nut is never dull!
A collector of old bikes, Trevor attends 'retro' cycling events, hovers on the 'buy, swap & sell' sites, talks a language of geometry, downtube shifters and gears and frequently moves his much loved specimens on, for the 'next new love'.
A bike mechanic and enthusiast from his teenage years, past owner of bicycle shops, competitor at track and road racing events, and a National commissaire (referee), Trevor truly has found his niche!
Q:  How many bikes is enough?

A:  Just one more!
I won't mention that our cars remain parked outside in the weather!
What is a Retro Cycling Nut?
There are nineteen bikes in our garage … but who's counting.  Not to mention the many more unfinished projects. Frames without wheels, gears, cogs, wheels and rims and other assorted parts just waiting to go into a build that will evolve into something special.
He trolls the 'buy, swap & sell' websites for specialist parts and tools with other hardened retro enthusiasts and often drives a hard bargain for valued (often crusty) old bits and pieces to complete his latest project.
Hours of polishing, rebuilding and revamping these often tired, old relics.  He restores, rebuilds and reconstructs them to the glory they once knew and then faces the dilemma of whether to keep them, or to pass them on to another enthusiast who can't resist.
The Retro Cycling Nuts Collection
Trevor's collection features retro bicycles of a vintage prior to 1986.
He has a Cinelli, an Olmo, a Lennie Rogers, Vitus, Alan, a Standish, a newly acquired
Gefsco, a Pinarello, Kenevans, a Ricardo, a Clamont, a DeRosa and a Raleigh .. to mention just a few of his treasures that take pride of place in his workspace.
Noosa Strade Bianche
Every year, our annual ritual is to travel to Noosa to attend the Noosa Strade Bianche complete with a bike in tow.
Retro cyclists come from across Australia and New Zealand to ride with other retro nuts.
The weekend is jammed packed with men and women keen to compete in this fun event – in a social kinda way!
Dare I say – it's where all the best Retro Cycling Nuts hang out!
There are uni-cycles, tandems and antique bikes.  With over 200 entries each year, the Noosa Strade Bianche is known for it's camaraderie and good-natured competition.
It's not about the ride; it's about the friendships that are made along the way!
Saturday's ride is the Piccolo Fondo of 33 kilometres through the Noosa Hinterland is a short fun warm-up is run as a prelude to the main event.
On Saturday afternoon, the Noosa Strade Bianche Show and Shine and swap meet is held at the Noosa Marina after the ride.  This is where the real bike envy begins!  Competitions are run for the best restored, best un-restored and peoples choices and trading of much sought after bike parts takes place.
It's a fun event where other enthusiasts like Trevor, polish up their 'latest love' and proudly display them at the 'show and shine'.  There's always a risk that Trev will bring another bike home that he 'just had to have'.
Sunday is when it gets a little more serious!  Well, not really that serious!
The Medio Fondo is 85 kilometres. The Grande Fondo – 137 kilometres.  Riders in both events leave the Noosa Marina early on Sunday morning returning early afternoon, somewhat exhausted.
The ride takes them through beautiful Noosa Hinterland, over steep hills and tough terrain.  These serious bike lovers really do risk life and limb to survive the challenging hills and rough road surfaces.
The funny thing is – these retro cycling nuts will do it all again next year!  Hopefully the selfies will improve 🙂
Pin this …
Check out Territory Mob's Noosa Strade Bianche post and linkup with @Super.Dibbles in Instagram, enjoy the read and be sure to leave us your comments!