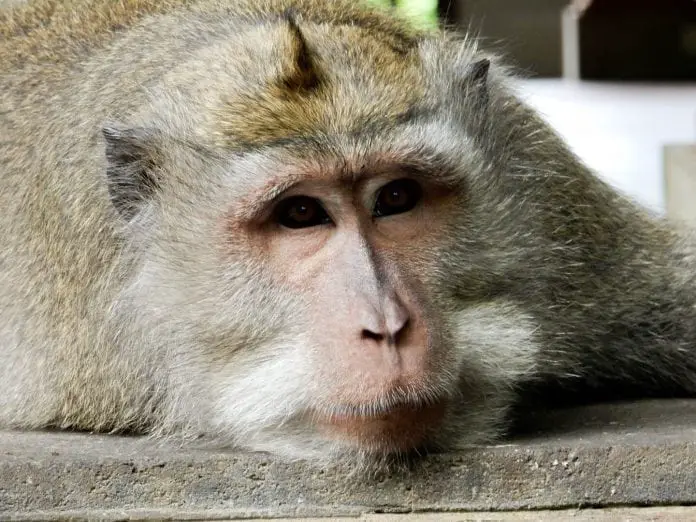 The Sacred Monkey Forest is one of my favourite experiences in Ubud, Bali
The Sacred Monkey Forest Sanctuary in Ubud is not just a tourist attraction!   The villagers of Ubud regard the Monkey Forest as an important spiritual, economic, educational and conservation centre for the village.
A nature reserve and temple complex, the Ubud Monkey Forest is home to over 350 long-tailed Macaques monkeys (Macaca fascicularis).  The Monkey Forest is approximately 27 acres and located in Central Ubud.  It's easy walking distance from most nearby hotels and resorts.
The Monkey forest contains the Pura Dalem Agung Padangtegal temple as well as a 'Holy Spring' bathing temple and other significant ceremonial places.
The forest is lush, green and tropical containing at least 115 different species of trees. with an abundance of natural trees, ferns and shrubs.
The Sacred monkey Forest is a popular tourist attraction in Ubud and is visited by over 10,000 tourists a month.
Hundreds of these little grey monkeys roaming freely amongst the tourists.  They are cute and very family oriented but can get very protective especially when their offspring are nearby.
They are constantly on the prowl for food and have been known to steal handbags, sunglasses, hats and anything else you might carry with you so if you have something that looks like (or smells like) you might be carrying food, be careful.
Despite the park attendants with 'monkey food for sale' carts, instructions are clear .. do not to feed the monkeys, don't touch the monkeys, don't look them in the eye, don't move quickly and don't scream if or when they jump on you.
Fast moving, unpredictable, alert and very curious little monkeys
It was interesting to watch the hierarchy and ranking of importance in their tribe.   When there is a potential threat, the 'leader' of the pack puffs himself up and hisses and snarls to demonstrate his superiority.
It's wise to move away when one of them starts demonstrating this behaviour as it's likely he will jump on your shoulders or launch an attack in an attempt to demonstrate his status.
Trev had a rather aggressive monkey pounce on him as we were leaving the forest.  He was unprepared when without warning the monkey shinnied up to his shoulder, bared it's teeth and attempted to peel his head like an apple.
A quick reaction sent the monkey very quickly back into the bushes!  That was our cue to exit the Ubud Sacred Monkey Forest!
It's a fascinating walk through the forest watching the monkeys in their natural habitat and I recommend adding the Sacred Monkey Forest to your 'must do' list.
Have you been to the Sacred Monkey Forest in Ubud yet?