Fantastic New Zealand wineries for wine lovers
New Zealand's wines are often vibrant and intense so if you're a wine lover here's your opportunity to experience some of the best wineries available.  We visited 5 wineries in the North Island to see what all the excitement was about.
New Zealand is famed for many exceptional wines so we decided to do some wine tasting at several wineries on the North Island.   Impressed by the depth and quality of the wines, we have promised to return to explore further.
The North Island's temperate climate provides an opportunity to grow a range of wine varieties.  Whilst we expected the variety, we didn't expect such diversity in the wine styles.
It was a pleasant surprise that each of these 5 wineries was quite different. Some we visited simply for wine tasting whilst others, we also sampled locally grown fruit and cheeses or stayed for the full dining experience.
Read next:  How to Road trip through Central New Zealand
Here are 5 of our favourite wineries in New Zealand
Waiheke Island
This picturesque island defines the boundaries of the Auckland region with the warm, dry Mediterranean climate promoting substance and intensity of the wines.
It's no secret that Waiheke's wineries are a popular drawcard for the island.  Once known for its exciting Cabernet blends, the Island has more recently celebrated its gutsy Syrah, elegant Chardonnay and fragrant Viognier and Pinot Gris wines.
Popular as a day trip from Auckland, there are around 30 boutique wineries on Waiheke Island, many with tasting rooms, exquisite restaurants and stunning views.
Mudbrick Winery on Waiheke Island was our lunch destination.  It was the perfect setting for an exquisite a la carte menu with wines perfectly matched to the menu and impeccable service.
Quite possibly one of my best winery dining experiences!
Mudbrick has been cleverly terraced into many levels, patios and decks to provide diners with private nooks and beautiful views.  A walk through the manicured lavender gardens provided a spectacular outlook over the bay towards Auckland.
Hawke's Bay wine region
New Zealand's second largest wine region, Hawke's Bay offers some of New Zealand's favourite wine styles.
A well-established wine trail offers a variety of cellar door experiences and the Napier region's food and wine festivals showcase the boutique wineries and art-deco architecture.
Hawke's Bay has earned an international reputation for its high quality Cabernet & Merlot blends as well as Syrah.  In addition Chardonnay, Pinot Noir and an impressive selection of aromatic white wines are also being produced in this region.
Mission Estate Winery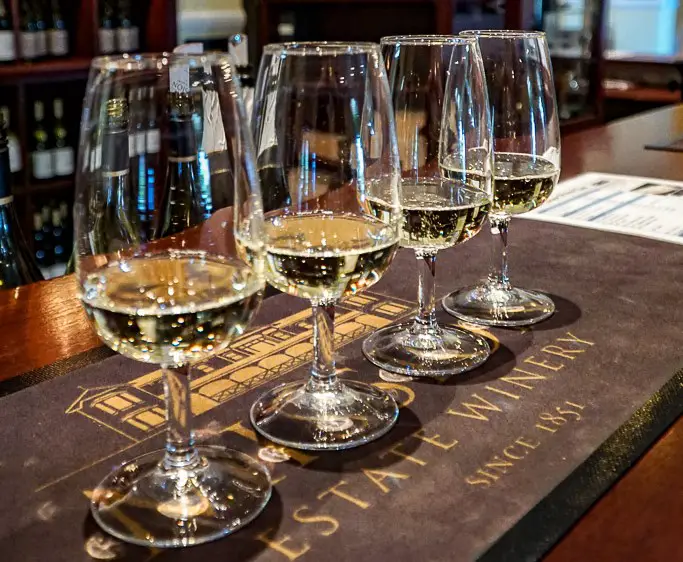 Grape vines were first planted in the Hawke's Bay in 1851 by Marist missionaries, at Taradale's historic Mission Estates Winery.  As New Zealand's oldest winery, Mission Estate has a longstanding reputation for producing award-winning wines.
The Cellar Door is located in the elegantly restored seminary building in the Taradale Hills.   It was interesting to learn of the history through the early photographs of the Mission and the Missionaries who settled in Napier.
The award-winning restaurant at Mission Estates is also set in the restored seminary and offers a garden verandah with stunning views over Hawkes Bay.
We explored the magnificent estate buildings before heading to the cellar door for the Mission Estates wine tasting.  It was interesting to learn that most of the fruit is grown in the South Island and transported to Hawkes Bay for processing.
We did come away from our Mission Estates cellar door with a couple of bottles of their fine Jewelstone Syrah to cellar at home.
Church Road Winery
Church Road Winery is the place to visit when in Hawkes Bay.  Winery tours, a fascinating underground museum, a popular a la carte restaurant and Cellar Door wine tastings.  There is something for everyone.
The first vineyard in New Zealand to craft Bordeaux style red wine, Church Road Winery utilises fruit from its vineyards in the Hawke's Bay region.
Church Road Wine Museum houses some of the oldest wine-making relics in the country, with some dating back 3000 years.  The Museum is located underground in the old concrete wine vats where the walls are encrusted with sparkling, gem-like tartrate crystals which formed when the wine was stored there.
The winery's rustic surroundings provided a good setting for the Church Road cellar door.  We were offered a full range of wines for tasting and finished with a tipple of their vintage port.
We spent a beautiful sunny afternoon chilling out on the balcony with a delicious cheese and fruit platter, accompanied by our favourite wines from the tasting.
Craggy Range
Craggy Range is a family owned winery was established in 1998 in the premium wine growing area of Hawke's Bay.
Located under the escarpment of Te Mata Peak, the Cellar Door is a stunning setting for Craggy Range winery.  Learn about the Craggy Range wine-making philosophy, attend a tasting and take a personal tour of the winery.
Winner of two hats at the 2018 Cuisine Good Food Awards Craggy Range Restaurant. We were excited to join friends celebrating their anniversary at Craggy Range Restaurant as we'd heard great things about the restaurant and winery.
The menu choices were varied but I can totally recommend sharing the Slow Roasted Lamb for two!  Delicious with wines to complement.  We headed out to the deck with selection of petit fours and a desert wine to end a perfect day!
Craggy Range is one of New Zealand's premier wineries and should not to be missed.
Linden Estate Wines
Linden Estate is located in New Zealand's most versatile wine-growing region of the northern Esk Valley.  We stumbled on this boutique winery just 15 minutes north of Napier.  Linden Estate cellar door offers unique wines and beautiful views across the beautiful Esk Valley hills.
Esk Valley is the oldest and most northerly wine growing area in the Hawke's Bay region.
An informal and a friendly experience, Linden Estates was one of our favourite tastings on our visit to Hawke's Bay.  The northern Esk River Valley area has been recognised for their premium Chardonnay and early ripening reds, including Pinot Noir.  Whilst these were quality wines, our favourites of the tasting were the Pinotage and the Syrah.
The winery boasts a sunny deck overlooking the valley and is a great place to relax and enjoy the sunshine.
Wine Styles grown in New Zealand
Red Blends:  Bordeaux blends are produce wines of great intensity, elegance and longevity. Merlot is one of the popular blends, offering rich plum undertones.
Chardonnay:  Excellent fruit intensity and complexity. Wines are full-bodied and lengthy, with well-balanced richness.
Sauvignon Blanc: Rich, fruit-driven wines with a degree of oak fermentation or maturation to add complexity and body.
Pinot Gris: Aromatic, spicy, bold and balanced wines with good body, retaining excellent varietal character and freshness.
Syrah: An exciting variety showing great distinction. Wines are perfumed, elegant with ripe fruit, tannins and lingering spice.
Pinot Noir:  Varietal aromatics of cherry, berry fruits, plum, florals and spice through to more savoury and earthy examples. Soft tannins and great richness of flavour.
Other Varieties:  Excellent aromatic whites such as Viognier, Malbec, Tempranillo and experimental plantings of Italian and Spanish varieties.
Pin this for later
New Zealand's temperate maritime climate is not only ideal for growing grapes, but also for tasting and enjoying wine. If you are planning to visit New Zealand, enjoy the wineries across all seasons and all weather.
While Hawke's Bay is well-known for its sunshine, there is no better way to fill an occasional rainy day than to visit the wineries.  Cellar doors provide an opportunity for both wine novices and experts alike to meet the friendly people behind New Zealand wine!
Have you visited the Hawke's Bay region yet?  Where did you visit?  Do you have any suggestions for our next visit?  
Reference:  NZwine.com