This article may contain affiliate links for which we may receive a small commission if purchases are made. Thank you for your support.
Off the beaten track Day trips from Darwin
Are you looking to explore more of the Top End?  Many of our favourite day trips are off the beaten track and often only visited by Darwin locals.  So come with us as we share some of our best Top End day trip secrets.
With so much to see and do in the Top End we're lucky to have so choices!  World-famous national parks, waterfalls and crystal clear natural pools, ancient escarpments and Aboriginal art and culture are just a day trip away!
Most of these day trips are within 2 hours of Darwin.  So come with us as we show you how to get the most out of your visit to Darwin with these 'off the beaten track' day trips.
Off the beaten track Day Trips from Darwin
Explore Litchfield National Park – 1-2 days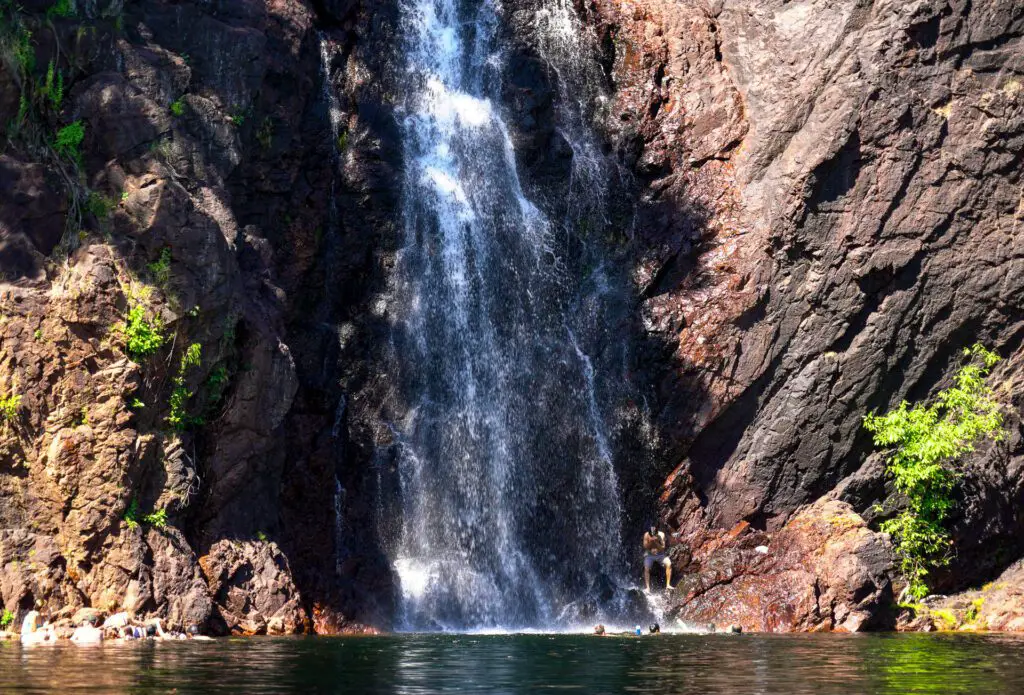 Litchfield National Park can be visited as a day trip from Darwin however, with so much to see and do you may consider extending your visit.  Stay a day or two to explore it all.
Expect to find some impressive waterfalls and walking trails. Laze around in the crystal clear pools at Florence Falls or Buley Rockhole or Wangi Falls.  Or be adventurous and take my favourite hike along Green Ant creek to the natural infinity pools at Tjaetaba Falls.  They are all unforgettable places to visit!
If you have a 4WD, make sure you visit the Lost City.  I have it on good authority, new picnic spots and camping grounds will be opened next year.
Read more: Why you must visit Litchfield National Park
Where to Stay
Batchelor – Near the Batchelor turnoff are motels and camping grounds where you can extend your visit to Litchfield National Park.
Berry Springs – Along the Cox Peninsula Road there are a number of motels, cabins and camping spots close to Litchfield National Park.
Travel the Peninsula Way – 1 – 3 days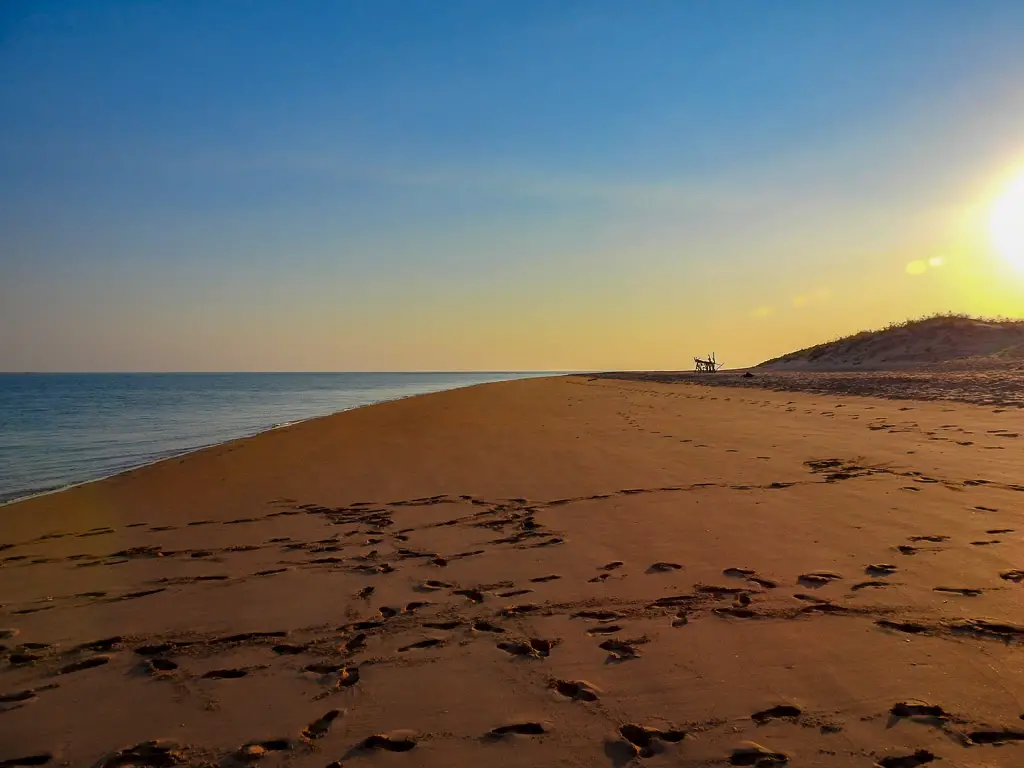 Travelling west along the Cox Peninsula Highway opens up a lesser travelled part of the Territory. It's the perfect weekend getaway, ideal for relaxing, watching the sunset from an isolated beach, fishing or just enjoying the serenity.
Locals consider this part of the world their best kept secret.
Berry Springs Nature Park
Just 50 kilometres from Darwin is a popular relaxation spot for locals and visitors alike.  With spring-fed pools and a small waterfall, Berry Springs is an ideal spot for picnics, swimming and bush walking.
Drop into nearby Crazy Acres Mango Farm and Cafe for one of their 'insanely delicious' treats!
Visit the Territory Wildlife Park to see the Australian wildlife in their natural habitats.
Crab Claw Island
Just 130 kilometres from Darwin City, Crab Claw Island is a popular weekend getaway.  Stop in for lunch at the licensed restaurant overlooking Darwin city or check in for an extended stay.  Relax and enjoy the serenity!
Wander along the sandy beach, keep cool in the swimming pool or hire a boat and catch yourself a whopper!
Dundee Beach
Dundee Beach is a popular weekend getaway just 140 kilometres from Darwin City.
Home to some of the best unspoiled fishing areas in the Top End, this beachside town is the place to get away from it all. Dundee Beach is known for it's outstanding fishing and crabbing, bird watching, spectacular sunsets and long walks along the beach.
Where to Stay
Crab Claw Island – elevated cabins overlooking Bynoe Harbour, licensed restaurant and other recreational facilities.
Dundee Beach Holiday Park is the perfect getaway for a relaxing weekend.   Cabins and bungalow accommodation, caravan and camping sites are available.
Tiwi Islands – day trips
Take a day trip across the water from Darwin to the Tiwi Islands.  You will find Bathurst and Melville Islands, just 80 kilometres north of Darwin.
Famous for their traditional lifestyle and their passion for football, the Tiwi Islanders have had their art and textiles exhibited around the world.
Their traditional stories are vividly expressed through paintings, sculptures, ceramics, screen-printed fabrics, prints and jewellery.  Learn about Aboriginal arts and culture and, if you love fishing, inquire about the fishing tours that are available.
Take the SeaLink Ferry Service over to the Tiwis Islands for your island cultural experience.
Fishing in Darwin – day trips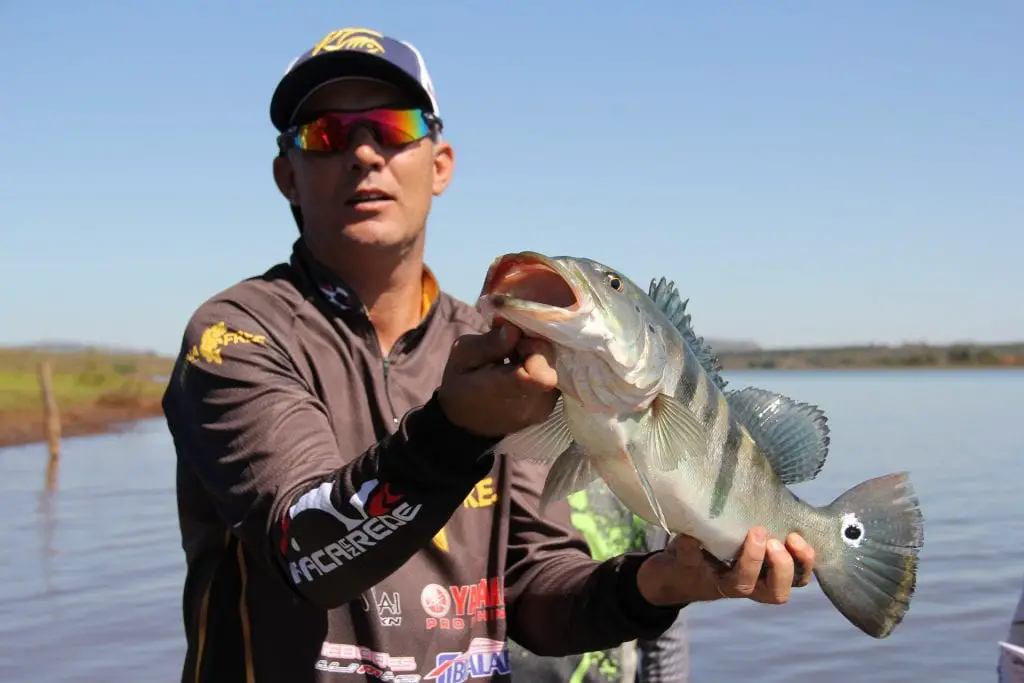 It's no surprise that one of the most popular things to do in Darwin is fishing!
You do know that you have to hide behind a tree, to bait your hook, right?
Where to go?  Darwin Harbour, Arnhem Land, the Tiwi Islands or head down to the Victoria or Daly Rivers in the Katherine region for a truly memorable experience.
Fishing is excellent all year round with barramundi are most active March to May.  Fishermen can enjoy catching giant trevally (GT), golden snapper, rock cod (my favourite), jewfish and spanish mackerel to name a few.
Hire a boat, bring your own or take a guided fishing safari.  There's even the option of staying at a remote fishing lodge or take the ultimate Helifishing experience!
Visit Adelaide River, Robyn Falls & Pine Creek – 1 – 2 days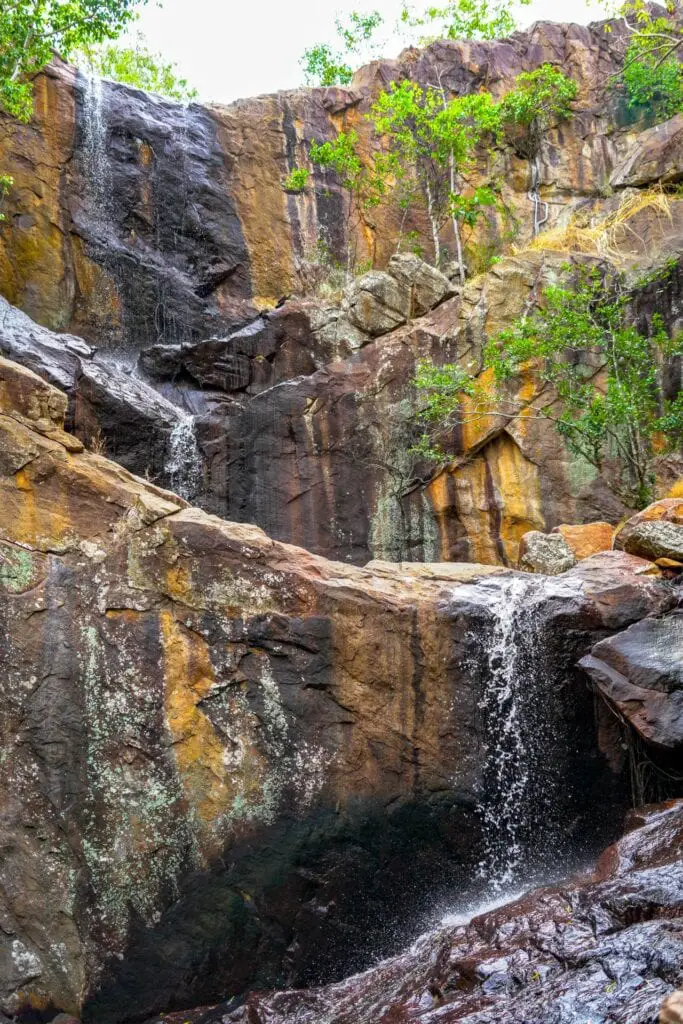 Adelaide River
About an hour south of Darwin, Adelaide River is a small town where the Adelaide River War Cemetery is located.  The cemetery is the only Australian war cemetery on Australian soil and commemorates the lives of 432 servicemen and 63 civilians who died during World War II in the Northern Territory.  More information.
Adelaide River 303 Bar and Diggers Bistro is famous as the home for Charlie, the co-starring buffalo in the Crocodile Dundee movie.  Great for it's old fashioned country-pub atmosphere.
Robyn Falls
Not far off the Stuart Highway, Robyn Falls is an beautiful three-tiered waterfall near the township of Adelaide River.
It's the perfect place to enjoy a refreshing dip in the secluded pool.
The falls are reached by a short 20 minute walk along the crystal clear creek through the rocky surroundings. The area is home to a wide variety of flora and fauna unique to the Top End and when in full flow, the falls provide a stunning view of the cascading Falls.
Pine Creek
Just 2 hours south of Darwin is the old gold mining township of Pine Creek.  Gold was accidentally discovered when building the Overland Telegraph Line in 1871.
It grew to a bustling town of over 2,000, but today it's a quiet community with a heritage focus.  The National Trust Museum (1888), the historic railway heritage museum and the 'Walk through Time' path are popular attractions.
The Ah Toy Bakery is a glimpse into the pivotal role the town played during the gold rush era and World War II. The baker, Jimmy Ah Toy built ovens using the ant-bed mortar to bake bread which is still standing today.
Great opportunities for birdwatchers can be found at nearby Grove Hill Historic Hotel (now closed), Lake Copperfield and Umbrawarra Gorge Nature Park.
Where to Stay
Mount Bundy Station is just over an hour's drive from Darwin in the Northern Territory.  A working cattle property with weekend accommodation providing a unique station (farm) stay experience.
Wildlife on the Wetlands – 1 – 3 days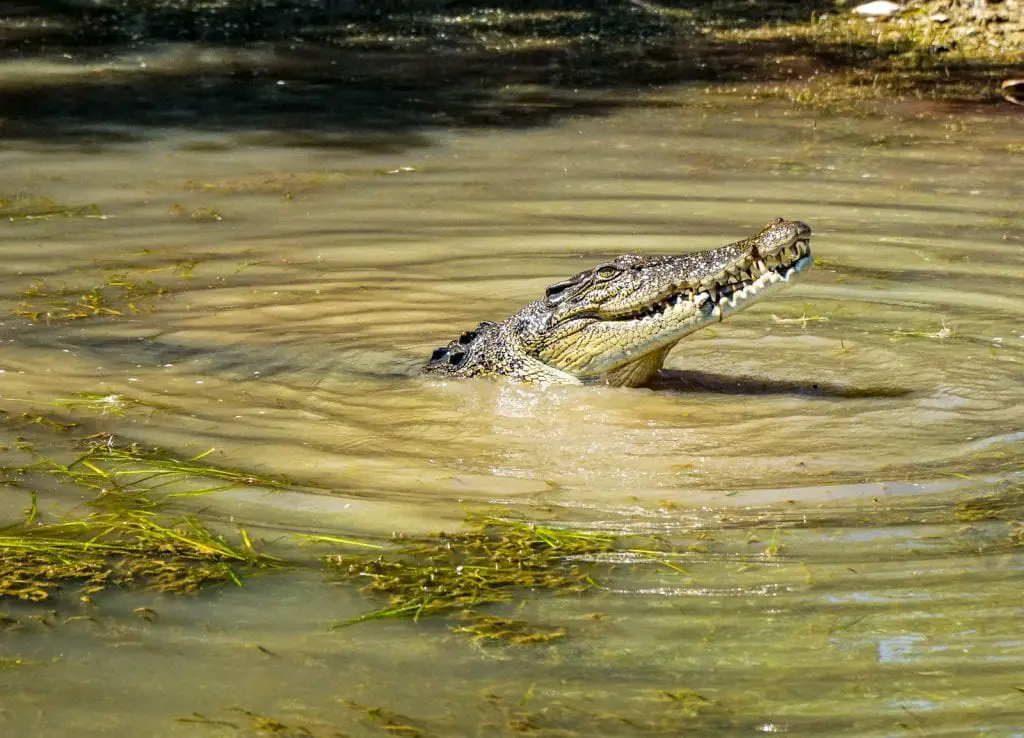 The vast wetlands of the Adelaide and Mary Rivers are home to an extensive array of birdlife, barramundi and the largest concentration of saltwater crocodiles in the world.
Adelaide River Jumping Crocodile Cruises
You won't be tempted to swim in our Top End waterways after you've done one of these cruises.
Where the Adelaide River crosses the Arnhem highway is the place to hop on a Jumping Crocodile cruise.
These popular cruises are where you can learn about Australia's predatory reptiles, the Saltwater Crocodile.  The deckhands entice the crocodiles to jump out of the water to take bait dangled from the riverboat.
Fogg Dam Conservation Reserve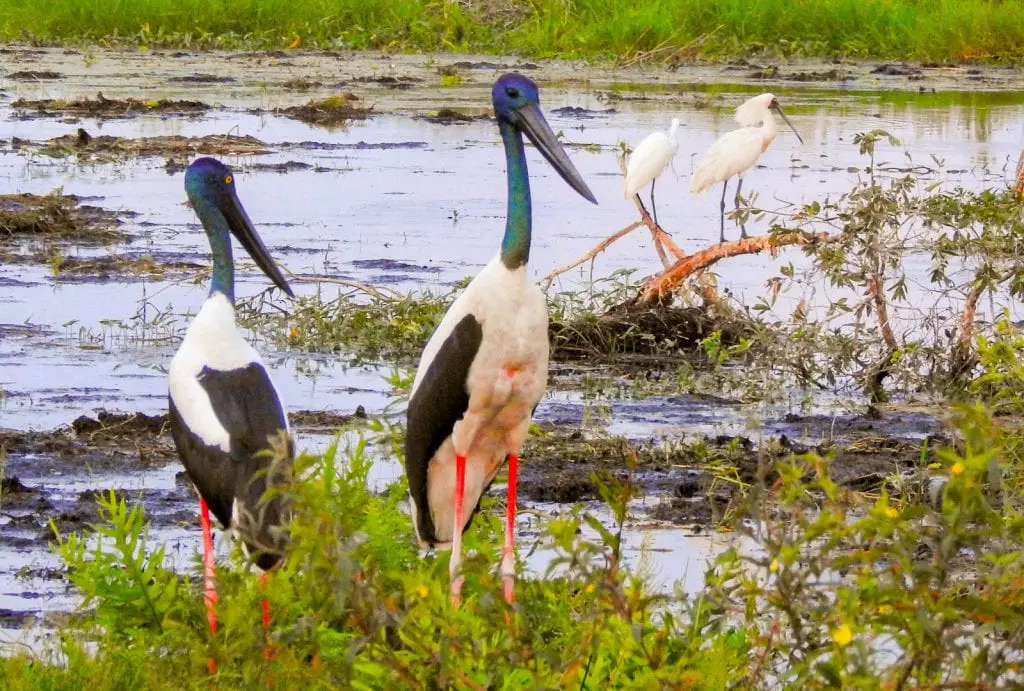 Fogg Dam is just 40 minutes from Darwin city and one of the few wetland areas that is accessible year-round. These wetlands have international significance because of their natural eco-systems and cultural importance.
One of my favourite photography haunts, over 250 species of birds flock to Fogg Dam.  It's a great place to spot jabiru, brolgas and colourful migratory birds and especially beautiful at sunset or sunrise.
The best time to experience the birdlife at Fogg Dam is from the end of March until the beginning of October.
Corroboree Billabong
Check out our wildlife photos of our last trip to Corroboree Billabong.
Corroboree Billabong is a stunning waterhole which is home to the highest concentration of saltwater crocodiles in the world.
A haven for wild buffalo, barramundi and a habitat for exotic birds, Corroboree Billabong is the perfect place for photographers and birdwatchers alike.
Drive it Yourself (DIY) picnic boats are available for hire or take a Houseboat overnight for a once-in-a-lifetime wildlife experience.  Fishing charters are also available if you want to try your luck at snaring an elusive barramundi.
Read more:  Corroboree Billabong Wetlands Experience
Fishing in the Mary River wetlands
The Mary River wetlands are alive with barramundi.  Anglers come from all over the world to fish for the famous 'barra' at places like Shady Camp, Corroboree Billabong and the Adelaide River.
Fisherman's Tip:  Many barramundi up to 1.4 metres long are caught each year.
Cruise one of the billabongs to see saltwater crocodiles, wild buffalo and other wildlife including the exotic birds that live in this rich ecosystem.
Stay in a fishing lodge and benefit from the knowledge and expertise of local guides, join a fishing day tour from Darwin or hire a boat and drive yourself.
Where to Stay
Mary River Wilderness Lodge – Half-way between Darwin and Kakadu.  Air-conditioned cottages with a veranda overlooking the natural landscape. Complete with swimming pools and an on-site seasonal restaurant.
Corroboree Houseboats –  For something different, the houseboats offer a wildlife tour combined with accommodation. Self contained boats with a balcony and basic cooking facilities.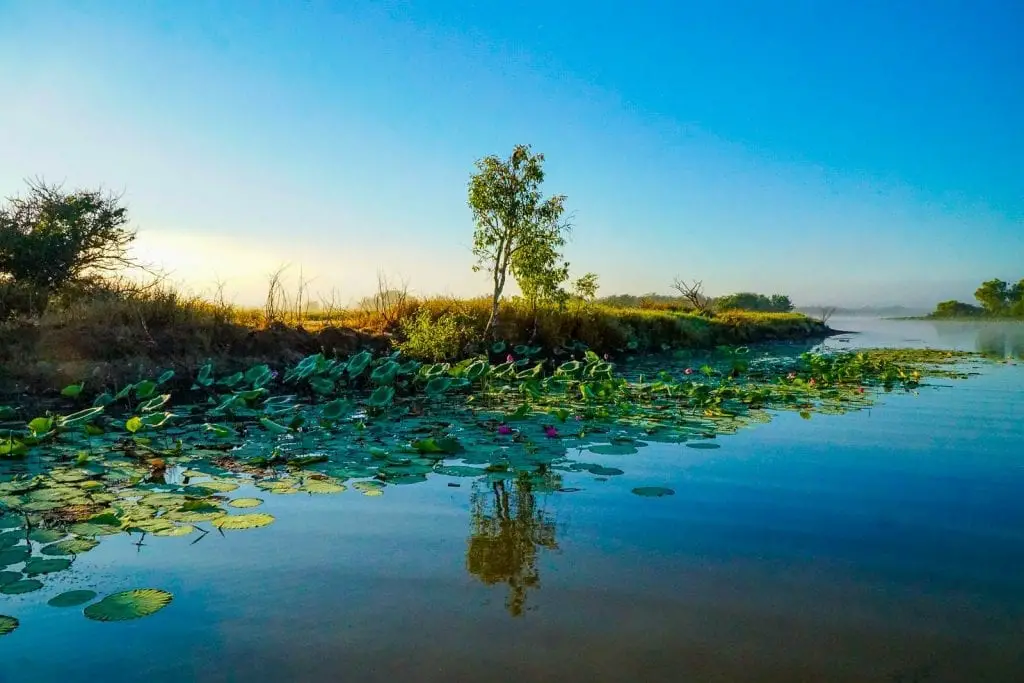 Many of these day trip destinations are where Darwin locals escape for their weekend getaways.  Most are off the beaten track and likely to be less crowded, ensuring they are the perfect getaway destination.
Pin this for later …
With so much to see and do in the Top End, extend your experience by taking one or more day trips from Darwin.  It will make your holiday, more flexible.
Drive it Yourself opportunities are everywhere so if you didn't bring your own car, consider hiring a car or campervan for your adventure.  There are plenty of tours available too, so check them out and have the adventure of a lifetime.
Additional reading about Darwin, and other things to see and do nearby.
Have you been to any of these getaway locations yet?  Whether you're an Aussie, or a visitor touring this great country of ours, take one these 'off the beaten track' day trips from Darwin to get the most out of your visit.