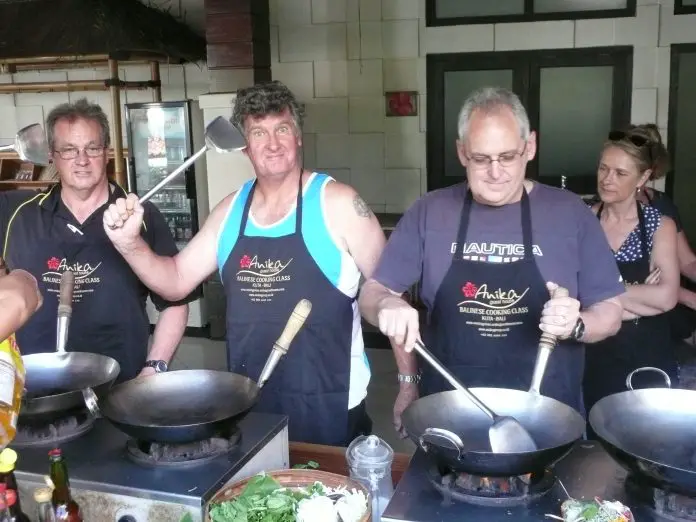 Cooking Lessons for lovers of Balinese flavours!
Have you ever taken a cooking class when you've traveled overseas?   Do you love exploring new flavours, learning about the exotic dishes and aromatic spices?  Bali is one of our favourite travel destinations so learning to cook the Balinese way suited our plans perfectly.  The flavours of traditional Balinese Sate Lilit were exactly what we signed up for!
Learning about the flavours of every country we visit is one of the highlights of our travels.
We've attended a couple of cooking schools in Bali over the years and can highly recommend both these cooking class experiences.
Anika's Cooking School in Kuta and The Taste of Bali Cooking School taught us about the herbs and spices that are an integral part of Balinese cooking.
Cooking simple dishes, learning different culinary techniques is part of the experience.  The classes were quite different from each other but both were great fun.  We learned the traditional way, grinding traditional herbs and spices into paste, exploring the different smells and flavours and learned how each addition influenced taste and texture.
The real benefit is that after the preparation, the table is set with the food you've prepared and you can enjoy each dish with a new appreciation of your culinary expertise.
Have you ever taken a cooking class when you've traveled overseas? Take a cooking class in Bali!
Click To Tweet
Where to start
It is important to make the seasoning, the dipping sauce and the fried shallots before preparing the sates.  They are each simple to make but each component adds it's own beautiful flavours to the dish.
Balinese Bumbu (Base Gede) 
Step 1:  Seasoning:  Grind to a paste in a stone mortar – some ingredients found in Asian specialty shops. (this can be stored in refrigerator for 3 – 4 weeks).
Chilli – 1 large, finely chopped
Whole Shallot onions – 20 finely chopped
Garlic – 10 cloves finely chopped
Coriander seeds – 1 tsp, crushed
Kaffir lime leaves – 3 finely sliced
Galangal – 5 cm peeled, sliced
Tumeric – 5 cm peeled, sliced
Ginger – 3 cm peeled, sliced
Candlenuts (Macadamia) – 5 chopped
Black peppercorns – sprinkle, crushed
White peppercorns – sprinkle, crushed
Clove – 1, crushed
Shrimp Paste, 1 tsp
Palm Sugar – 2 tablespoons
Tamarind – 1 tspn
Coconut oil – 150 ml
Lemongrass – 10 cm, slicked finely
Coconut Oil – 2 tbsp
Pinch of salt
Preparation:
Combine all ingredients except oil, in stone mortar or food processor and grind coarsely.
Place ground ingredients into a heavy saucepan, add all ingredients and cook over medium heat, stirring constantly (5 – 10 minutes) until marinade turns golden in colour.
Cool before using.
Crispy fried shallots
1 cup of peanut oil
1/2 cup shallots – sliced finely
Preparation
Place shallots and cold oil in a small pot.  Deep fry, stirring constantly with chopsticks until golden – about 15 minutes.
Drain well and set aside.  (can be kept in an airtight container).
Grilled BBQ sauce
Step 2: Dipping Sauce:  (can be stored in refrigerator 3-4 weeks)
Shallot onions – 10 chopped finely
Garlic cloves – 5 chopped finely
Birds eye (hot) chilli – 1 chopped finely
Tomatos – 2 chopped finely
Tumeric – 2 cm chopped finely
Candlenuts (Macadamias) – 5 chopped finely
Coriander seeds – 2 tsp crushed
Sprinkle of white and black pepper
Coconut oil – 1/2 cup
Palm Sugar – 4 tbsp
Preparation:
Blend all ingredients except oil, combine in a heavy pan and cook until mixture has thickened.
Add coconut oil and stir for approximately 5 minutes.
Serve with Sate Lilit as a dipping sauce.
Sate Lilit (Chicken Satay)
Chicken thighs/breasts – 500g minced
Base Gedu / Balinese Bumbu (above) – 2 tbsp
Grated Coconut – 1 tbsp
Coconut Milk – 2 tbsp
Palm sugar – 1 tablespoon
Pinch of salt
Kaffir Lime Leaves – 3 finely sliced
Kaffir lime juice – 1 tbsp
Fried shallots – 1 tbsp
Preparation:30
Combine all ingredients except shredded coconut and kaffir lime leaves into the pestle – mix well with pestle until a smooth paste.
Add shredded coconut and lime leaves and mix thoroughly.
The mixture should be fragrant, deep yellow in colour and slightly sticky.  If it is too dry, add a small about of water or coconut milk.
Shape the chicken mixture firmly onto lemongrass stalks or sate sticks in a spiral way around the stick until a third of the skewer is covered.
Grill until golden brown, turning constantly for about 5 minutes until cooked.
Serve these sate's with steamed jasmine rice, Mie Goreng (fried noodles) or Nasi Goreng (fried rice) sprinkled with crispy fried shallots.
Pin this ….
Enjoy!   Put these on your menu and don't forget to let me know how dinner went down in your house.