So you're planning to visit New Zealand?  Let me give you some tips.
Explore New Zealand in bite-sized chunks to get the most out of your holiday.  Here's a few tips to get the best out of a road trip through central New Zealand in 5 fun-filled days.
What did we do?   We caught up with friends, visited the spiral Ruakuri Caves at Waitomo, enjoyed the wines of the famous Hawkes Bay before heading to steamy Lake Taupo. 
Always the tourist, we posed with the giant bike, lunched at the best-ever pottery gallery before heading north to spend a day in Middle Earth.  Our bonus find?   We stumbled across an amazing Cheese Tasting Room.
Although we spent 2 weeks in New Zealand, we split our holiday into 2 parts – and the truth is, it still wasn't enough time to see it all.  We will return.
Week 1:  Our first week was spent in the Bay of Islands – Read about our first week here: 5 fun days in the Bay of Islands.
Week 2: We headed to Hamilton to visit friends and the Waitomo Caves, before heading over to Napier in Hawkes Bay, Taupo and a few quaint towns in between.
New Zealand is rich in colour and culture.  The landscape is lush and green.  Quite different from Australia yet, also so many similarities. Aussies and Kiwis have a friendly rivalry and we love the banter that goes with it.  Our visit was filled with much of that rivalry and a number of times our Kiwi mates referred to Australia as the Western New Zealand state.  We loved our adventure across the ditch.
Spend a night in the city of Auckland
With plans to meet up with friends for a lunch over at Waiheke Island we overnighted in Auckland City ready for an early start.
We headed down to the Viaduct to check out some of the maxi yachts in the marina.
What to do at the Auckland Viaduct
Viaduct Harbour is Auckland's waterfront and alive with restaurants and cafes. The Maritime Museum is a great venue to visit and full of history.  Its a fabulous museum with historical displays from the historical first discovery by Kupe, the migrations by the Polynesian peoples, to Abel Tasman and Captain James Cook.
The Viaduct is full of popular restaurants and has an air of casualness about it.  Its a great place to hang out when in Auckland.  Choices for dinner were difficult but found a pub, HeadQuarters and settled in.  We bopped along to the music until the wee hours which was just what the doctor ordered!
Where we stayed in Auckland
We stayed at the Hotel Copthorne but would choose to stay a little closer to the Viaduct next time as it was quite a hike.

Waitomo Caves
Having visited Waitomo Caves on a previous visit I was intrigued by the newer Ruakuri Cave.  Ruakuri Cave offers New Zealand's longest guided underground walking tour.  This tour ticked all the boxes with wheelchair and pram access and totally powered by renewable energy.
Our guide was Miria who took advantage of the friendly Kiwi v. Aussie rivalry to make this tour one of our best New Zealand experiences.  Miria was a wealth of information about the caves, glowworms and the Mauri culture and beliefs.  As a Mauri woman from the Waitomo region Miria had a connection to the caves and shared her knowledge with us all.
The tour began by journeying down into the cave through the amazing spiral entrance, exploring the world of limestone formations while listening to the subterranean waterfalls. It was fascinating to learn about glowworms up-close and personal and their fascinating life cycle.
Coming Soon:  Waitomo – Spiral into the depths of Ruakuri Cave
Stay a few days in Napier
Napier is located on the central coast of the North Island of New Zealand.
In 1931 a massive earthquake rocked Hawke's Bay, killing nearly 260 and destroying the centre of Napier.  Rebuilding began almost immediately, with the new buildings reflecting the architectural styles of the times – Stripped Classical, Spanish Mission and Art Deco.
The streets feature beautifully-restored Art Deco buildings which have been recognised as one of the most complete collections of Art Deco buildings in the world.
What to do in Napier
Napier is an interesting town.  Home to many renowned wineries, fabulous restaurants, bars and cafes.   We loved the Ocean Spa pools on Marine Parade and the coffee is good too!
There's a great bike & pedestrian path the length of Marine Parade with lots of statures and well kept gardens which is a great space hangout with friends and enjoy the day.
One of the best ways to enjoy Napier is to take a self-guided walk – ask for a map at the information centre or at the Art Deco Trust. Every February, Napier celebrates its heritage with the Art Deco Festival – a stylish celebration of all things 1930s, including vintage cars, fashion and music.  If you're planning to visit, this would be the best time.
The origin of the Six Sisters a row of houses along Marine Parade intrigued me. Six Victorian style homes built in the late 1890's were apparently commissioned by a Napier businessman for each of his six daughters in the hope that they would marry well.
Taste the wines of Hawkes Bay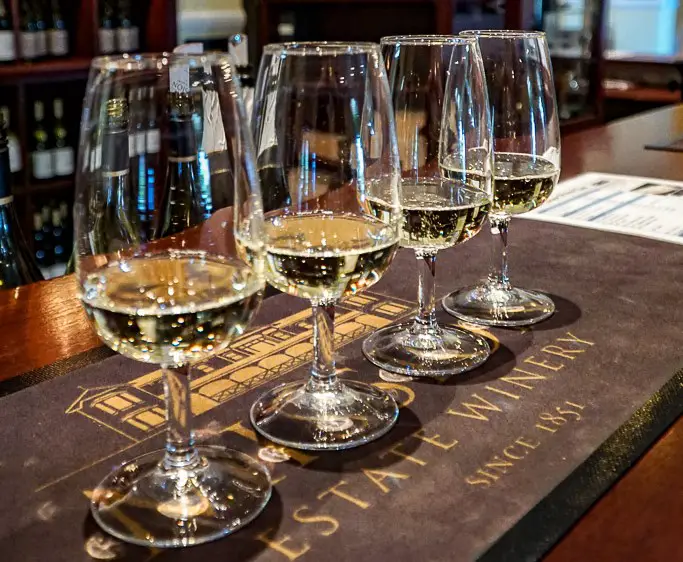 Its impossible to visit the famous Hawkes Bay region and not try some of their specialty wines.  Hawkes Bay wines have long been a favourite of ours so when we had an opportunity to do a few wine tastings and some 'oh so wonderful' vineyard dining, we were first in line!
Wine tastings at Mission Estate, Church Road and Lyndon Estates lived up to our expectations with Church Road ever-so-slightly taking the edge.  We brought a bottle of their Grand Reserve – 1 home with us.
Our friends Jacqui and Kurt invited us to share their wedding anniversary at the exquisite Craggy Range Restaurant with spectacular views of the Te Mata escarpment.  Winner of two hats at the 2018 Cuisine Good Food Awards, Craggy Range Restaurant was an excellent choice for their special occasion.
[bctt tweet="Dine in style at the Craggy Range restaurant overlooking the Te Mata peak. Spectacular food, spectacular wines! What more could you ask? @rustyrake" username="territorymob"]
Coming soon:  Discover New Zealand wines – Waiheke Island & Hawkes Bay
Where to stay in Napier
We stayed at the Scenic Hotel Te Pania.  A great hotel choice with all of their rooms overlooking the beach.  The main shopping centre and restaurant area was just a short walk away, perfect for a relaxing break.
Lake Taupo
The town of Taupo sits at the edge of Australasia's largest lake.  Lake Taupo is actually a huge volcano however it's last eruption was in 181 AD.
What to do in Taupo
Local attractions include trout fishing, mountain biking, skiing, and geothermal parks.  Popular Taupo experiences include Huka Falls, thermal pools, geothermal walks, lake cruises, New Zealand's first public cable wakeboarding park and the lake is a popular kayaking spot.
Taupo is a fantastic region for year-round mountain biking, with the recent completion of the Great Lake Trail.

The 300kg Giant Bike attracts plenty of attention.  The 3-metre-high sculpture by Waitahaunui artist Marcel Zwezerijnen was to help raise awareness of cyclists on the region's roads and promote the Taupo as a cycling destination.
There are many excellent hiking trails in the Tongariro National Park and two of New Zealand's premier Marquee Golf courses.  Whilst in Taupo, a visit the Thermal Springs for a therapeutic dip in 'people soup' is a must.
Taupo has a lively restaurant and cafe scene.  We found an absolute treasure L'arte Cafe.  Treat yourself to a wonderful lunch before you wander through the garden mosaics and sculptures and the pottery workshop in the back yard!
Where to stay in Taupo
Over the Moon
Heading towards Hobbiton to join our tour in Middle Earth, we stopped in for a coffee at what we thought was a funky little cafe in a tiny town called Putaruru.
Often the best surprises are the ones you accidentally discover on your journey.
To our surprise, whilst Over the Moon did serve very fine coffee, it was in fact a boutique Cheese Factory.
We had accidentally stumbled into the factory making New Zealand's biggest range of handcrafted gourmet cheeses!
Over the Moon has been making specialty cheese since 2007 and won more than 120 medals and trophies from around the world.  This small factory produces around 24,000 kilograms of cheese a year and offers tastings, demonstrations and cheesemaking courses to students across the globe.
The tasting room is open 7 days a week so if you're passing by, be sure to stop in. We did!  Each day there are free tastings from a selection of at least 5 delicious gourmet cheeses.
You can't miss it.  Over the Moon is located on State Highway 1 in Putaruru, in the heart of the South Waikato.
The Hobbiton Movie Set Tour
The Hobbiton Movie Set tour is an on most visitor's itineraries travelling through New Zealand, including ours.  Offering an interesting and entertaining experience the tour took us through the famous film set as seen in The Lord of The Rings and The Hobbit trilogies.
The guided tour starts takes you through a 1,250 acre working sheep farm with spectacular views across to the Kaimai Ranges.  We wandered through the village of hobbit holes built into the side of the hills and visited the Green Dragon Inn for a freshly brewed beer.
Our guide was clearly a big fan as she relished in relaying the behind the scene facts as we walked around the set.  Interestingly over than 400,000 people from around the world visit Hobbiton every year.
Read more about our tour:  Have you visited the Hobbiton Movie Set yet?  
Have we inspired you to visit New Zealand?  Pin this for later.
New Zealand is an amazing place to visit.  New Zealanders understand Australian english, the money is almost the same exchange rate and they enjoy a good Aussie v. Kiwi joke.   What more could you ask for!
Would we go again?  Oh yes!  There is so much to see and do, that we have made a solid commitment to return, soon!
Reference: NewZealand.com