This article may contain affiliate links for which we may receive a small commission if purchases are made. Thank you for your support.
Winter in Niagara Falls is a magical experience
Winter in Niagara Falls.  A magical destination for our trip of a lifetime!  It was snowing – beautiful and white, light and feathery, crisp but so very cold for a couple of Aussies not used to the cold!
Wifi was intermittent so no blogging for me on the train journey!  Perfect, just relax!
Leaving Penn Station in New York City we were just a little excited about our trip of a lifetime! 
We departed NYC on the early 'Maple Leaf' train travelling through the icy parts of North America.  
The Amtrack 3 day Niagara package included business class train fare and accommodation in Niagara Falls. Bundled into the deal were tickets to the Skylon Tower, Niagara Fury and the Journey beneath the Falls tour and dinner at the Hilton Watermark Restaurant on our final night in Niagara Falls.
Whatever were we thinking?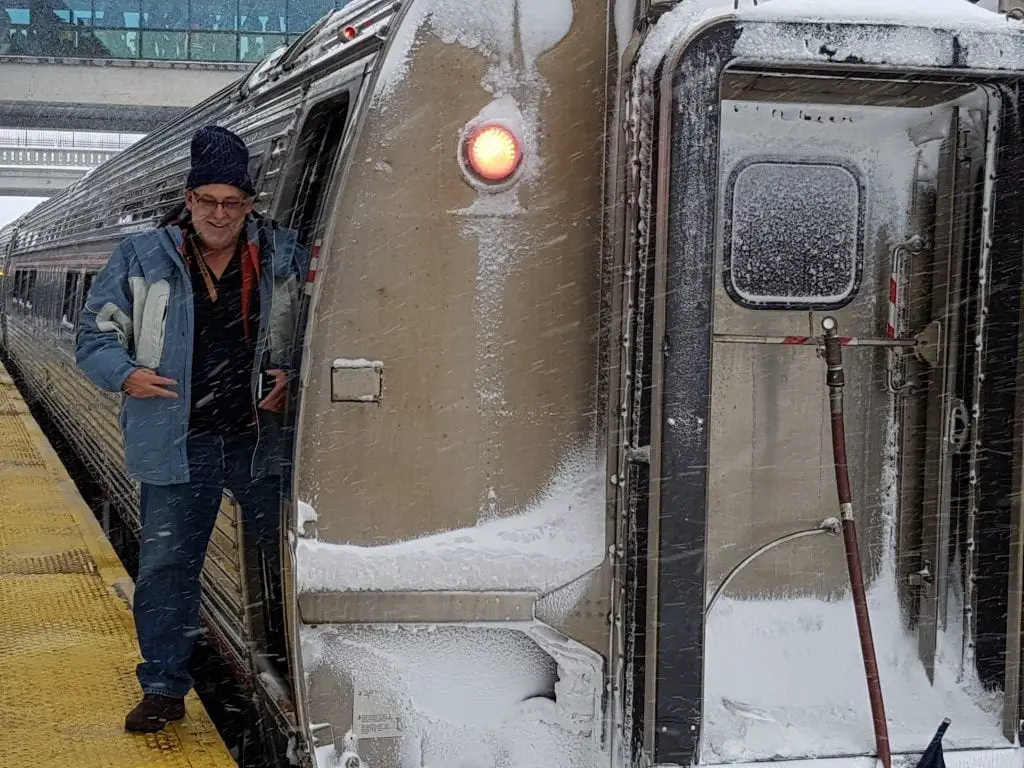 As the ultimate winter experience we had been hoping for snow to complete our dream holiday of a 'white' Christmas.  It was our trip of a lifetime.
Think about it.  A couple of Aussies straight out of deepest hottest summer in northern Australia.  With daily temperatures at 36+ degrees Celsius with 80+ % humidity of the tropics, arriving into Niagara Falls the week before Christmas!
WE GOT SNOW … AND LOTS OF IT!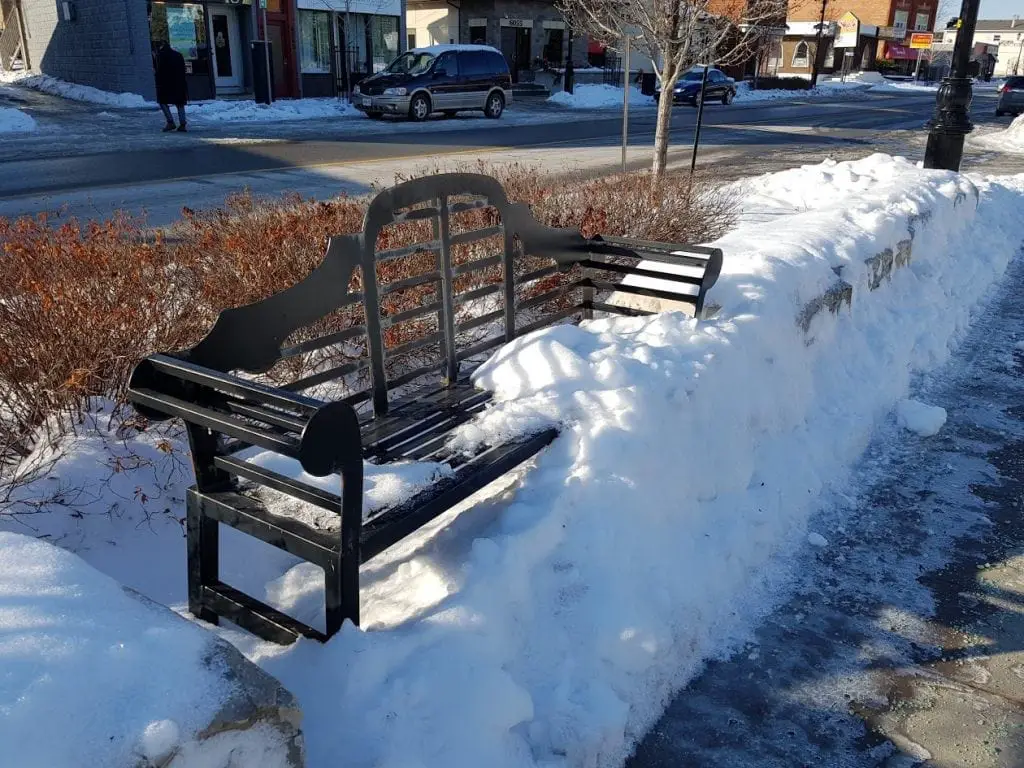 Beautiful and white, light and feathery, crisp and oh so very cold … but one of the most exhilarating experiences we've had!
Lesson # 1:  Leaving the train station our first warning was Trevor's icy slide complete with bags in tow down the iced up pathway.
Stunning views over Niagara Falls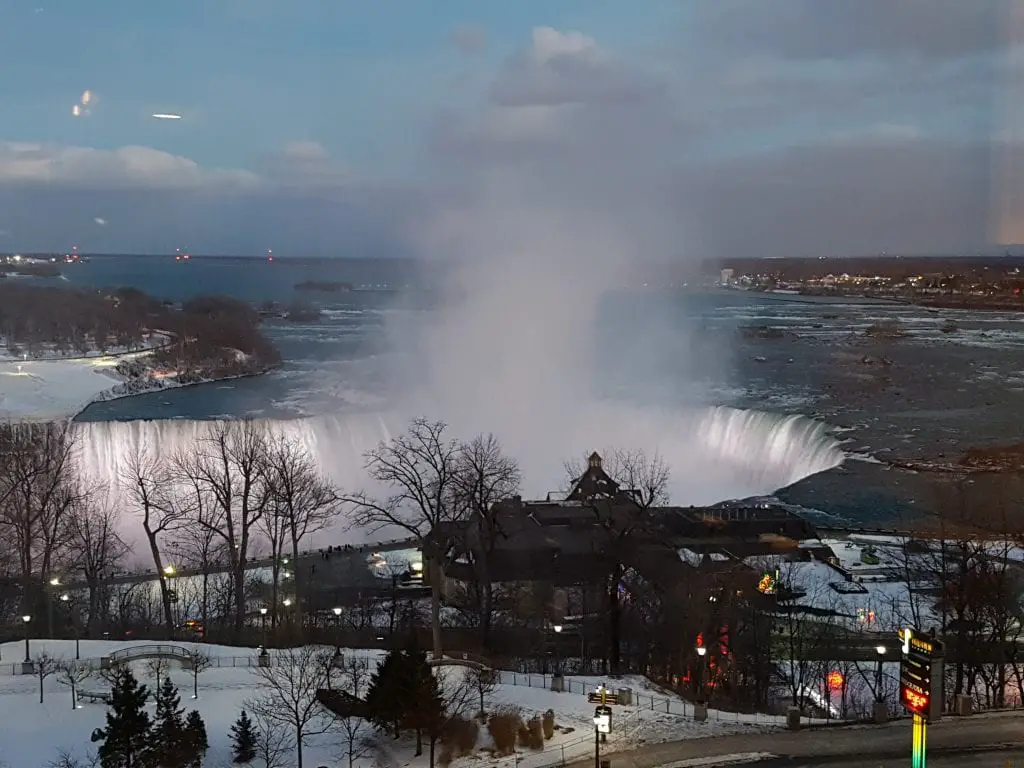 The Oakes Hotel Niagara Falls was a less expensive accommodation option but provided a comfortable king bed (our only 'not-negotiable').  Whilst there were no restaurants in the hotel, there were plenty of options close by.
Once in our hotel room we walked straight to the window to see what our view was like.  We were in awe of this magnificent waterfall!
The sight from our hotel window overlooking the falls took our breath away.
Niagara was clothed in beautiful blue lights which highlighted the expanse of this massive flowing waterway and the rising mist.
We couldn't wait to start exploring!
Rug up in Niagara Falls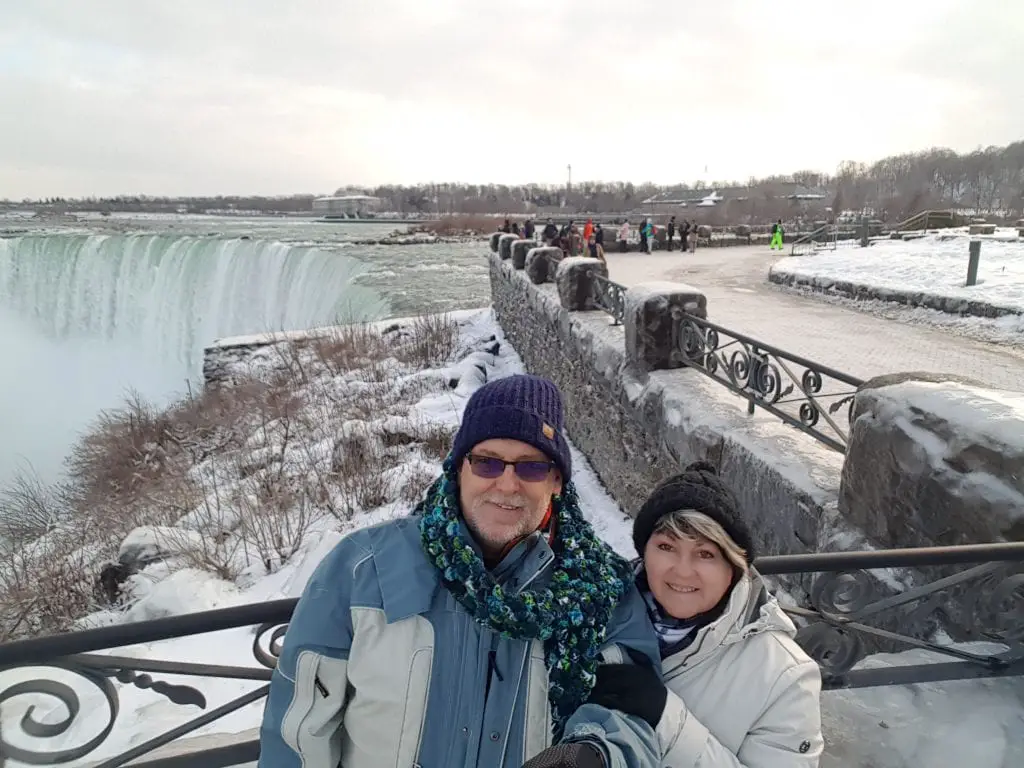 We were prepared, or so we'd thought.  We'd bought warm things in Australia which we thought would be sufficient to keep us warm.  Thick coats, gloves, beanies, scarves and a warm layer beneath our jeans were our base gear!  Not so!
Day 1 = Minus 13 degrees centigrade!  Freaking cold!
What to do first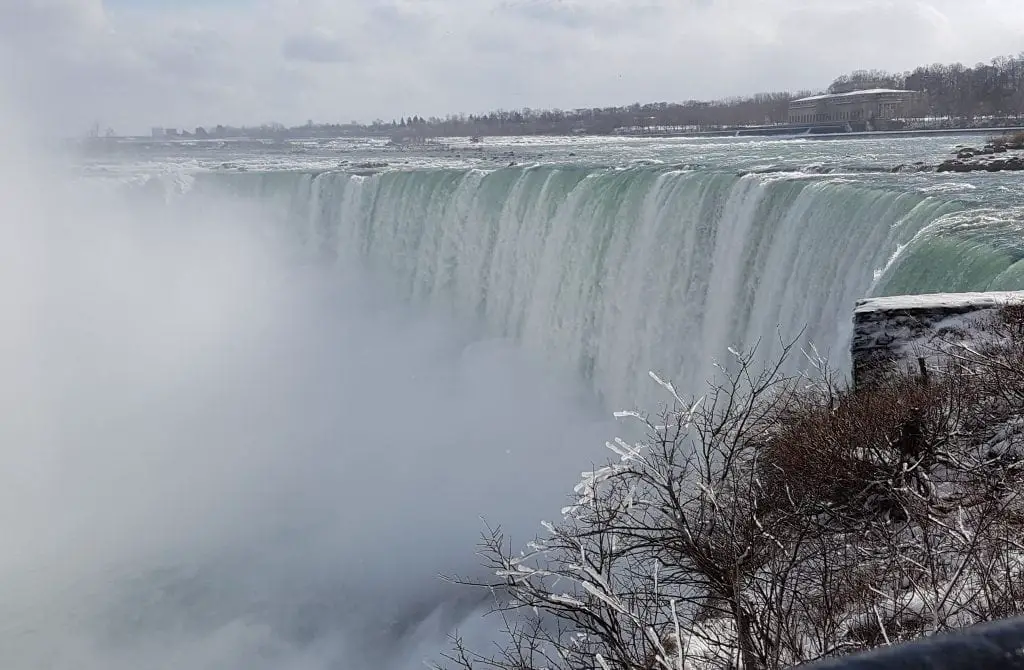 After a great night's sleep we set off on the short walk to the falls – our faces smarting with the cold.
Lesson # 2 – Without warning, my feet shot from under me and I crashed backwards onto the walkway.  My first introduction to black ice.
As we walked around the edge of the Falls, light snowflakes were falling, melting and disappearing as they touched our skin.  Such an exhilarating experience for those of us (me) who had never seen snow!
BE WARNED YOU WILL GET WET!
The Niagara Fury tour was a great experience – a simulator replicating the force of the water coming over the falls with a little reality thrown in.
The 'Journey beneath the Falls' tour took us below the falls through the tunnels and catacombs.  It was fascinating to learn the history behind the excavation, and a great way to experience the historical aspects of discovering this amazing natural wonder.
It was cold; the deeper we got behind the falls, the colder we got!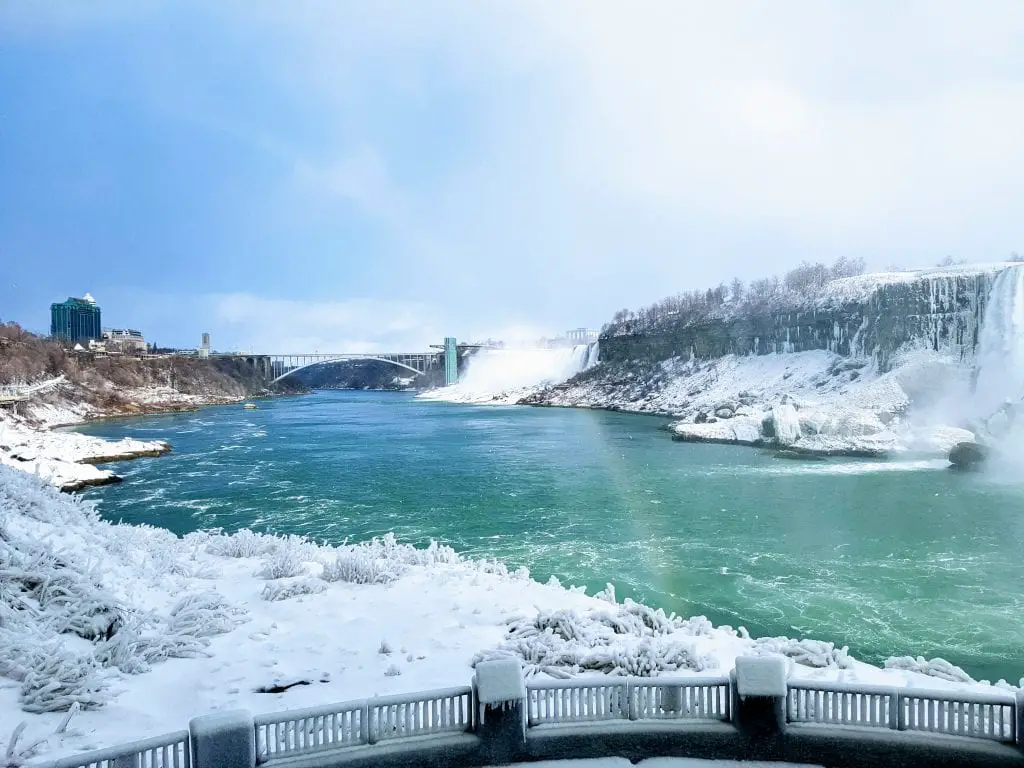 Our days in Niagara Falls were filled with taking photos – photos of the Falls, fun selfie's posing with the Falls in the background, ice and snow everywhere and taking as many 'typical tourist' snaps as we could!
Get around with WeGo
We explored the rest of Niagara Falls via the 'WeGo' bus network which provided good access to all of Niagara's tourist spots.
It's the best way to get around, see all the key sightseeing spots and keep warm and dry at the same time.
The Skylon Tower Observation Deck delivered spectacular views of Niagara Falls and surrounding cityscape of the Toronto and Buffalo skylines.  This provided perspective to the massive waterway system of the Great Lakes.
Our food options in Niagara Falls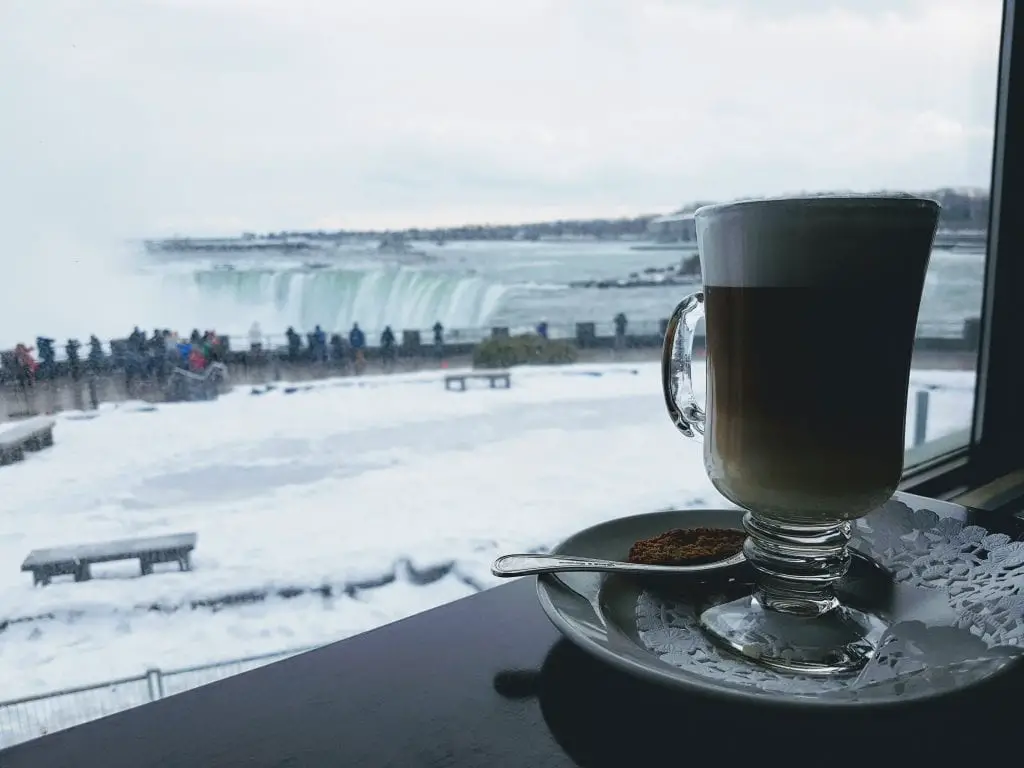 Lunch and coffee stops were usually at the Falls restaurant 'Elements'.  Piping hot butternut squash soup and hot chocolate!  Delicious .. and just what we needed to thaw out!
Spanish coffees quickly became our new favourite beverage – piping hot coffee laced with brandy, kahlua and a dash of cream.
Christmas carols sung by the servers made the night pretty special!
Dinner on our first night was at Remmingtons' of Niagara.  Remington's claim of being Canada's only restaurant with singing servers who provided live entertainment throughout the night!
We were pleasantly surprised … an exquisite steak with pepper sauce for Trevor and Maine lobster for me.  We were in our 'happy place' .. beautiful wines to compliment and a lovely romantic restaurant to enjoy our very first night in Niagara Falls.
TGI Fridays was a great place to hang out and watch the ice hockey on the big screens with a plate of their famous Bourbon Sauce Ribs and a glass of red wine.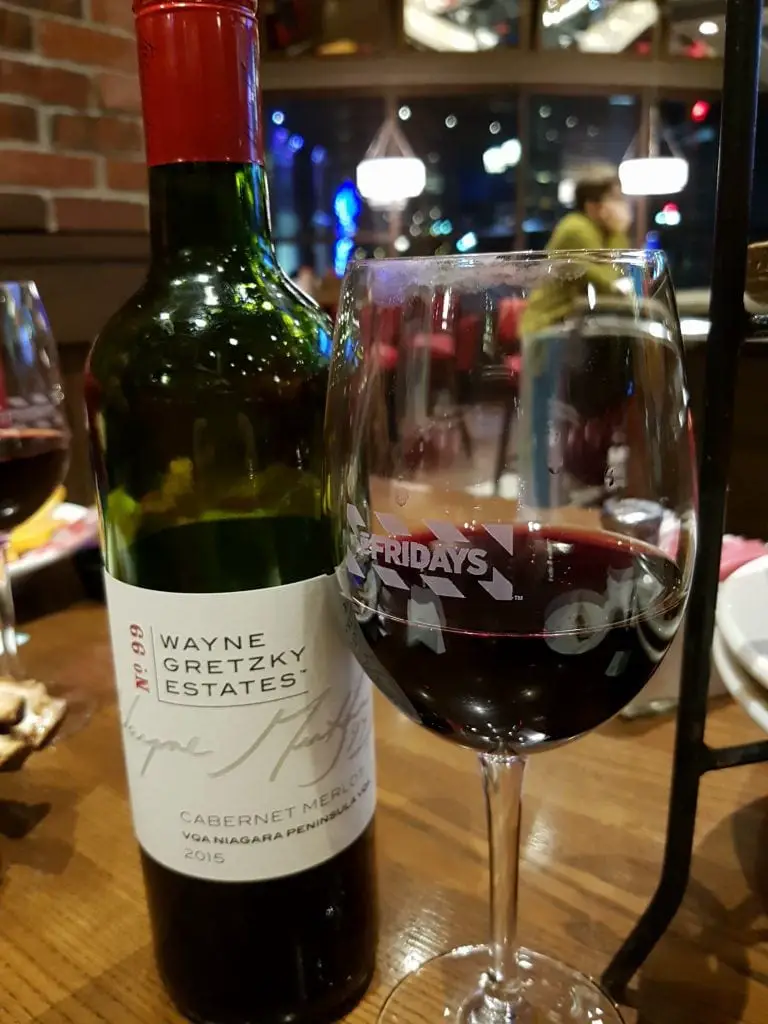 The R Bar and Eatery was a great place to escape the cold … and to our delight, we discovered the very best homemade 'mushroom soup' ever!
Our final night's in Niagara was at the Watermark Restaurant with views overlooking the Falls.  A 3 course dinner was a great finish to our beautiful 3 day Niagara Falls experience.
Why you should visit Niagara Falls in winter
Visiting Niagara Falls in the winter is beautiful. Yes it's cold, the snow provides a unique and picturesque vision of this magnificent waterway. There is something special about standing on the brink of such a massive water and ice flow!
Its' an opportunity to take advantage of discounted airfares and rail travel, rental cars and bundled accommodation deals allowing you more value for your money. Niagara Falls hotels run some incredible deals on rooms in the winter, so its a good time to pick up travel bargains in the off season.
Avoiding the summer crowds has to be one of the highlights given that most visitors to Niagara come for the summer season.  Dare to be different!
Where to stay in Niagara
Niagara Falls is magical in Winter.  Pin this for later.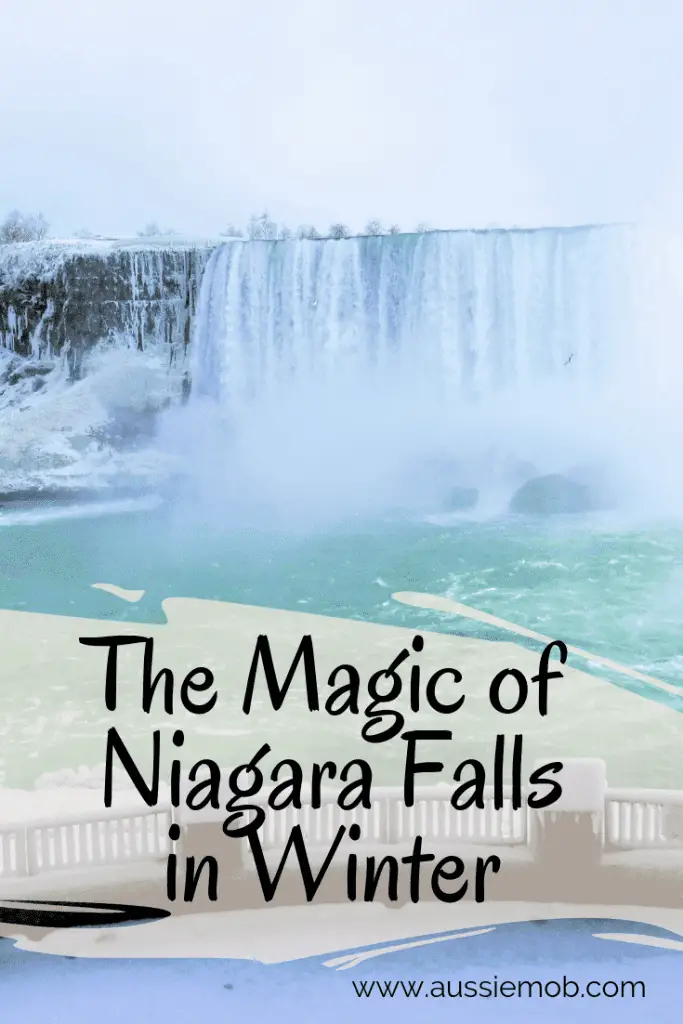 The winter season is the perfect time to visit Niagara Falls, the atmosphere of this icy wonderland during the Christmas holiday season is magical and certainly a far cry from Christmas as we know it in Australia!
Read more of our epic trip to the States
Visiting Niagara Falls in winter was one of the most surreal experiences ever.  We'll definitely be back!  What was your experience like?