This article may contain affiliate links for which we may receive a small commission if purchases are made. Thank you for your support.
Sunshine, golden beaches and beautiful people
The Gold Coast has been one of Australia's favourite holiday destination as long as I can remember!  The beach, the surf, the sunshine, the lifestyle, the locals … the vibe.  It's no wonder there are so many fun things to do on the Gold Coast.
The Gold Coast is laid-back and easy-going, but the most important thing to do is to take time to unwind and relax!
My favourite things to do on the Gold Coast
Take an early morning walk along the beach
Swim and surf the Gold Coast beaches
Great restaurants and funky bars to visit
Fun things to do on the Gold Coast

As one of Australia's most popular tourist destinations, the Gold Coast offers something for everyone.
Swim, surf or catch a tan on one of these magnificent beaches.  This definitely is the place to visit!  Have you ever wanted to learn how to surf?  Want to laze away your days on the beach or perhaps you are looking for an action packed adventure?
[bctt tweet="Live it up at Australia's best holiday spot! Visit the Gold Coast for your next holiday!" username="Aussie_mob"]
The Best Gold Coast Attractions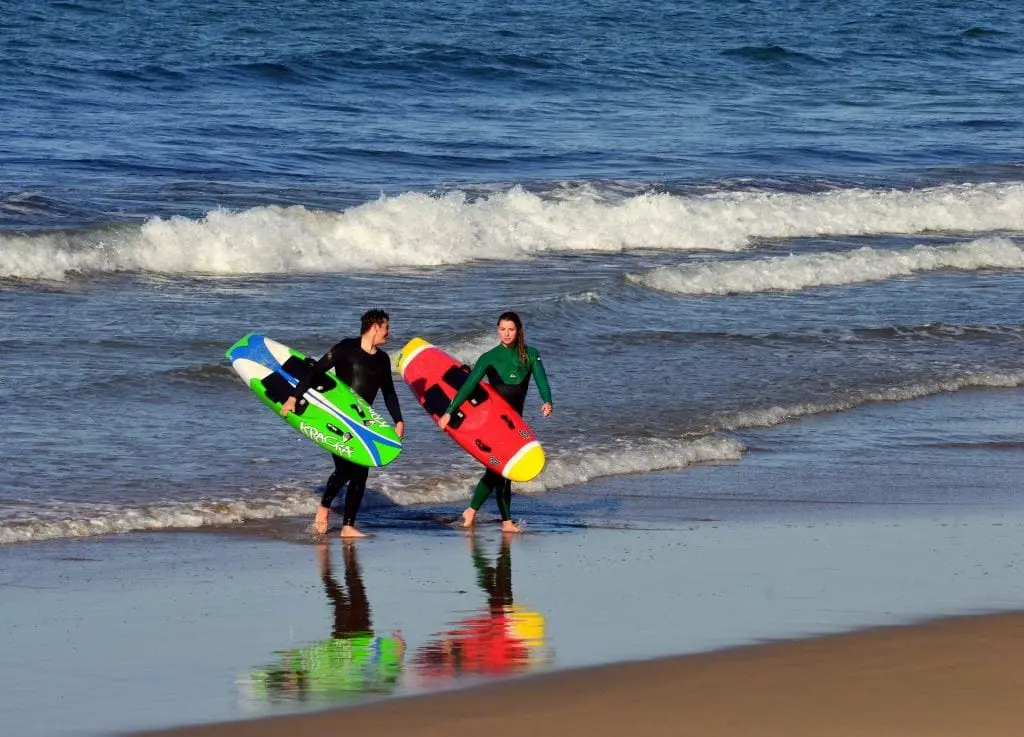 Swim the Gold Coast beaches
There are over 57 kilometres of beautiful golden beaches along the Gold Coast coastline.  Choose a beach – any one will do!  Main Beach, Surfers Paradise, Mermaid Beach, Miami Beach, Burleigh Heads – the list keeps going!
Stay safe when out in the sun – Don't forget to slip, slop, slap!
Go Surfing
Catch a wave at the surf beaches of Burleigh Heads or Main Beach or swim in the sheltered coves at Coolangatta or Currumbin Beaches.  Be sure to visit Queensland's only surfing museum, Surf World for Australia's largest collection of surfboards, great photography and surfing memorabilia and artworks.
Have you ever wanted to learn how to surf?  Hire a body board and try body surfing in the shallows or book surf lessons with Get Wet Surf School at 'the Spit', Surfers Paradise.
Surfers Paradise Markets
Surfers Paradise Beachfront Markets are the place to go Wednesday, Friday and Sunday nights.  With more than 120 market stalls and live entertainment these markets are great to pick up a handmade memento to take home.
Hang out at the Observation Deck at SkyPoint
Take in 360 degree views of the Gold Coast's famous beaches, city skyline and lush hinterland. SkyPoint Observation Deck points out all the surrounding attractions. The observation deck transforms into a chic, high altitude lounge bar – perfect to meet up with friends.
Go Shopping
With over 400 stores, Pacific Fair offers superb shopping choices. If you want more – Harbour Town is Australia's largest Outlet Shopping Centre with over 240 stores, alfresco dining and entertainment options. Great options for a holiday shopping spree!
Take a Morning Walk along the Beach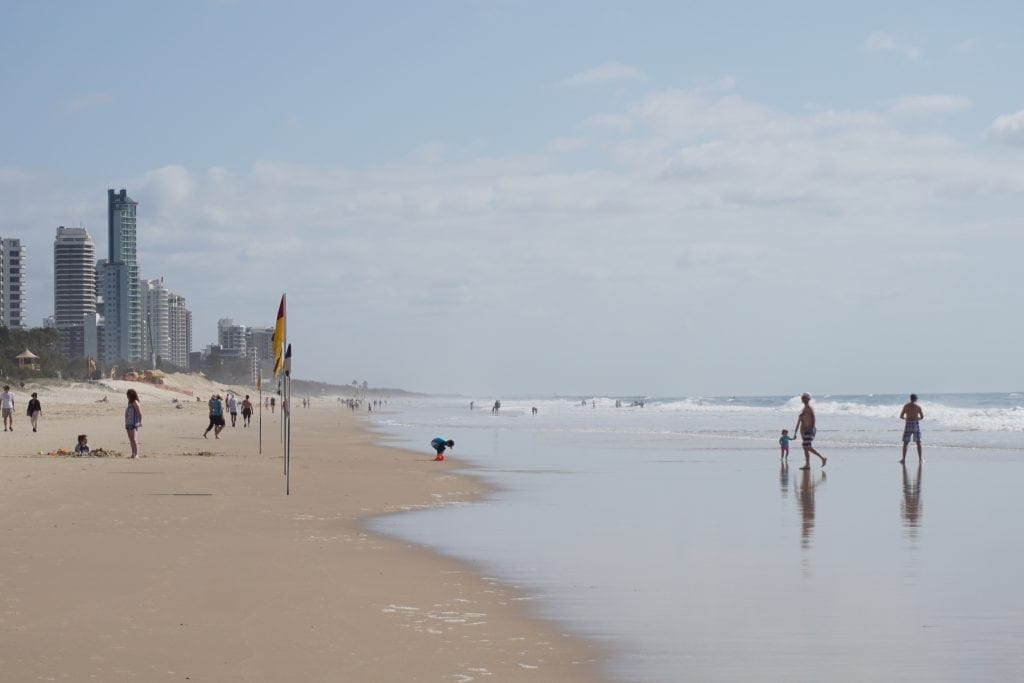 There's no better way to enjoy the fresh sea air and the sunshine coming over horizon than an early early morning walk with the locals.  It's a Gold Coast ritual, so get those walking shoes on and enjoy your morning stroll along some of the most spectacular beaches in the world.
Walk along the Southport Spit
Located just north of Main Beach, The Spit, extends into the seaway and is a popular location for fishing, boating and relaxing away from the crowds. Federation Walk is a 3.5 km walking track through the natural bushland alongside the beach.
Oceanview Walk
Scenic Oceanview Walk is 2.6 km return through Burleigh Headland National Park and the place to go for gorgeous views.  Don't be surprised if you spot whales between April to September.
Gold Coast Oceanway
A 36 kilometre network of walking pathways connecting The Spit at the top end of Main Beach to Coolangatta in the south.  The Gold Coast Oceanway Walk is popular with walkers and cyclists. Look out for birds, dolphins, fish and whales along this award-winning oceanway!
Get your Adrenaline Rush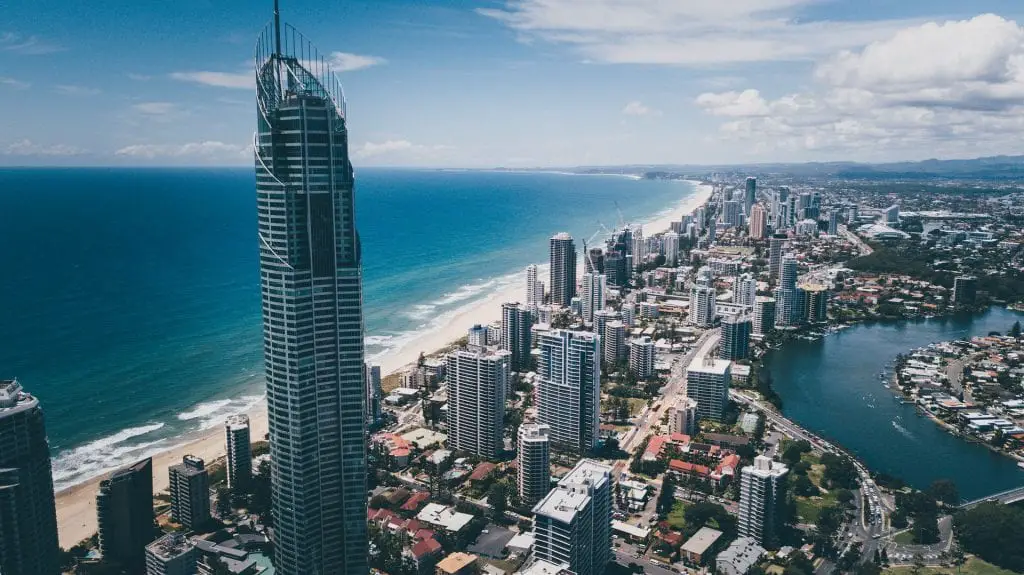 Do the SkyPoint Climb
SkyPoint Climb is a must-do Gold Coast adventure.  An open-air climbing adventure on one of Queensland's most recognised land marks – the iconic Q1 Resort Building.  Rising 270m into the air, SkyPoint Climb is Australia's highest external building climb and provides unparalleled 360′ views of the Gold Coast and beyond.
Head to the Theme Parks
One of the most popular draw cards to the Gold Coast is its world-class theme parks.  Buy individual entry passes or if you plan to visit a few – buy a Mega Pass.
Go snorkelling and diving
Explore the coral reefs off Wave Break Island by booking an underwater Scuba Diving tour.  Wave Break Island lies just off Main Beach Surfers Paradise and offers fantastic snorkelling and diving.
Take a Jet Boat Ride
Not your standard sightseeing cruise and definitely a more adventurous way of exploring the Gold Coast waters while indulging in the ultimate adrenaline fix.  Jet Boat Gold Coast runs these jet boat rides taking in the city skyline and nearby islands and marinas while performing some extreme water-based stunts.
Play Golf
Choose a resort course such as Palmer Gold Coast, carved out of native woodlands, or visit the RACV Royal Pines Resort, home to the Australian PGA Championships, or visit Intercontinental Sanctuary Cove, to access to The Palms and The Pines courses.
Head to the Gold Coast Wildlife Parks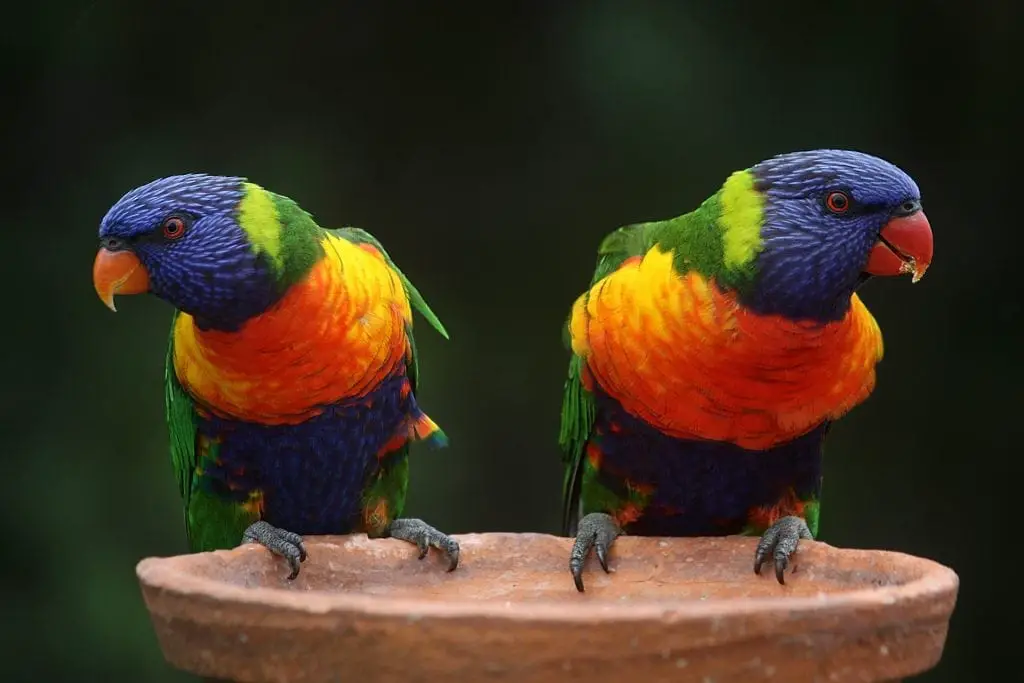 David Fleay's Wildlife Park
David Fleay Wildlife Park is home to many Australian native animals, birds and plants. Visitors to the park enjoy birds, including eagles, brolgas, jabiru, owls and cassowaries, as well as crocodiles, kangaroos, koalas, tree kangaroos, snakes, lizards, gliders and butterflies.  Well worth the visit!
Currumbin Wildlife Sanctuary
Feed a kangaroo, get up close to a crocodile or cuddle a koala at Currumbin Wildlife Sanctuary.  Voted one of the Gold Coast's most popular tourist destinations, Currumbin Wildlife Sanctuary is dedicated to conserving our nation's Indigenous, natural and historic heritage and culture.  It's a 'must visit' adventure for the entire family.
Go Whale Watching
One of Australia's best whale watching destinations during May to early November.  See humpback whales, as they travel up the east coast of Australia searching for warmer waters.
Explore the Gold Coast Hinterlands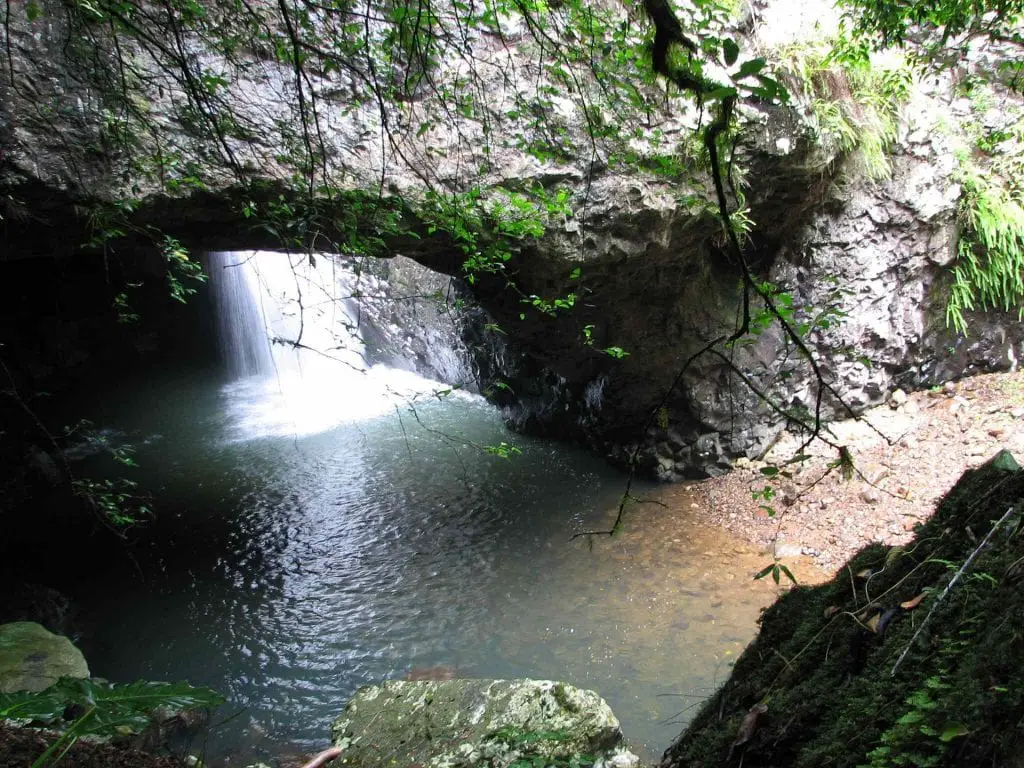 Explore the beautiful Gold Coast hinterland, with its unspoiled national park and charming mountain villages.
Tamborine Mountain
Located only 30kms from the Gold Coast, Tamborine Mountain is a quaint village with spectacular views, native wildlife, ancient rainforest and clean mountain air.  A great place for local arts and crafts, award-winning wineries and top-class restaurants.
Lamington National Park
Rugged mountain scenery, waterfalls, caves, rainforest, wildflower heaths, tall open forests, creeks, varied wildlife and some of the best bushwalking trails in Queensland are in Lamington National Park.
O'Reilly's Tree Top Walkway
Visit O'Reilly's Rainforest Retreat and walk through the rainforest canopy 15 metres above ground.  O'Reilly's Tree Top Walkway is free of charge.  Its a great opportunity to take the cycling trail through the wineries and boutique breweries of Mount Tamborine.
Take an Eco Safari
Book a 4WD Eco Hinterland Day Tour to tour World Heritage listed rainforests. Walk through these lush, sub-tropical rainforests to the stunning lookouts over the gorgeous  valleys and Gold Coast. Walk under waterfalls and swim in a rock pool in Springbrook National Park. Drive deeper into the ancient forests through the enchanting Numinbah Valley to the famous Natural Bridge – an amazing rock and waterfall formation.
Gold Coast Hinterland Great Walk
Perfect for avid bushwalkers, this three-day Gold Coast Hinterland Great Walk passes an ancient volcano and meanders through World Heritage-listed Gondwana Rainforest.
Where to Eat and Drink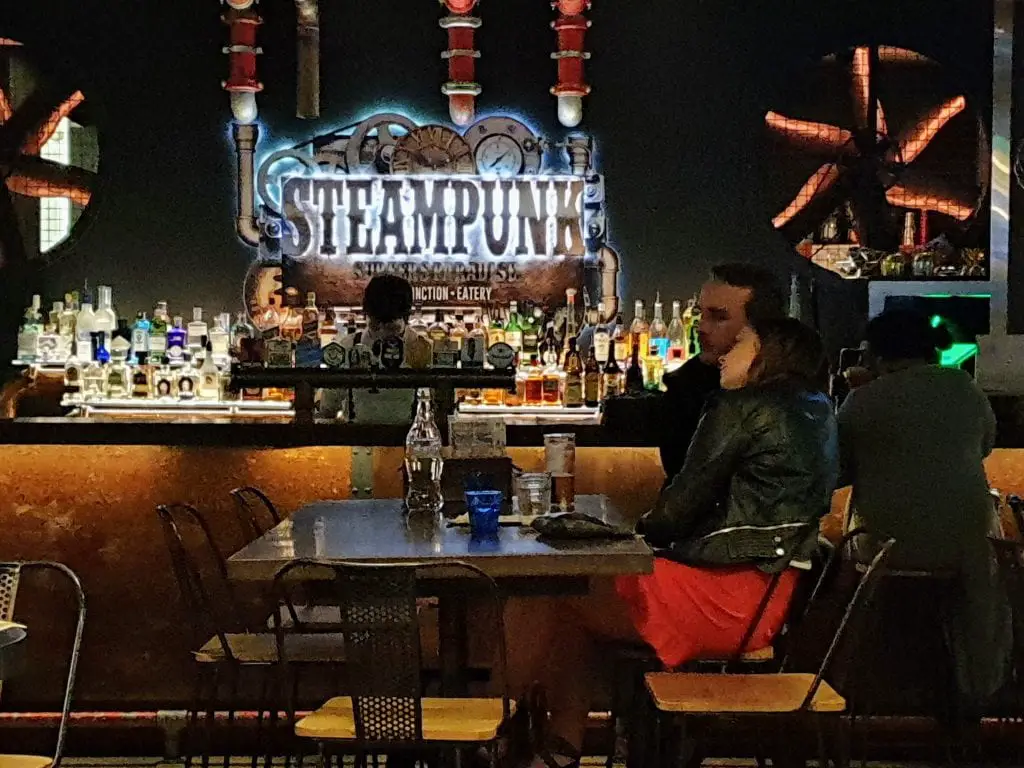 There's a great range of speciality coffee shops, boutique breweries and a choice of sophisticated restaurants to rival the best dining in Sydney and Melbourne.
Try some of the eateries in Pacific Fair, or step out along the beachfront for some of the best ocean views in Australia.  Try the surfclubs along the beaches.  One of my favourite bars is SteamPunk in Surfers Paradise.  Funky memorabilia, great cocktails and fun atmosphere.  Visit if you can!
Visit Burleigh Brewing and Tap House to enjoy a freshly poured, cold brew and a night to remember, check their opening hours!
Check out the Gold Coast Restaurant Guide for some of the best recommendations.
5 Essential Items to prepare for your trip to Australia
Where to stay at the Gold Coast
On our last visit to the Gold Coast we stayed at QT Gold Coast, a retro funky boutique hotel at the northern end of Surfers Paradise.  Great atmosphere, a short walk to the beach, fantastic views great in-house bars and restaurants to try out.
How to get to the Gold Coast
Flights:  International flights fly directly into Brisbane airport or you can connect easily from every other Australian city. Direct flights also land at the Gold Coast Airport in Coolangatta.  Airport shuttles run from both Brisbane and Coolangatta airports.
Rail:  Airtrain services travel between Brisbane Airport to the Gold Coast every 15 minutes for an easy airport transfer.  Check here for more information.
Road:  If you're flying into Coolangatta or Brisbane airports, pick up a hire car.  The Gold Coast is less than an hour away.
Pin this post to read later … 
Explore a different beach every single day before heading into the subtropical hinterland for rainforest walks and waterfalls.  There's nothing like choice!
The Gold Coast offers a range of free and low cost activities so be sure to check out the 'Events Calendar' to make sure you don't miss anything!
What are you looking for in your next holiday?  Make sure you add your favourite Gold Coast 'things to do' to the comments below.