Have you visited this impressive Rock yet?
Uluru in the Central Australian Uluru-Kata Tjuta National Park is Australia's most famous Rock.  This landscape is so much more than red sand, sweeping desert plains and weathered arkose sandstone.
Also known as Ayers Rock, Uluru is one of the most magical places to experience Sunrise and sunset in the Australian Outback.
Almost at the geographical centre of Australia, this impressive monolith rises majestically out of the Central Australian desert.  
It is such a rarity that UNESCO has placed Uluru on its World Heritage sites list.  There is simply no other geological feature like it anywhere in the world.
Despite its remote location, the Ayers Rock attracts thousands of tourists each year.
My favourite things to do at Uluru
See the spectacular sunrise and sunsets
Learn about Aboriginal culture
Stargazing at Uluru – an experience not to be missed
The History
Located in the far southwestern corner of Australia's Northern Territory, it's true that few sites are as culturally important as Uluru.
Uluru is sacred to the Pitjantjatjara Anangu, the Aboriginal people who settled here tens of thousands of years ago.  Ancient Aboriginal history of the Central Australian landscape goes back to the beginning of time and plays an important role in the creation of the land.
Aboriginal Dreamtime
The Dreamtime represents the essence of Aboriginal society, culture, traditions and spirituality.
For the local Anangu people, Uluru is a place of great spiritual power, the centre of the universe and home of the Earth Mother.  It's true that the Anangu believe that by simply touching the rocks they can communicate with dreamtime and receive blessings from their ancestors.
Uluru remains sacred to the Aboriginal tribes who still perform rituals in the rock caves and paint new rock art.  Each side of Uluru features a different creation story forming the basis of Aboriginal culture in this important part of Australia.
Step back in time when you visit Uluru - Australia's most famous rock! Trust me, you'll love the experience!
Click To Tweet
Find your Sunset and Sunrise Vantage Spots
Uluru-Kata Tjuta is world-famous for its spectacular sunrises and sunsets.  Experiencing it at Uluru-Kata Tjuta National Park takes the experience to a whole new level.
The national park has five viewing areas dedicated to experiencing and photographing this beautiful scene.  These dedicated sunrise and sunset viewing areas are located so that the sun's rays hit the rock formations directly at that time of the day, making them appear to change colour. If you'd like to see the sun rising or setting, visit a sunset viewing area at dawn or a sunrise area at the end of the day.
The most popular sunset spot is the official Uluru Sunset Lookout about 10 kilometres through the entrance gates of the National Park.
When we arrived I was surprised to see people sitting on the roof of their cars whilst others were standing on any vantage point they could.  Some were settled into their comfy camp chairs celebrating the occasion with a glass of bubbles in their hand just waiting for the sun to go down.
Cameras were everywhere.  People were photographing the sights – countless selfies, cameras on tripods and others posing for the 'photo of the day'.
Things to do in Uluru-Kata Tjuta National Park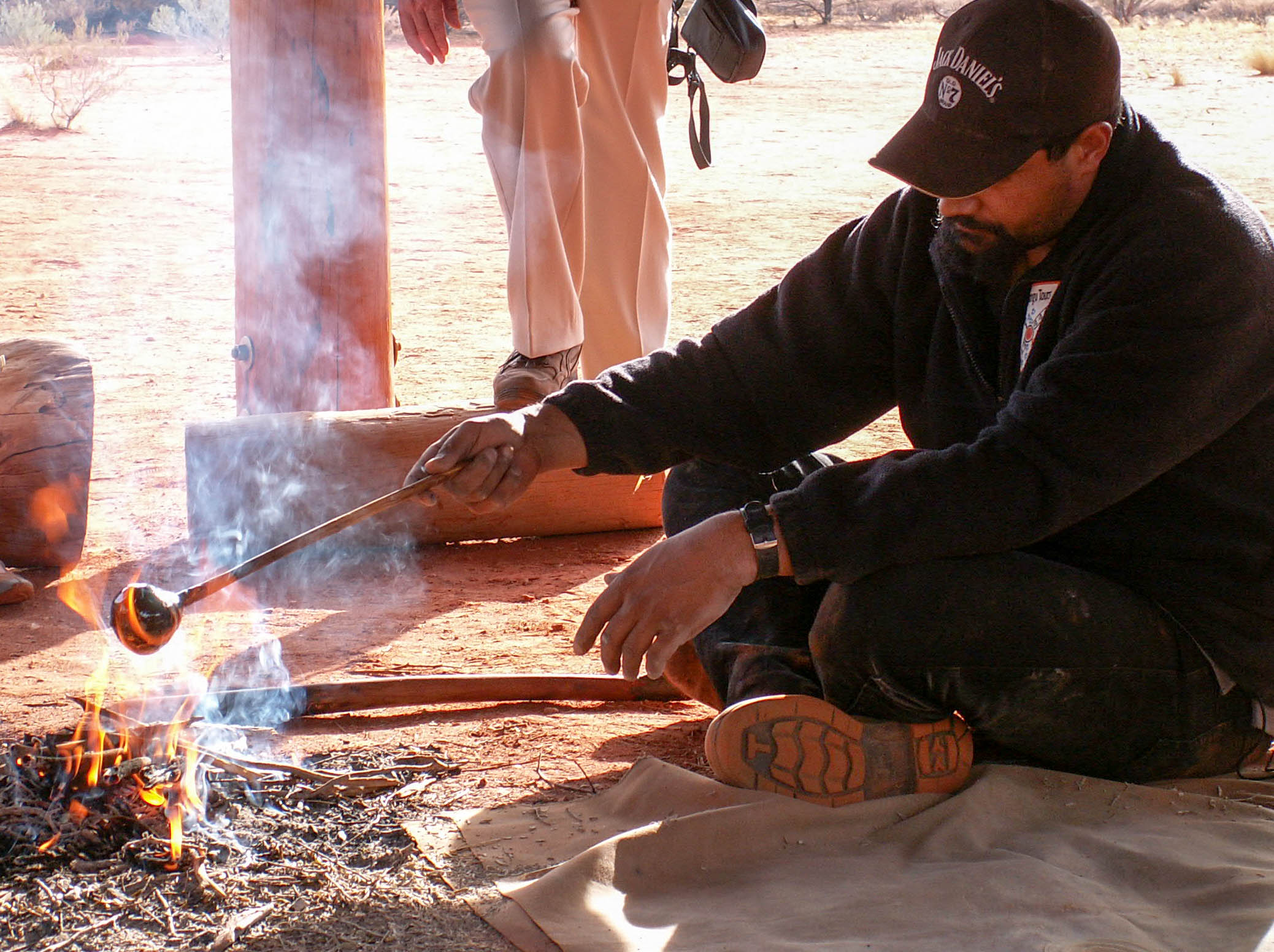 Cultural Centre
Visit the Uluru-Kata Tjuta Aboriginal Cultural Centre to learn more about Uluru and the closely-connected Aboriginal culture.  The Anangu talk passionately about their ancestors and the cultural centre offers a selection of arts and crafts in the souvenir shop.
Anangu Cultural Tours
The Aboriginal guides provide interesting talks about their culture and the legends of Uluru. Take the ancient Liru Walk with your guide to hear stories about the Aboriginal ancestors whilst learning traditional bush skills.
The Rock Art
The rock art around Uluru is evidence of how cultural knowledge has been passed from generation to generation.  The park's rock art sites have many layers of pictures, symbols and figures painted on top of each other. This is because the same sites have been used in Anangu education for tens of thousands of years.
Ranger Guided Activities
Join the park rangers to get a deeper insight into the natural and cultural heritage of Uluru-Kata Tjuta.  Learn about the park from the experts that work here every day providing guided walks to bush tucker talks.  All ranger guided activities are free for park visitors.
Plants and Wildlife
The Uluṟu-Kata Tjuṯa National Park is home to an abundance of springs, waterholes and rock caves hosting a thriving range of flora and fauna.  With more than 21 species of native mammals, 178 species of birds, 73 species of reptiles and 418 species of native plants the National Park is certainly alive – for a desert.
Sounds of Silence Dinner
Enjoy a beautiful starlit meal overlooking Uluru and Kata Tjuta at sunset. Astrology experts talk about the constellations in the southern Australian skies where you will learn about the southern hemisphere skies.
Stargazing
In the Australian outback, skies are clear as there is low humidity and no artificial light to interfere with the dark night sky.  You can see constellations rarely seen from anywhere else on earth. See the famous Southern Cross constellation and add 'Stargazing at Uluru' to your bucket list.
Hire a bike
This self-guided adventure will take you right around Uluru and up close to the rock surface.  Outback Cycling's shop is situated just outside the Cultural Centre.
Birdwatching
Uluru-Kata Tjuta is a bird-lover's paradise. There are over 178 species of bird in the park, including several rare species. The best time to see birds in Uluru-Kata Tjuta is early in the morning. Being quiet, patient and alert is the key to success.
Anangu name birds based on the sound of their calls. You are likely to hear a bird before you see it, so this system is extremely practical for identifying which birds are nearby.
Camel Tours
Nothing says 'desert adventure' quite like a camel trek in the desert!  Enjoy a sunrise or sunset camel trek through the surrounding desert to a viewpoint overlooking Uluru.
Helicopter Tours
Take a unique helicopter experience to get a bird's eye view of Ayers Rock, and add in the option to visit the Olga's and King's Canyon whilst you're up and about.
Climbing Uluru
There's been a great deal of discussion about climbing Uluru recently.  Yes it is still open for climbing until July 2019.  About 20% of all visitors do the climb but for me, I prefer to respect the traditional owners request that people don't climb the Rock.
It's such an important sacred site and the 800-metre steep climb is quite dangerous. A number of people have died doing the climb and its often closed due to the high temperatures.
Walks around the Rock
These walks will take you through the homelands of dozens of unique birds and desert mammal habitats as you walk through the lands.
Take lots of water, snacks and short breaks.  Most importantly, don't forget a wide-brimmed hat, comfortable walking shoes and sunscreen.
The Uluru Base Walk
This is one of the most popular walks around the Rock.  A 10.6 km walk on a relatively flat dirt path, and can be completed in around 3.5 hours.
The weather is often extreme in the Outback so it's best to start this walk early to beat the heat. The park opens daily at 5 am.
Tip:  If the temperature forecast is for 40 degrees celsius they close this walk from 11am.
Consider starting the walk at the Kuniya walking point.  Walk this section first as its protected from the sun in the early morning.
The Liru Walk
Approximately 4 kilometres from the Cultural Centre to the base of Uluru.  It takes about 1.5 hours and you will see native plants and animals along the way.
The Mala Walk
Take the 2 kilometre ranger guided walk (1.5 hours).  A ranger will take you along the base of the rock, and relay the story of the mala (rufous hare-wallaby) people.  Learn about traditional Anangu culture, rock art and how the park is managed.
Walking through Kata Tjuta
The Kata Tjuta domes are only 35 kms from Uluru.  Allow a couple of hours to explore this amazing rock structure as there are some spectacular walks through Kata Tjuta.
Walk Kata Tjuta
The Kata Tjuta rock formation is a group of 36 steep sandstone domes.  Uluru and Kata Tjuta are spectacular at both sunrise and sunset.
Valley of the Winds Walk
The Valley of the Winds Walk in Kata Tjuta is approximately seven kilometres taking in two spectacular lookout points. It takes abour 3 hours to walk the Valley of the Winds Walk.  Tip: Go in the early morning to enjoy the solitude.
Walpa Gorge Walk
The Walpa Gorge Walk in Kata Tjuta is an easier 2.6km stroll that takes in the native wildlife and plants of the park.
Fun Facts
Uluru is probably Australia's best-known natural landmark. The ancient monolith is pretty impressive close up and boasts these fun facts.
Uluru is taller than the Eiffel Tower and surprisingly 2.5 times the height of Sydney Harbour Bridge.
The Uluru and Kata Tjuta formations were created over 600 million years ago.
Standing an impressive 348 metres above ground, Uluru was once submerged in Australia's inland sea.  2.5 kilometres of the rock, remains underground.
Uluru lies west of the Simpson Desert, not far from the 'Red Centre' of Australia, about 335 kilometres southwest of Alice Springs and 463 kilometres by road.
Contrary to popular belief, it isn't the biggest monolith in the world; Mount Augustus in Western Australia is the biggest monolith.
When is the best time to visit Uluru
Plan your visit to Central Australia in line with the expected seasonal temperatures.  Summer temperatures can get very hot and winters are likely to be very brisk.
Visiting in the winter months the most popular time to visit Uluru.
Spring  – September to November – High 26C-34C | low 17C-9C
Summer – December to February – High 35C-38C | low 17C-21C
Autumn – March to May – High 23C-28C | low 17C-8C
Winter – June to August – High 22C-20C | low 5C-3C
Where to stay
Yulara is a small township near Uluru which has everything you will need from restaurants, cafés, a small supermarket, gift shops and the only petrol station in the area.
Accommodation
Ayers Rock Resort has 5 properties available from from budget to luxury.  Free cancellation is available on most rooms and a best price guarantee.
Camping ranges from $30 per night for an unpowered site to luxury glamping site at around $3,000 night.
How to get there
The Uluru-Kata Tjuta National Park is very easy to get to. Here is how you can travel to this World Heritage-listed park.
Fly
You can fly directly to Yulara from a number of Australian cities, including Sydney, Melbourne, Brisbane, Darwin, Adelaide and Alice Springs.  Alice Springs to Uluru is just 45 minutes by air.  Check Virgin Airlines or Qantas for current flight schedules to Yulara.
Bus
Buses run to Uluru from Alice Springs regularly.
Drive
Many visitors come to the park as part of a road trip around outback Australia.
The famous Red Centre Way is a multi-day drive through this extraordinary region, taking in Uluru-Kata Tjuta National Park, Kings Canyon, West MacDonnell Ranges, Alice Springs and so much more. You can find out more on the Tourism NT website.
Uluru is 465 kilometres from Alice Springs by road. If you are driving this should take about 5 hours.  Drive from Alice Springs via the Stuart Highway turning right onto Lassiter's Highway at Erldunda.
Tip: Lassiters Highway is a sealed road and in good condition.  You won't need a 4WD but we advise you to follow these Drive safe tips whilst driving on our outback roads.
Read more
Experience our Red Centre.  Pin this post for later.
Uluru was everything we imagined and more.  Watching Uluru change colours at sunrise or sunset is one of outback Australia's greatest experiences.  
Spend a few days in the Red Centre to experience all that Australia's most famous Rock has to offer.
Have you been to the central Australian desert yet?  What did you enjoy most?
Reference:  uluru-australia.com | wikipedia.com