This article may contain affiliate links for which we may receive a small commission if purchases are made. Thank you for your support.
Queensland's Garden City comes alive in Spring
Toowoomba has long been known as Queensland's Garden City but there is much more to this town than meets the eye.  Here are some great things to do while you're visiting this great country town.
Toowoomba is a picturesque country town on Australia's Great Dividing Range.  Explore the stunning lookouts and escarpments as you look across the Lockyer Valley.
With its cooler elevation, you will likely experience all four seasons while visiting Toowoomba.  Crisp winter air, fallen autumn leaves, clear summer days and the beauty of the town coming to life in spring.
My favourite things in Toowoomba
Carnival of Flowers
Ju Raku En Japanese Gardens
Cobb+Co Museum
What to see and do in Toowoomba
There are so many things to see and do in the Toowoomba region!  
This guide will help you find the spots the locals love.  Enjoy the cool mountain waterways, the gorgeous sunflower farms and native forests and local vineyards.  
Settled in the mid 1800's, Toowoomba grew out of rich agricultural land and generations of farmers continue to call it home today.  
Toowoomba is the gateway to the award-winning Darling Downs farming basin and the resource-rich Surat Basin energy precinct.  The Toowoomba region is famed for its diverse range of industries including agriculture, mining, healthcare, education and manufacturing.
Toowoomba's Carnival of Flowers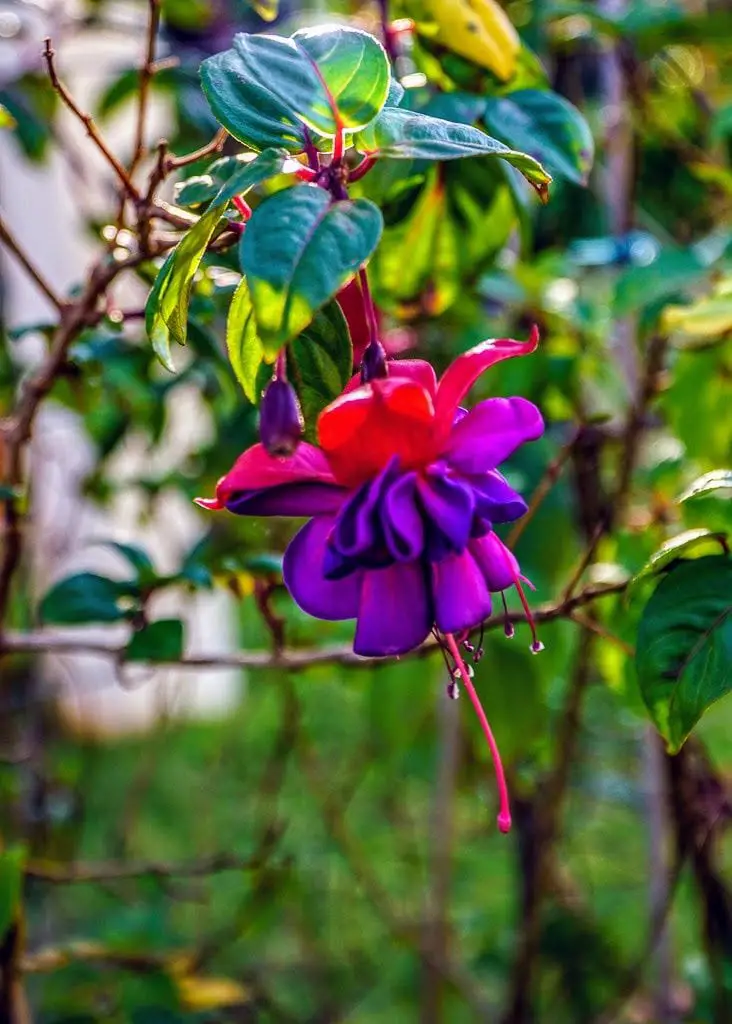 Join the locals and the colours of spring at their Toowoomba Carnival of Flowers. The picturesque town Toowoomba is full of grand old homes, beautiful gardens and perfect temperatures for growing roses and other cool climate flowers.
In September each year, Toowoomba comes alive with the Carnival of Flowers.  Gardens are planted up to flower in September showcasing the incoming spring festival.
Enjoy Toowoomba's ten-day festival of fun and laughter, fireworks, parades, a range of music and entertainment.  It's an opportunity to taste the sensational wines and food from the region.  Consider these other events when planning your trip to Toowoomba:
First Coat Art (Street Art) and Musical Festival
Felton Food Festival
Hampton High Country Food & Arts Festival
Toowoomba international Tennis tournament
The Weetwood Cup (Horse Racing)
Cobb+Co Museum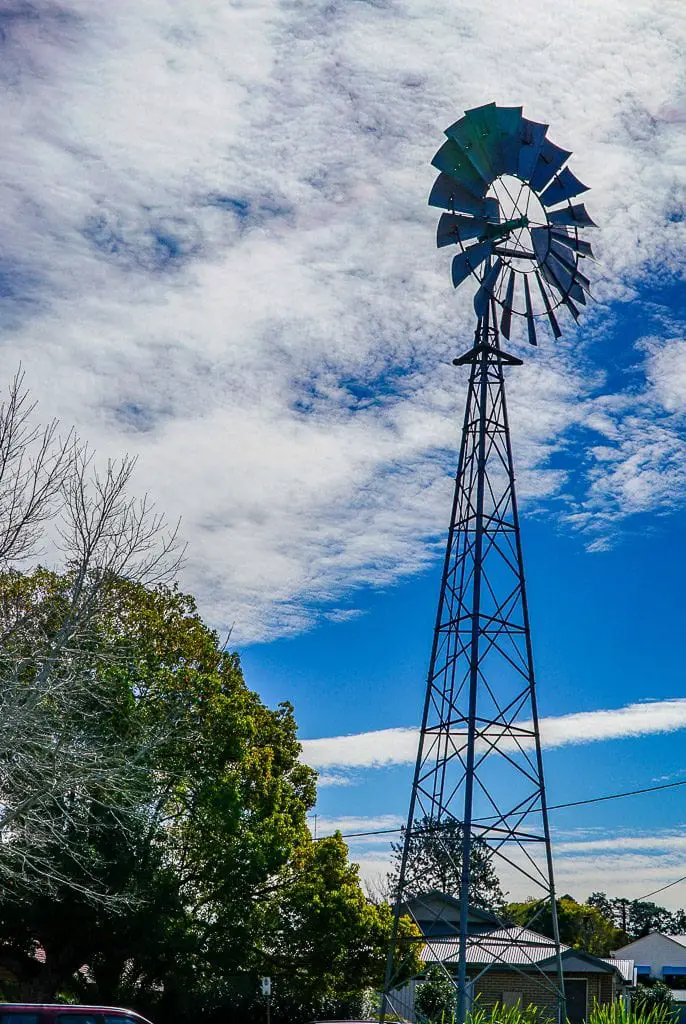 History, science and traditional crafts feature at the Cobb+Co Museum. See the outstanding collection of horse-drawn vehicles and learn about the history of Toowoomba and the Darling Downs region.
Learn about Cobb+Co's role in the expansion of the Southern Queensland Country region.  Beginning as a small mail run in 1866 transporting both mail and passengers to Brisbane and nearby townships supporting the Darling Downs community.
The museum is part of the Queensland Museum Network and home to the National Carriage Collection.  Interactive displays, exhibits and heritage trade workshops are part of the Cobb + Co experience.  A variety of heritage workshops are available for people to learn a traditional skill – like leadlighting, blacksmithing or millinery.
Empire Theatre
Toowoomba's Empire Theatre is a heritage listed art-deco venue that provides a wide variety of performing arts. The Empire Theatre is Australia's largest regional performing arts complex.  Staging world class shows from leading national and international performers, the Empire Theatre showcases local talent.
Check out 'what's on' during your visit.  Performances range from popular music, ballet, comedy or other live performances.  The lavish art-deco styling of the venue makes for a memorable experience.
Art Galleries
Take a tour of the art galleries, theatres and creative spaces in and around Toowoomba for a new experience.
Toowoomba Regional Art Gallery offers an ever-changing selections of exhibitions, including space dedicated to local artists.
USQ Artsworx is a gallery space at the local university showcasing distinguished artists and specialist exhibitions as well as students work.
Feather & Lawry Gallery is one of the private galleries with a collection of acclaimed artists works featuring quirky clay pieces, landscapes, portraits and more.
Toowoomba Art Society is home to a range of classes, art groups and exhibitions.
Tosari Galleries specialising in local Aboriginal art.
The First Coat Festival transformed Toowoomba's urban spaces into something truly magical.  Streets, lane-ways and commercial spaces are now open-air galleries for all to see.
Historical Darling Downs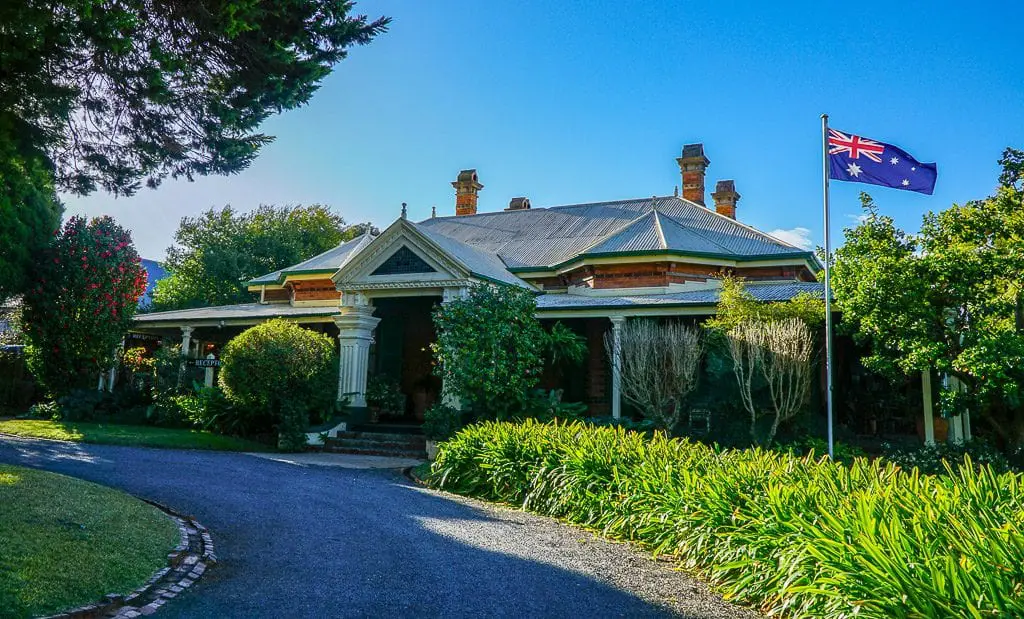 Pick up the Historical Trails tourist guide from the Information Centre and 'do the trail'.  Toowoomba's colonial history traces back to the early 1840s.
Toowoomba's fascinating historical trail features many stately old homes and buildings of early Toowoomba days.  Many of the historic buildings, churches, pubs, banks and grand old homes are still in use today.  For many of these buildings self-guided tours are available, such as 1891 ex convent for Sisters of Mercy in Warwick.
Memorials, interactive museums and private collections piece together the stories that bring to life the indigenous and pioneering history.
Ju Raku En Japanese Gardens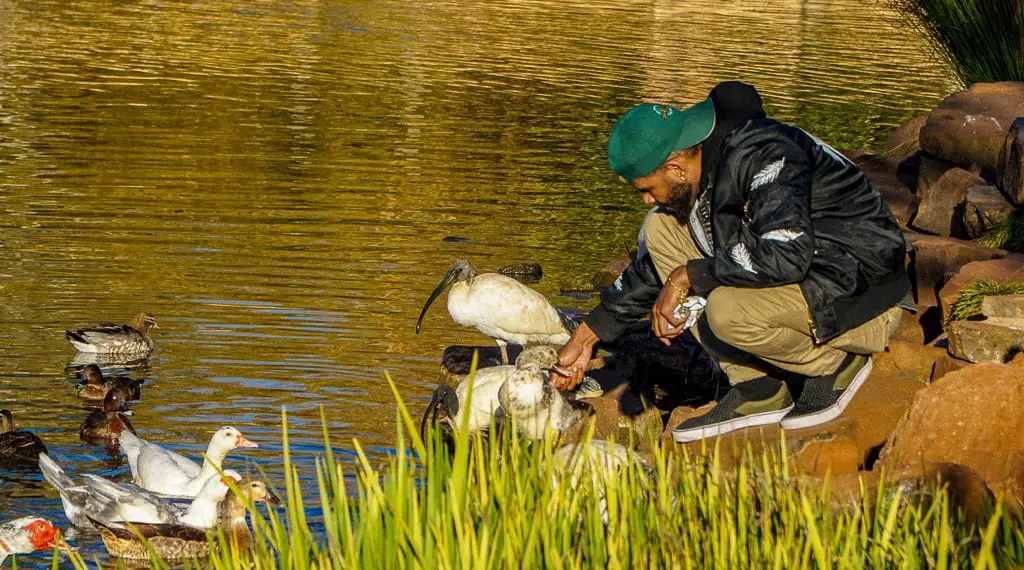 One of Toowoomba's most peaceful and beautiful parks, the four and a half hectare Ju Raku En Japanese Gardens at the University of Southern Queensland.  An exquisitely manicured garden around a central lake provides a tranquil home for ducks, geese and ibis.
Known as 'Ju Raku En', the Japanese gardens emphasise the use of rocks to create three dimensional pictures. All of the large rocks in Ju Raku En were placed to appear naturally dispersed, in a random way.
With over 230 species of Japanese and Australian native trees and plants, these lawns combine perfectly with peace and harmony.
Vacy Hall – Step back in time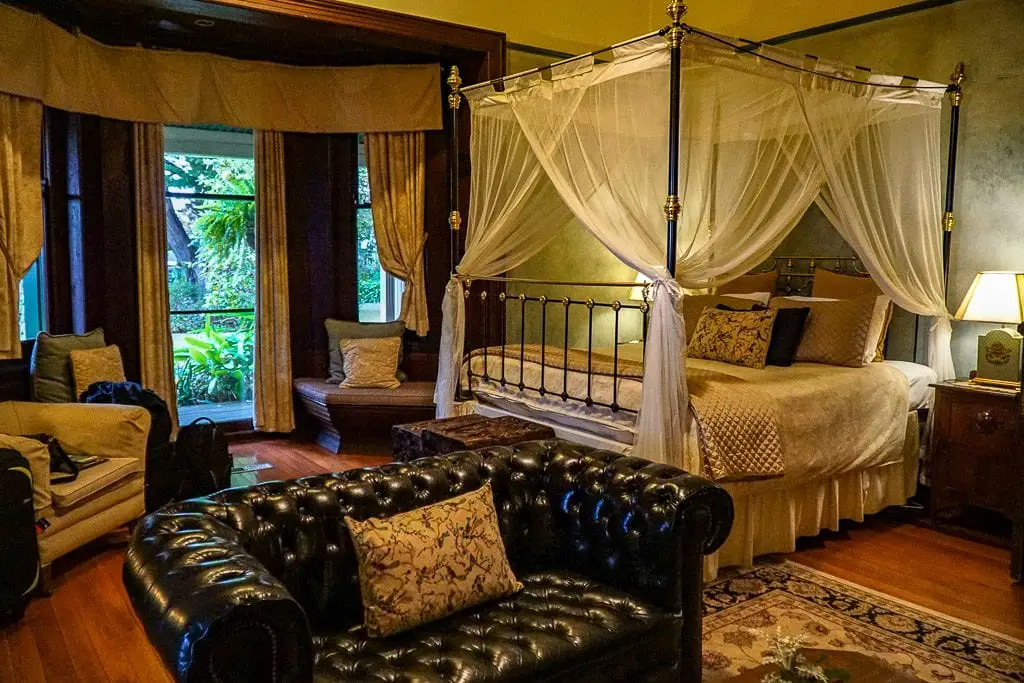 Heritage-listed Vacy Hall is one of Toowoomba's most charming boutique hotels.   Built in 1873, Vacy Hall is set in over an acre of beautiful gardens and just a short walk to the centre of Toowoomba.  It's an opportunity for guests to experience history closeup.
Furnished beautifully.  A huge four-poster bed draped in nets with a super-soft mattress.  With a big old chesterfield in front of the fireplace, underfloor heating and a gorgeous old claw foot bath in the bathroom – it was the ultimate in luxury.
Read next:  Vacy Hall, Toowoomba's most charming boutique hotel
Where to eat
Toowoomba is jam-packed with so many great restaurants so try a few out while you're visiting.  Whether its a light lunch, a full a-la-carte dining experience or a few cheeky drinks you're looking for, the choices are many.
Here's a few of our favourites …
Cafe Valetta:  A beautiful place to breakfast and lunch.  Great Coffee too!
Kingfisher Cafe:  A creative menu available for breakfast and lunch.  Look for their great pizza topping selections!
Tip:  Try their delicious pumpkin soup.
Finch Cafe:  Serving casual modern Australian food during the day and a bistro style menu at night. The Finch Cafe has been a favourite of ours for a number of years.
Federal Hotel:  Great place to have a casual bistro dinner with a great range of meals from premium char-grilled steaks to bistro favourites.
Gips Restaurant:  Set amongst beautiful gardens in one of Toowoomba's most historic buildings, Gip's is a great place to enjoy lunch, dinner, coffee and cocktails.
When to visit
Toowoomba is popular year-round with a temperate climate.
December – February will be warm to hot.  Summers often experience heavy rainfalls and occasional thunderstorms especially during January to February.
March to May will show the tints of red and gold marking the beginnings of autumn.
June – August are cool winters.   In the winter months, enjoy rugging up and winding down – many of the homes in the region have fireplaces.
September marks the beginning of spring with the Carnival of Flowers showcasing spectacular garden displays, floral parades and exhibits.
How to get to Toowoomba
Toowoomba is a short drive west of Brisbane – approximately 1.5 hours
The Westlander trains depart daily from Roma Street Station in Brisbane
Buses leave daily from the Roma Street Terminal
Where to stay
Our decision to stay at Vacy Hall was quite possibly the best decision of the year but that aside there are so many great places to stay in Toowoomba.  Check out these options when planning your visit.

Pin this for your upcoming visit to Toowoomba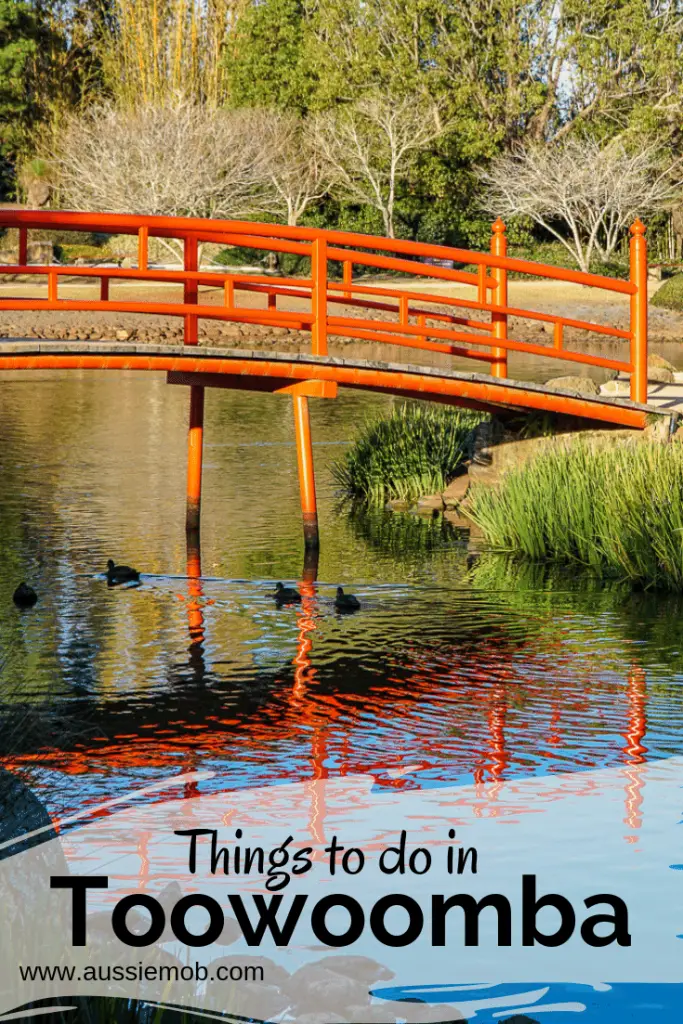 Places to visit nearby
Experience a time gone by and enjoy the history of Toowoomba.  It is an extraordinary experience and one not to miss!