The Ultimate Adelaide to Alice Springs Road Trip
There's always a sense of excitement when travelling into the Australian Outback. Without doubt, driving from Adelaide to Alice Springs is the ultimate Australian road trip.
There is nothing that says 'Australian Outback' more than endless miles of long, straight roads and wide open desert landscape. The vivid red sand dunes, sparkling salt-lakes and sparse bushlands are surprisingly beautiful and full of wildlife.  
Driving north from Adelaide will give you an opportunity to experience some of the most incredible, and surprisingly diverse landscape within Australia.
Suggested itinerary from Adelaide to Alice Springs

Enjoy vast expanses of nothing as you discover that there is plenty to see in the Outback.  The isolation, quirky towns and iconic landmarks on this outback journey are some of the most unique experiences to enjoy.
Take the Stuart Highway and head north on your adventure.  You will pass through the South Australia into the Northern Territory.
Things to know before you go
Total distance:   Adelaide to Alice Springs is approximately 1500 kilometres.
Recommended Driving Time:  2 – 5 days.  Overnights stops are recommended.
Vehicles:  2WD & 4WD vehicles, Campervans, Buses and Caravans.
Fuel, food, accommodation:  Port Augusta, Pimba, Glendambo, Coober Pedy, Cadney Park, Marla, Kulgera, Erldunda, Stuart's Well.
Road conditions:  The Stuart Highway is in good condition and sealed between Adelaide and Darwin.  Alternate side trips are suggested.
Adelaide

Adelaide is a great city to stay and explore.  Popular for it's Mediterranean climate, Adelaide is a great destination for holidaymakers with pristine sandy beaches, rugged coastlines and a thriving restaurant and cafe scene.
The Barossa Valley, McLaren Vale, Adelaide Hills and Coonawarra wine regions are just a short drive from Adelaide.  The region is known for some of the best wines in Australia.
Adelaide has an wonderful array of cuisine styles, an abundance of fresh seafood and restaurant waiters with an extraordinary knowledge of food & wine matching.
Day 1 – Adelaide to Port Augusta
Port Augusta is approximately 300 kms or 3 hours north from Adelaide
Driving north, take the National Highway A1, the Princes Highway to Port Augusta.   You will pass turn offs to small towns such as Port Wakefield, Lochiel and Warnertown as well as the Yorke Peninsula, Port Pirie and the turn off to the Flinders Ranges.
There is an option to take the alternate route north through Flinders Ranges.  Explore the boutique wineries, bed and breakfast accommodation and exceptional restaurants in the Clare Valley wine region.
Side Trip: The Flinders Ranges are impressive, so if you have additional time available, stop and explore.
The Flinders mountain range stretches along the Birdsville Track and the Oodnadatta Track along the edge of the Simpson Desert.  Both are historical journeys of our pioneer Australia.
Wildflowers are abundant in the spring and the vivid colours of the ranges will take your breath away.
Read more:  Best Australian wines under $30 a bottle
Port Augusta
Stay overnight in Port Augusta.  There are a number of hotels, motels and camping sites available for travellers.  Refuel, refresh and relax.
Port Augusta is a sleepy little town 3 hours north of Adelaide and just before the crossroads to the Northern Territory or Western Australia.  At the crossroads, turn right to go to the Northern Territory
It is the home of renewable energy sources for South Australia feeds into the National Grid. The Port Augusta region has replaced coal power generation with solar and wind farms.
Day 2 – Port Augusta to Coober Pedy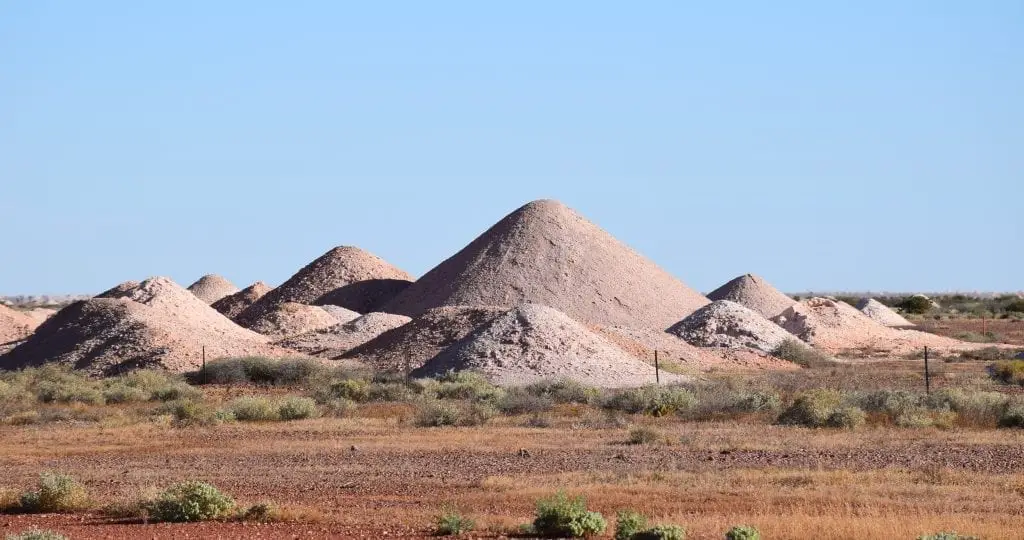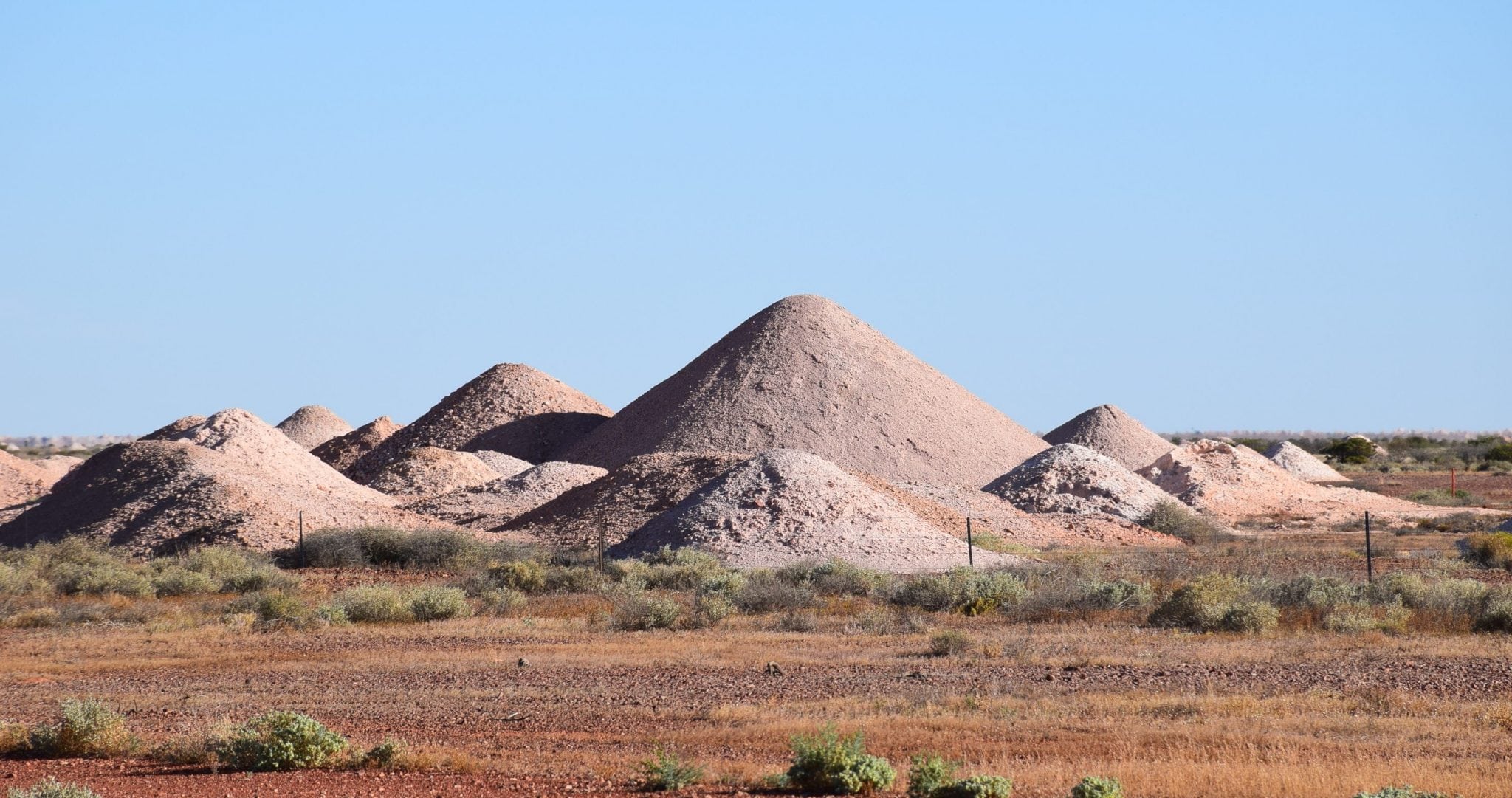 Coober Pedy is approximately 540 klm north and 5.5 hours drive.
Leave Port Augusta early in the morning planning to arrive in Coober Pedy mid afternoon.  As you drive north, turn right onto the Stuart Highway – Highway A87.
Side Trip:  Visit Roxby Downs, Andamooka and Woomera as there's plenty to see once you get off the highway.
Pimba is where you will find Spud's Roadhouse.  Little more than a roadside stop for travellers but stop in, say hello, stretch your legs as you take a well-deserved break.
Pimba is the gateway to Roxby Downs, Olympic Dam mine and Woomera where the controversial nuclear tests of the 1940's took place.  Olympic Dam Mine is is the fourth largest copper deposit and the largest known single deposit of uranium in the world.  
Lake Hart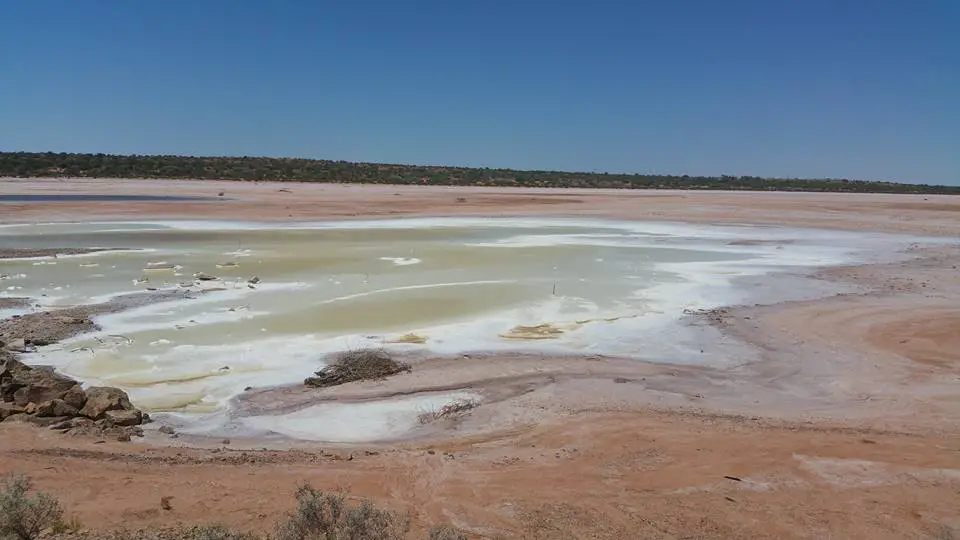 Lake Hart and a number of other salt lakes follow alongside the Stuart highway.  These spectacular inland salt lakes provide an extraordinary oasis for wildlife as their catchment area stretches through South Australia, the Northern Territory and Queensland.
When the lake floods, it creates a stunning natural vision.  Waterbirds flock to the lake in huge numbers and the usually stark landscape changes colour with the native wildflowers.  As the lake evaporates, its salinity increases and it often turns pink. When empty, the lake becomes a giant salt pan, with white crystals reflecting in the sunlight.
Glendambo is a great little breakfast stop, grab a coffee or one of their great roadhouse style burgers.  Most importantly, get out and stretch your legs.
As you get closer to Coober Pedy that you start to see the small piles of mining rubble called 'mullock heaps' from opal mining.
Day 3 & 4 – Coober Pedy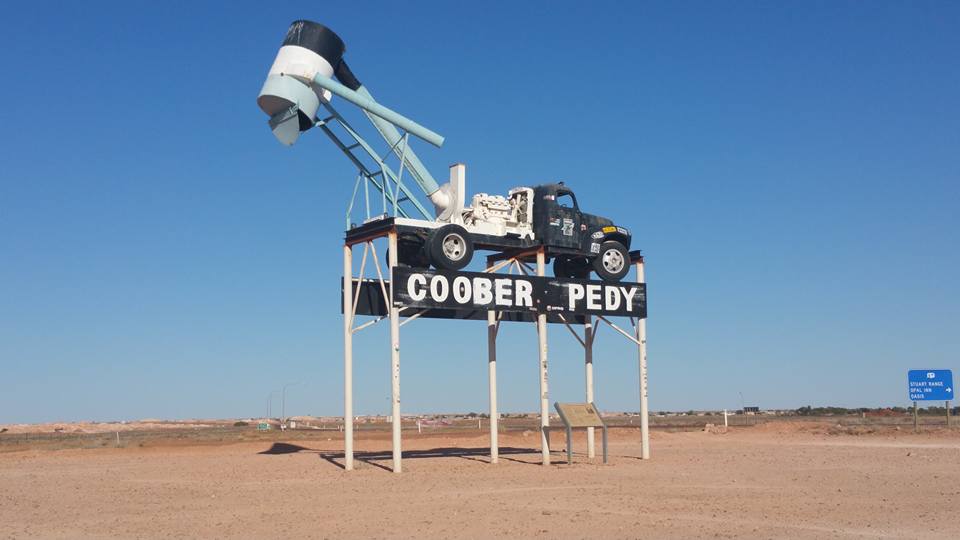 Stay 2 nights in Coober Pedy to explore this quirky little town.
Coober Pedy is a quirky town with a population of 2,500 and where over half the town's families live underground.  Known as the Opal capital of the world, Coober Pedy is quite possibly the most unique town in Australia!
Things to see and do in Coober Pedy:
Try your hand at 'noodling'!  Noodling is the name for fossicking for opals!
Play Night Golf on the only 'grassless' course in Australia.
Take an tour.  See a 'dugout' home (some are more like mansions), underground churches, 4 star hotels and art galleries.  Take a DIY tour through the historic Old Timers Mine which was hand dug in 1916.
Take a sunset tour to the Breakaways.
Where to stay in Coober Pedy
For a unique experience, stay overnight at one of the 'underground' hotels.  You'll be surprised how soundly you sleep!
We've previously stayed at the Desert Cave Hotel and Radeka Downunder Underground Motel.  Both are great experiences but there are many other hotel options available in Coober Pedy.
Day 5 – Coober Pedy to Alice Springs, or Uluru
Alice Springs is approximately 687 km or 7 hours north.
Uluru is approximately 755 km or approximately 8 hours drive in total.
Erldunda is almost 490 km or 5 hours drive north of Coober Pedy.
Either destinations on this last segment of this roadtrip make it a very long drive so if you can, take the opportunity to break it up.
As you head north you will pass through some large cattle stations, so keep your eyes peeled for wandering stock.
Take a break at the Roadhouses along the way
Side Trip:  If you have time and a 4WD vehicle consider visiting The Painted Desert  – it will take a few hours to get there but is well worth staying a day or so.
There are a number of large Roadhouses during this part of the trip north. All have fuel, food and accommodation and you will meet some colourful characters if you take time to stop along the way.
Cadney Park is a nice little roadhouse with good food if you're opting to take a break on your journey.  Motel accommodation and camp sites are available.
Side Trip:  Marla is the northern end of the Oodnadatta Track – another 4WD adventure opportunity.
Marla is the last township in South Australia and 20 km from the Northern Territory.  It has a small supermarket, police station and a small mechanical repairs workshop if you need assistance.  The roadhouse has motel style accommodation and caravan and camping sites available.
Kulgera Roadhouse is the first and last pub in the Northern Territory.  Motel style cabins and backpacker accommodation is available and a police station.  Kulgera is the turnoff to a number of historical sites such as Mt Dare, Dalhousie Springs, Old Andado and the Old Ghan Track.
Erldunda Desert Oaks Roadhouse is at the intersection to the Lassiters Highway.   Lassiters Highway is the road to Uluru Kata Tjuta National Park, Mount Connor and Kings Canyon. Fuel, food and motel and cabin style accommodation, caravan and camping sites are available.
Side Trips: There are some amazingly beautiful places to visit nearby.  Camp overnight at Rainbow Valley and prepare for an amazing sunset.  Visit Chambers Pillar along the Old Ghan Track if you have a 4WD.  It's one of my favourite outback experiences.
If you continue on towards Alice Springs, stop in at Stuart's Well Roadhouse.
Stuart's Well claims to have the best coffee between Adelaide and Alice Springs!  Accommodation and Camping grounds, food and fuel are also available and the Camel Farm is right next door.
It's a great place to spend a few days as there are some beautiful places to visit nearby.
Alice Springs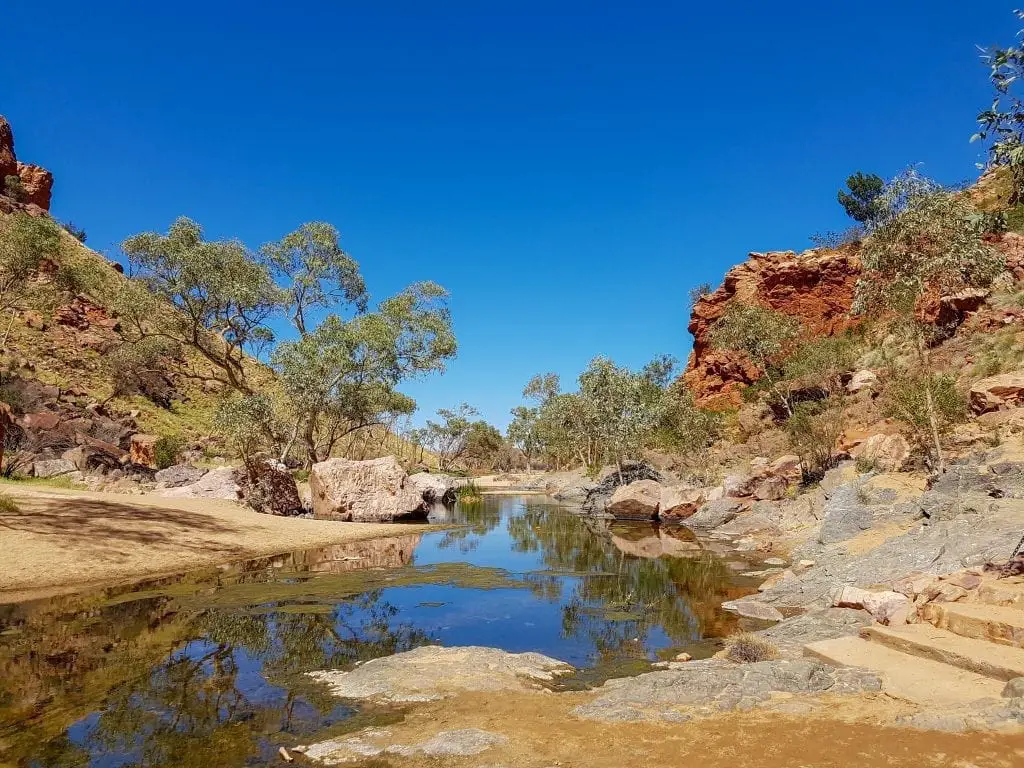 Despite being in the middle of the desert, Alice Springs has lush green 'oasis' feel about it.  The infamous Todd River flows right through the middle of town but for most of the year it is a dry riverbed.
Alice is quite a hub, with over 27,000 residents it is a buzzing little township almost geologically in the centre of Australia.  Alice has a number accommodation choices with several camping grounds, caravan parks, hotels and a few great little restaurants.
If you opt to head further north to Darwin, continue along the Stuart Highway passing a number of spectacular landmarks that you 'must' include on your trip.
Read more: 21 Things to do in Alice Springs
Where to stay in Alice Springs
Choose Lassiters Highway to go to Uluru
Curtain Springs
About 2 hours along Lassiters Highway and a good spot to break your journey to Uluru.   Curtain Springs is a working cattle station which has been in the Severin family since 1956.  Today it is a popular stop for travellers on their way to Uluru and Kings Canyon.
Stay overnight and don't forget to ask about their tours to Mount Conner.  Stunning views of Mount Conner, Aboriginal Art and an abundance of local wildlife is well worth the visit.  Explore the Red Centre without the crowds.
Kings Canyon
A natural wonder located at the heart of Australia's Red Centre is Kings Canyon.  Over 400 million years old, the Canyon is over 270 metres above sea level with parts of the canyon remaining a lush Garden of Eden with permanent rock pools.
Kings Canyon Resort provides a variety of accommodation and restaurant facilities for travellers.  Stunning landscape and one of the Territory's most magnificent landscapes.
Uluru and Kata Tjuta National Park
Rising out of the Central Australian desert, the Uluru and Kata Tjuta National Park are Australia's most iconic natural attractions.  These icons are at their most stunning around sunrise and sunset, when the golden light makes the rock's colours come alive.
Accommodation is available at Yulara and the Ayres Rock Resort with a number of accommodation options available including camping sites.  Restaurants and cafe's are available.
Read more:  Uluru – Australia's most famous Rock
Pin this in Pinterest to take a Road trip between Adelaide and Alice Springs.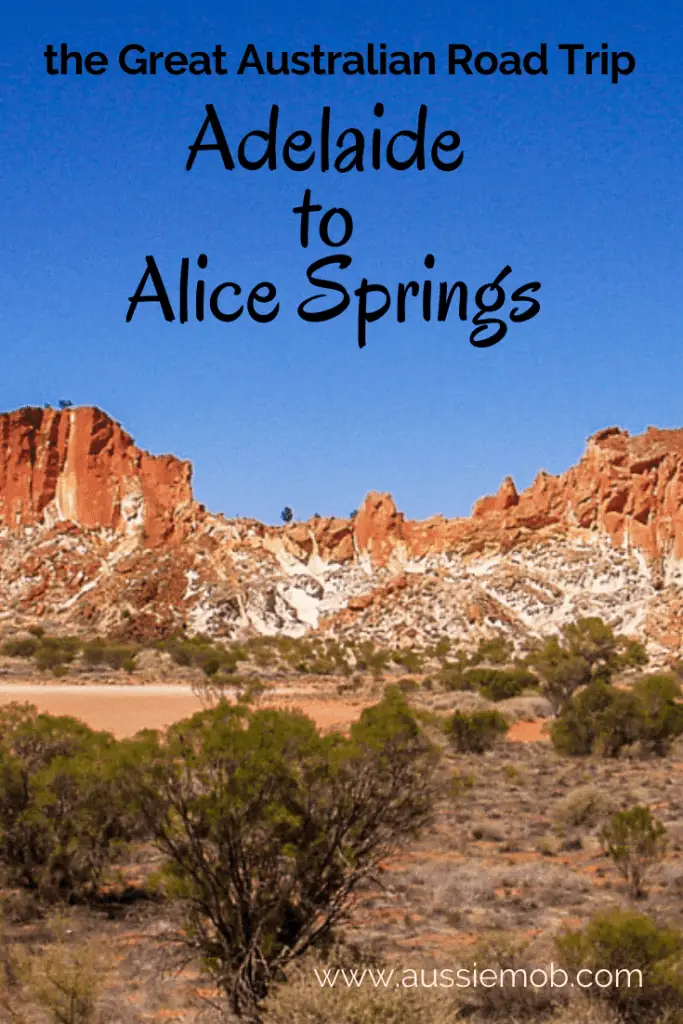 Read more
There are a number of additional posts that will provide further information about the things you can see and do when taking a road trip into Outback Australia.
5 Essential Items to prepare for your road trip into Outback Australia
Travel Safe in the Outback
It is an excellent road which is mostly straight and towns are few and far between.  Ensure you follow these safety tips to arrive at your destination safely.
Take regular breaks.  Prevent fatigue by stopping for a break at least every 2 hours.  Get out of the car and walk around, buy a coffee or a snack.
Keep alert.  Talk to your driver or passengers. Play games, sing, listen to audio books or podcasts. Bring refreshments with you to snack on – sweets, water, chips or pack a picnic and stop along the way.
Beware of animals on the road.  Watch out for kangaroos, camels, emus and cattle and large birds feeding off the road-kill.
Take care when over taking road trains.  Road trains can be up to or over 50  metres long so make sure you have ample room to overtake safely.  Don't take risks.
Beware of strong wind gusts, especially if driving campervans, buses or towing a caravan.
Carry water.  Bring along 5 litres per person per day of travel.
DO NOT drive at night.  EVER.  There are many animals on the roads which often appear from nowhere.
Read more:  10 Tips to Travel Safe in Australia
Enjoy your adventure
A road trip through the Centre of Australia is the ultimate adventure of a lifetime.  There is a sense of adventure you can only experience driving in the outback.   It will open your eyes to this vast country.
Have you taken this Adelaide to Alice Springs road trip yet?  if you have any questions about this trip, drop me a note below.