Did you know that over 500 million people actively use Instagram, daily!
Are you one of them? With more than 1 billion active users, Instagram is hotter than Facebook and Twitter, and … get this, it's the fastest growing social media platform today.
All the cool kids are getting on-board but it wasn't a surprise to learn that an increasing number of men and women over 50 are using Instagram to share their photos with family and friends.
Whether you're off travelling the world, or just heading out to the nearest café for coffee, Instagram is a quick way to share your best photos to your followers – instantly!
What is Instagram?
Instagram is a fast and fun way to share your photos and videos from a smartphone.  Just like other social networks, you can interact with other Instagram users by following them, commenting, liking, tagging and private messaging.
How to: Take a photo or video, select a filter (or not) and you're ready to post it to Instagram.   You can also share to FaceBook, Twitter, Tumblr and other social media platforms at the same time.
Many use Instagram to share photos while travelling, or to tag friends or family members in something of interest or to pass the time away while waiting for your coffee to arrive at your table.   Most café's, restaurants and public spaces have free Wi-Fi now to make our online lives easier.
Showcasing our best Instagram travel memories
I'm not an expert Instagrammer, but I do love to post a great photo.  If you haven't connected with me yet, follow along with @territorymob and keep up with our latest travels and day-to-day activities.   I don't post every day, but if I have something I think is interesting, I'll share it.
Most of my photos are a combination from my Galaxy Note phone photos and my latest love Sony A6000 mirrorless camera.  You don't have to be a star photographer, but do make sure the photos you post are clear and crisp.
Many of my photos capture other travellers' antics, and are often things that make me smile or some are simply a moment in time I want to share.  I'll often post snippets from our travels as a lead into a post I'm planning to write.
With almost 1,200 posts to Instagram from our travels around the world, here's a selection of 10 of my @TerritoryMob favourites.
A Curious Kingfisher in Arnhem Land
This little guy was sitting on my balcony when I checked into the hotel.  He was not phased at all and eye-balled me the whole time I took photos.
Read more:  Gove Peninsula – Arnhem Land's best kept secret
Crocodiles of Kakadu National Park
The wilderness of Kakadu is an untamed, ancient and extraordinary part of Australia.  Saltwater crocodiles are plentiful in Kakadu and we were able to get close to this one from the safety of our billabong cruise.  Crocodiles have not changed much from their prehistoric days.  They are stealthy and opportunistic, and despite being seemingly immobile in this photo, we were under no illusions – he was ready to attack.
Read more:  Escape to Kakadu |  Crocodile Facts
The Eggs of the Rainbow Serpent
The colours of Karlu Karlu, also known as the Devils Marbles are the most intense at sunrise and sunset.  It is a must-see landscape in this huge country of ours.
Read more:  The Devils Marbles – the eggs of the Rainbow Serpent
The Monkey's in the Sacred Monkey Forest in Bali
This photo is one of my all-time favourites.  I love the the monkey's pose with a half-smile and Bart Simpson capturing it all as a selfie.
Read more:  The Sacred Monkey Forest
Katz's Delicatessen in New York City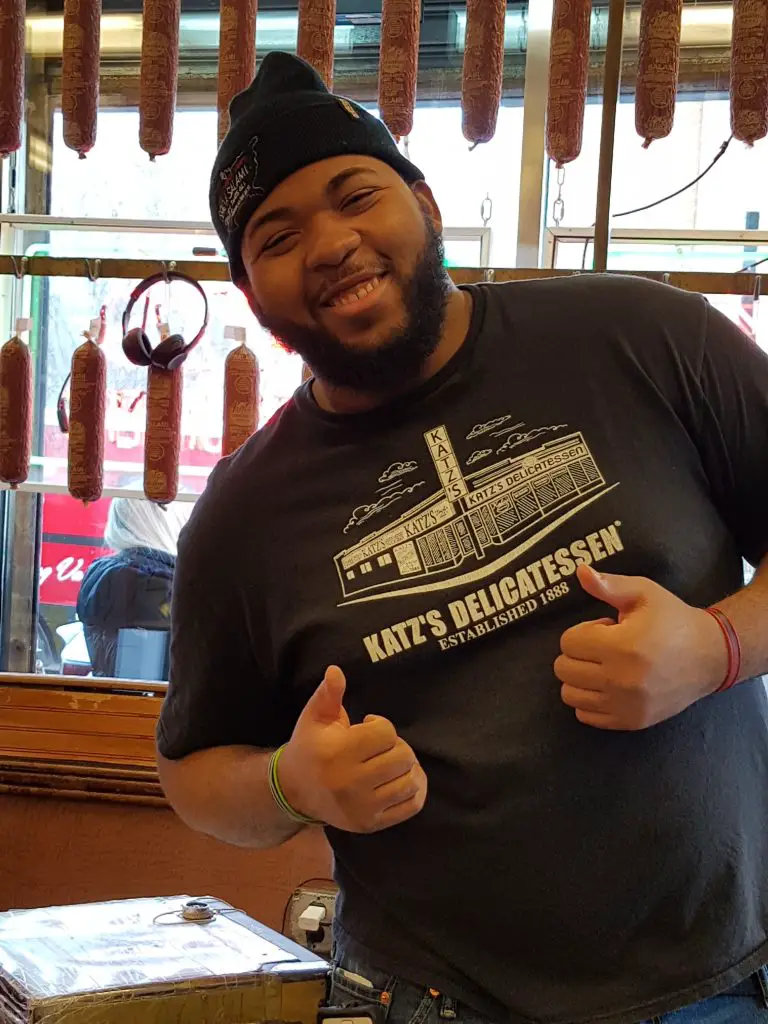 When visiting the famous 'Where Harry met Sally', Katz Delicatessen in New York City, I asked this young man if could I take his photo and he slipped straight into pose.  I just love his smile and enthusiasm!   What a fabulous travel memory!
Glowworms and Blackwater Rafting in New Zealand
A trip down memory lane taking this fun tubing adventure deep into the Waitomo Glow worm caves in New Zealand.  Too much fun, we have to go back!
San Francisco's infamous Pier 39
These lovely ladies from Canada were sitting outside by the fire pit enjoying a bevvy under umbrellas.  I so wished I had asked for their contact details to send them a copy!
Read next: San Francisco
McSorleys Old Ale House in New York City
A friend dragged us into this quaint little bar with sawdust on the floors and heaps of paraphernalia over the walls.  McSorely's have been brewing their own beer since 1854.  Little did we know it would be one of our best NYC experiences.
Boston Public Library
Grand study halls, marble stairways and statues showcasing the magnificent architecture of the era.  The Boston Library was such an amazing experience and everything that a library should be.  Grab a book and sit with me a while!
Read more:  Celebrate New Year's Eve in Boston
Borrow someone else's Kid
Walking the streets in Georgetown, Penang though all the amazing interactive street art in Penang.  Look at the smile on this young man's face, he's loving it!
Read more:  World-famous Street Art in Georgetown
Connect with @Territorymob on Instagram and share this post on Pinterest
Are you an Insta-fan?  Link up with our social media, and come along with us on our travels, we'd love to connect back to you.